Pokémon Co., Ltd. and Original Stitch recently announced the launch of Pokémon Masks, which allows fashion-forward followers of Pikachu and company to choose a design from all 151 types of Pokémon patterns that appear in the classic 1996 videogame "Pokémon Red and Blue."
We don't usually promote official Pokémon merchandise, but this release caught our attention given the current Coronavirus situation and we're sure our readers would be interested in buying a Pokémon themed mask. Plus, Original Stitch has some top notch clothing, although they are a bit pricey. Still, here we go!
Official Pokémon Masks
Official Pokémon Masks
Product
Pokémon Mask
Size
S / M
Price
$18 ~

(

tax and shipping fee are not included

)

Shipping Fee

$15 for shipping 1-4 mask
5+ mask/bandanna OR 2+ shirts/polo receive free shipping

Colors

Surface – 151 Pokémon fabrics from Pokémon Red and Blue

Back – 4 colors of mesh fabric

Region of Delivery
Japan, USA, Hong Kong, Taiwan, Singapore, Malaysia, Philippines, India, Indonesia, United Kingdom, Spain, Germany, Italy, France, Canada, Australia, New Zealand
Where to buy
Original Stitch
These masks are made from the fabric left over from tailoring shirts in Japan and they feature patterns for all 151 Pokémon that appear in Red and Blue. In addition, on the back side, fans can choose from all four colors of breathable mesh fabric.
The designs are actually excellent, and there's a huge variety to chose from. I personally really like a bunch of them, but if I had to pick one, this is it (Mewtwo themed, of course):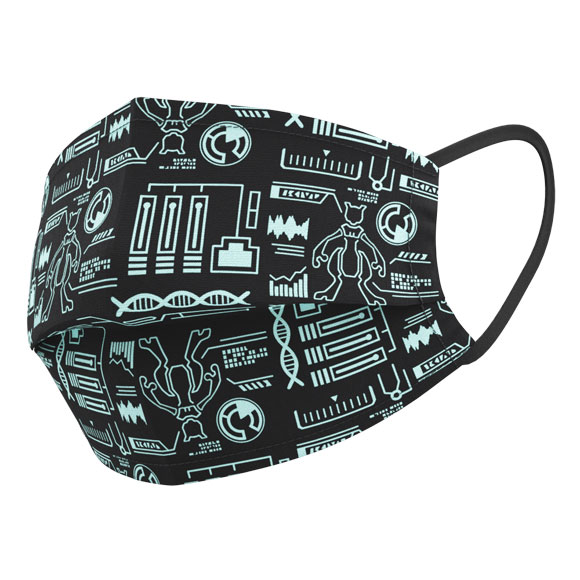 You can buy your mask on the Original Stitch website. We suggest running this by your friends and try to shop in groups, shipping is free for 5+ masks.