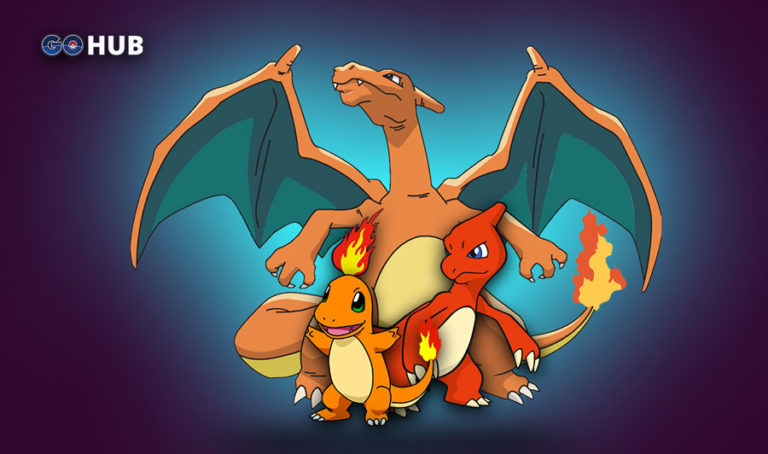 As reported on TheSilphRoad by the wonderful /u/carypalmer, Pokemon GO Nests have a chance now to spawn higher tier evolutions also! The chance seems fairly low, but it's present.
For example, a Charmander nest can spawn Charmeleon and Charizard respectively! 🙂
Pokemon GO Nests Spawn Evolutions now!
Widespread reports are showing up on /r/TheSilphRoad that Pokemon GO Nests can spawn higher tier evolutions. A user reported that after monitoring a Nidoran (M) and Sandshrew nests for four hours he noticed Nidorinos and Sandslashes showing up in semi regular intervals.
The same change was observed worldwide, with several players reporting Charizards, Flareons, Omastars, etc… spawning on their respective nests. This is a welcome change, we'll be covering it in more details as they become available.
The chance to spawn an evolved version of the Nest Pokemon is still a mystery, however it is great to see Nests advancing in features!
Pokemon GO Nest Changes
This is the latest Nest migration list for The Third Migration (happened on 26/27 September):
Abra –> Electabuzz
Abra –> Growlithe
Bellsprout –> Diglett
Bellsprout –> Ghastly (multiple reports)
Bellsprout –> Horsea
Bulbasaur –> Bellsprout
Bulbasaur –> Shellder
Bulbasaur -> Nidoran(F)
Charmander –> Abra
Charmander –> Diglett
Charmander –> Ghastly
Charmander –> Jynx
Charmander –> Magmar
Charmander –> Nidoran-f
Charmander –> Onix
Charmander –> Ponyta
Charmander-> Squirtle
Clefairy –> Charmander
Clefairy –> Electabuzz
Clefairy –> Pinsir
Clefairy –> Slowpoke
Cubone –> Pikachu
Cubone –> Onyx
Diglett –> Clefairy
Diglett –> Shellder (multiple reports)
Doduo –> Cubone
Doduo –> Ekans
Doduo –> Machop
Doduo –> Poliwag
Drowzee –> Nidoran M
Drowzee –> Vulpix (multiple reports)
Electabuzz –> Cubone
Electabuzz –> Jigglypuff
Electabuzz –> Onix
Electabuzz –> Pinsir
Electabuzz –> Poliwag
Electabuzz –> Shellder
Electabuzz –> Squirtle (multiple reports)
Eevee –> Doduo
Eevee –> Krabby
Ekans –> Krabby
Ekans –> Mankey
Exeggcute –> Electrabuzz
Geodude –> Zubat
Geodude –> Vulpix
Ghastly –> Scyther
Ghastly –> Diglett
Ghastly -> Jigglypuff
Growlithe –> Diglett
Growlithe –> Golbat
Growlithe –> Magmar
Growlithe –> Sandshrew
Growlithe –> Slowpoke
Growlithe –> Staryu
Horsea –> Tentacool
Horsea –> Nidoran F
Jigglypuff –> Exeggcute
Jigglypuff –> Magmar
Jigglypuff –> Psyduck
Jynx –> Abra
Jynx –> Eevee
Jynx –> Charmander (multiple reports)
Jynx –> Onix
Kabuto –> Abra
Kabuto –> Bulbasaur
Kabuto –> Jigglypuff
Kabuto –> Nidoran F
Kabuto –> Venonat
Kabuto –> Zubat
Krabby –> Diglett
Krabby –> Drowzee
Machop –> Cubone
Machop –> Doduo
Magikarp –> Poliwag
Magmar –> Cubone
Magmar –> Pikachu
Magmar –> Pinsir
Magmar –> Squirtle
Magmar –> Venonat
Magnemite –> Ghastly
Magnemite –> Kabuto
Magnemite –> Machop
Magnemite –> Shellder
Meowth –> Magmar
Nidoran F –> Electabuzz
Nidoran M –> Onix
Nidoran M –> Seel
Omanyte –> Bellsprout
Omanyte –> Bulbasaur
Omanyte –> Doduo
Omanyte –> Electabuzz
Omanyte –> Magmar
Omanyte –> Scyther
Omanyte –> Squirtle
Onix –> Geodude
Onix –> Ponyta
Onix –> Squirtle
Poliwag -> Pikachu
Poliwag -> Squirtle
Ponyta –> Voltorb
Ponyta –> Krabby
Pikachu –> Kabuto
Pikachu –> Nidoran M (multiple reports)
Pikachu –> Magmar
Pikachu –> Oddish
Pikachu –> Pikachu
Pikachu –> Scyther (multiple reports)
Pikachu –> Venonat
Pikachu –> Voltorb
Pinsir –> Ekans
Pinsir –> Pikachu
Pinsir –> Machop
Pinsir –> Scyther
Pontya –> Kabuto
Rhyhorn –> Charmander
Rhyhorn –> Clefairy
Rhyhorn –> Electabuzz
Sandshrew –> Abra
Sandshrew –> Machop
Scyther –> Caterpie
Scyther –> Jynx / Mankey
Scyther –> Magnemite
Seel –> Voltorb
Shelder –> Pinsir
Shelder –> Magmar
Shelder –> Sandshrew
Shelder –> Staryu
Staryu –> Onix
Squirtle –> Exeggcute
Squirtle –> Geodude
Squirtle –> Jigglypuff
Squirtle –> Magmar
Tentacool –> Omanyte
Tentacool –> Onix
Venonat –> Abra
Voltorb –> Abra
Voltorb –> Growlithe
Voltorb –> Kabuto
Voltorb –> Pinsir
Vulpix –> Mankey
Vulpix –> Ponyta
Vulpix –> Seel