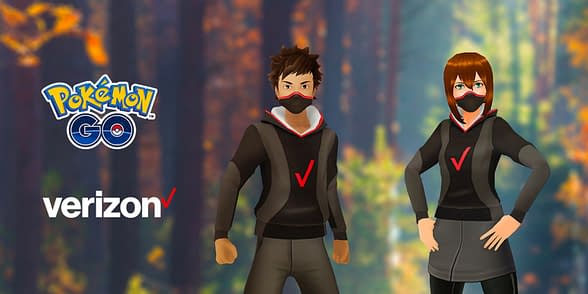 On Saturday November 7th Pokémon GO held a special weekend event in partnership with Verizon. It was available only to trainers who had a subscription to a Verizon mobile plan, and signed up to the Verizon app.
This was a US exclusive event that reward trainers with specific Pokémon spawns, such as Unown V and Z, Sableye, and more. Shiny Ferroseed was also released as part of this weekend of events. These special weekend event also included the GrubHub event in the US, and the 7-Eleven event in Mexico. The event also marked launch of new sponsored Verizon Pokéstops and gyms.
The other exclusive reward for trainers was special Verizon themed avatar items:
These avatar items have now been released worldwide for all trainers to enjoy! You can redeem them using the code L9Y6T82UW4EVSE9 in the in game shop, or via the Niantic Labs 'redeem offers' page here.
Verizon's website states the following: Get Pokémon GO avatar outfits at no charge on your device to customize your avatar. Your avatar outfits don't expire and give you access to the first face mask in the game! This limited-time offer is available until 12/31/21.