Last month we asked to see your best images of flying type Pokémon and the AR community did an incredible job! This month with it being winter in the Northern hemisphere, we asked to see your best wintery AR images. As always they don't have to be new, so Southern hemisphere folks were welcome to submit entries too and we had some really creative ideas from them.
Unedited Images
The below AR images have not been edited in any way.
'Icecream in the winter' by Pokemonswild, Deest, Gelderland. The Netherlands.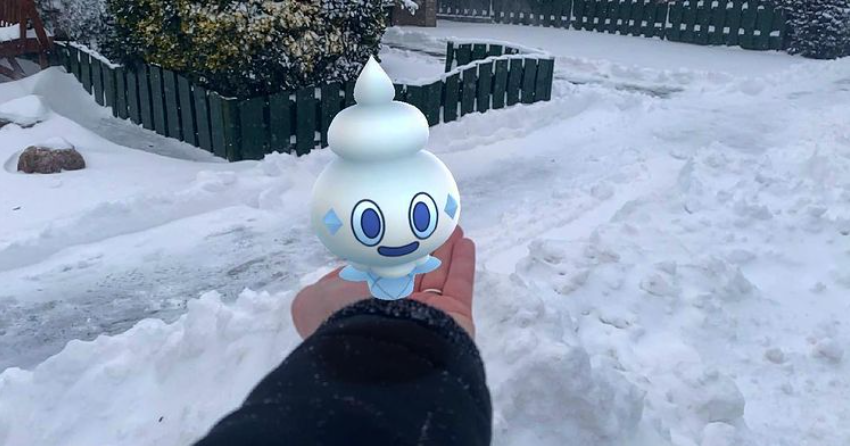 'Brrr. A little icecream on my hand. At least it doesn't melt because it's snowing!'
'In the snow❄️' by ずんだオレ, Plaza.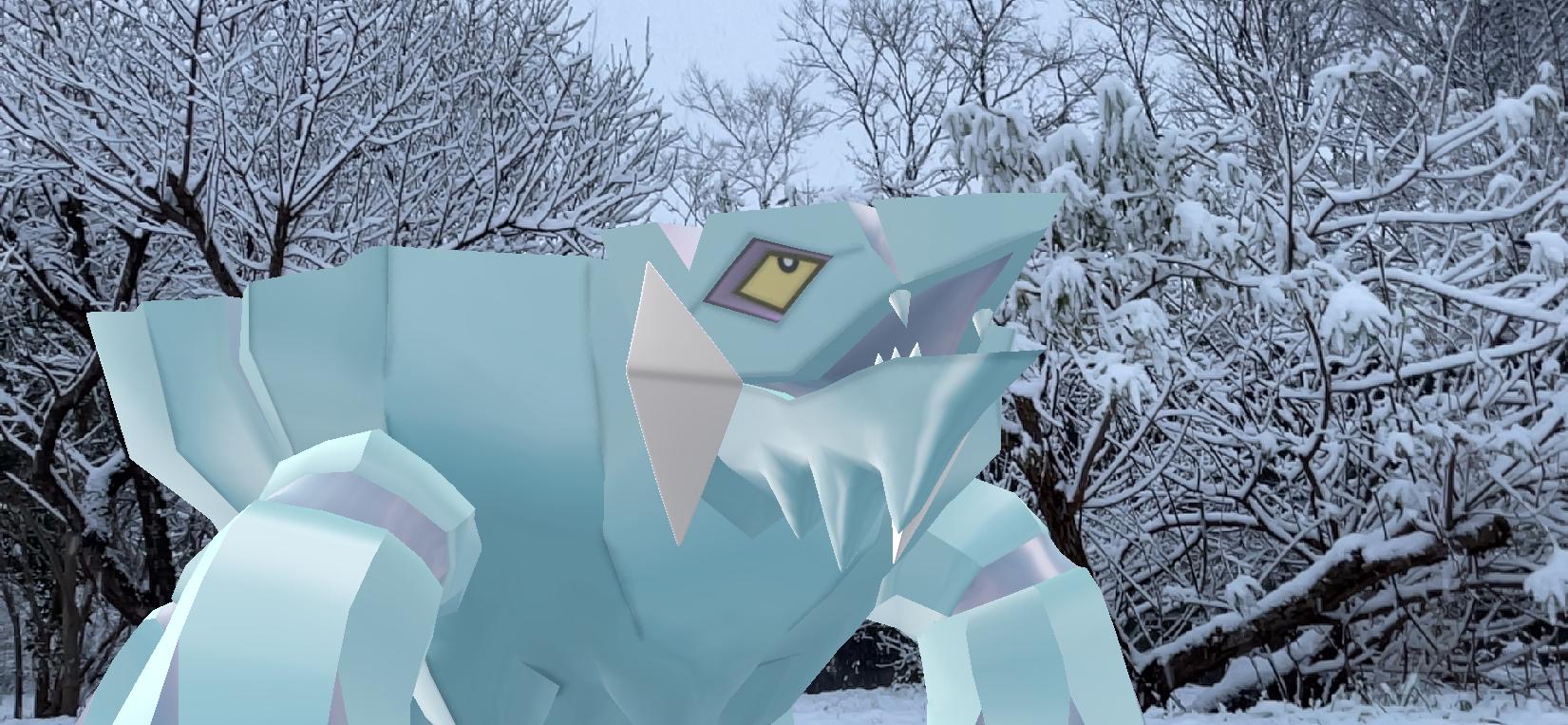 'Walking in the snow for the first time in five years‥'
'gleaming Glaceon' by SPSx22, Essex.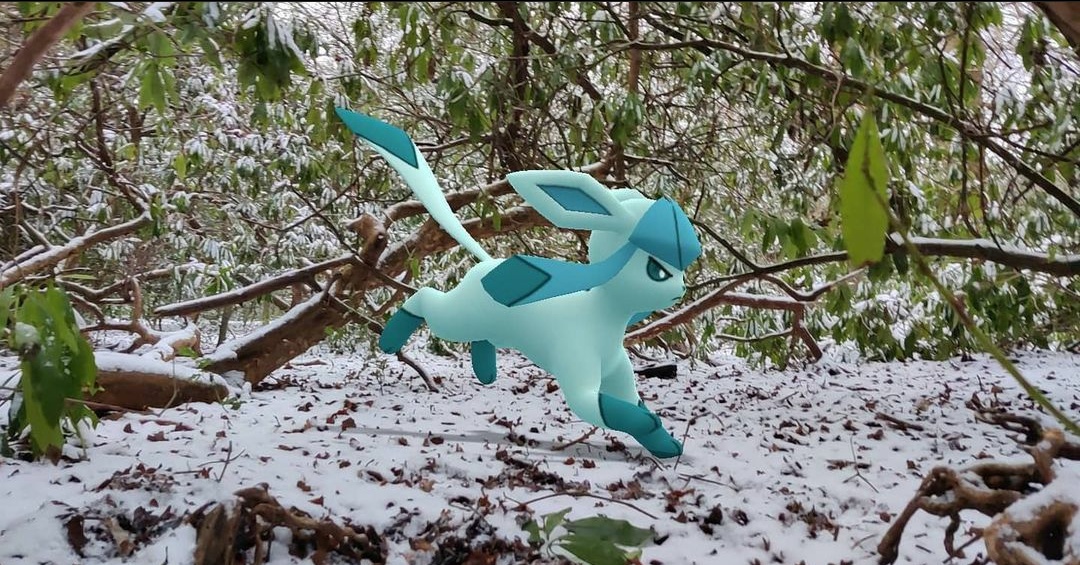 'Catching a rear site of a wild Glaceon in the snow!'
'Glaceon playing in the snow' by Rhanique, Leeuwarden, the Netherlands.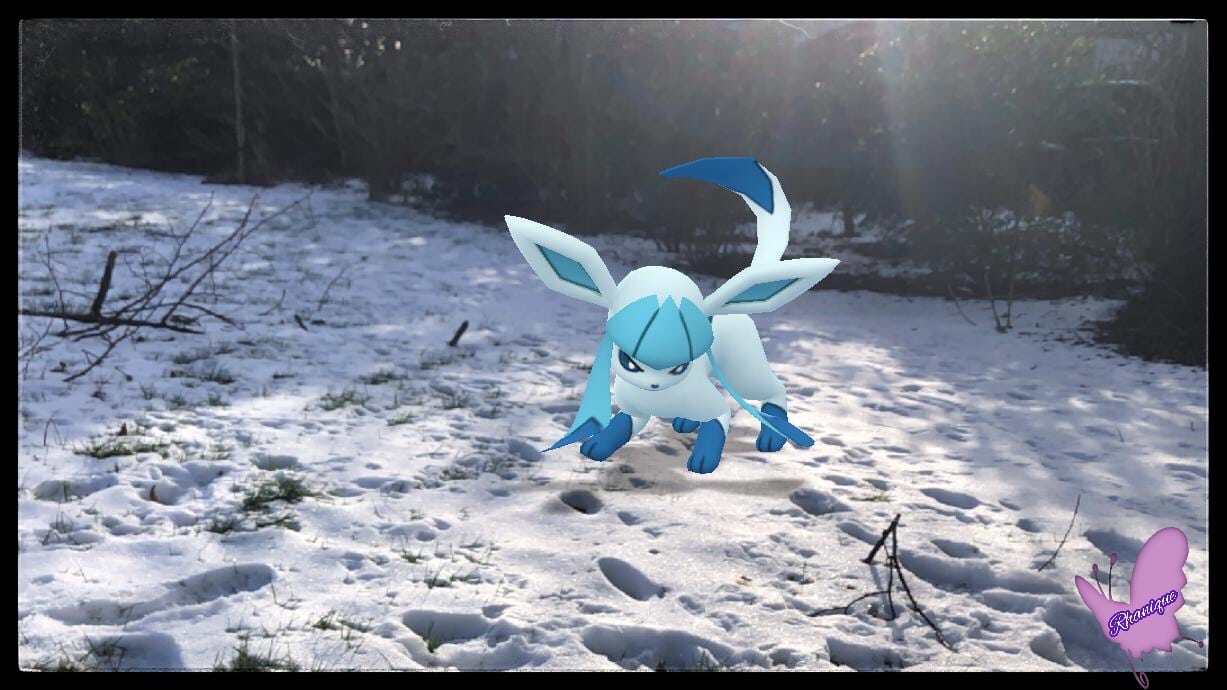 'Glaceon is playing with snow; he finds hidden 'treasures' all day long! ⛄️ '
'Sky Blue Earth' by ACE📸, Tokyo, Japan.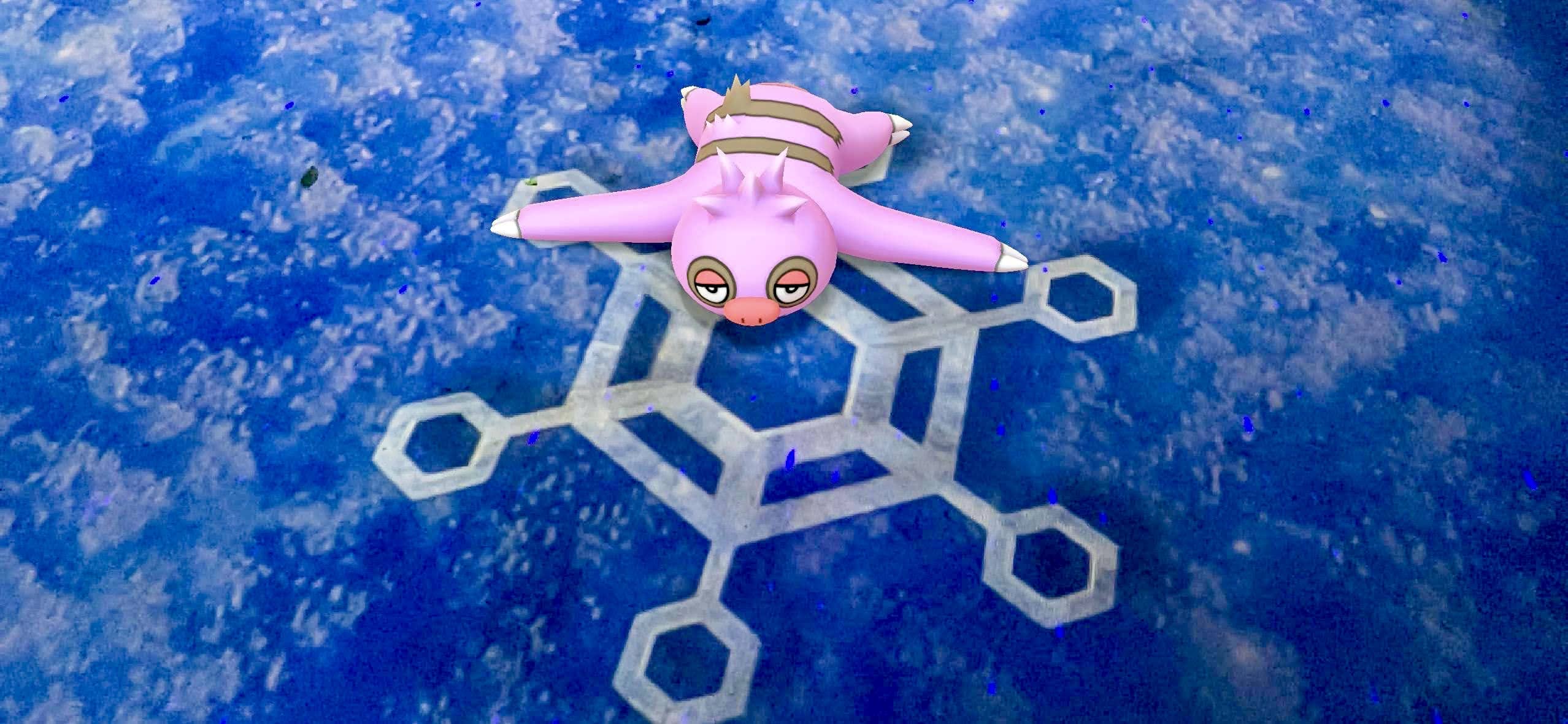 'There isn't a night without a dawn❄️'
'Shadows of the Water' by Pokemongo_satellite, Surat, Gujarat, India.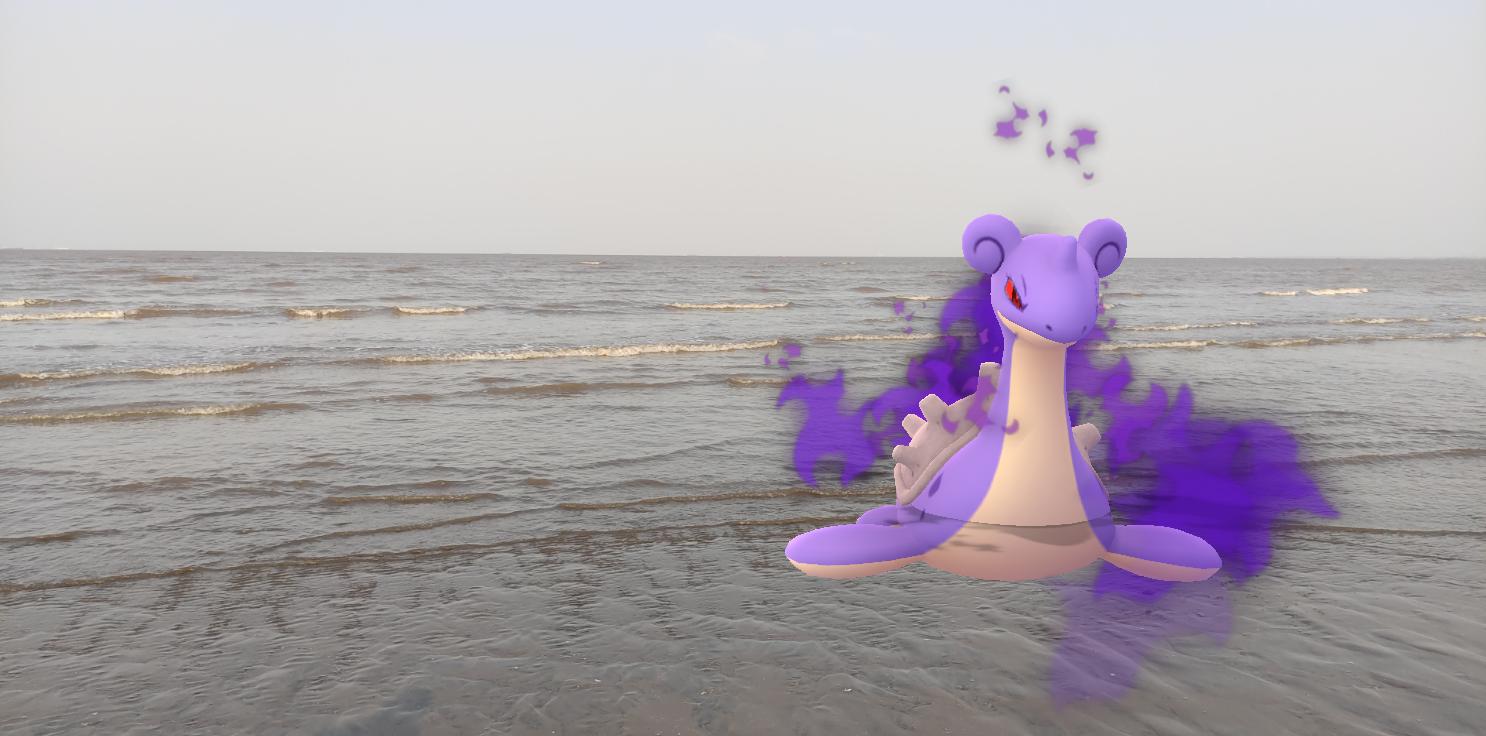 'The picture was taken at Ubhrat beach of surat, it is connected with the Arabian sea. While visiting the beach this shadow shiny Lapras💜 appeared.'
'When will it bloom …' by nana15AR, Hiroshima City, Japan.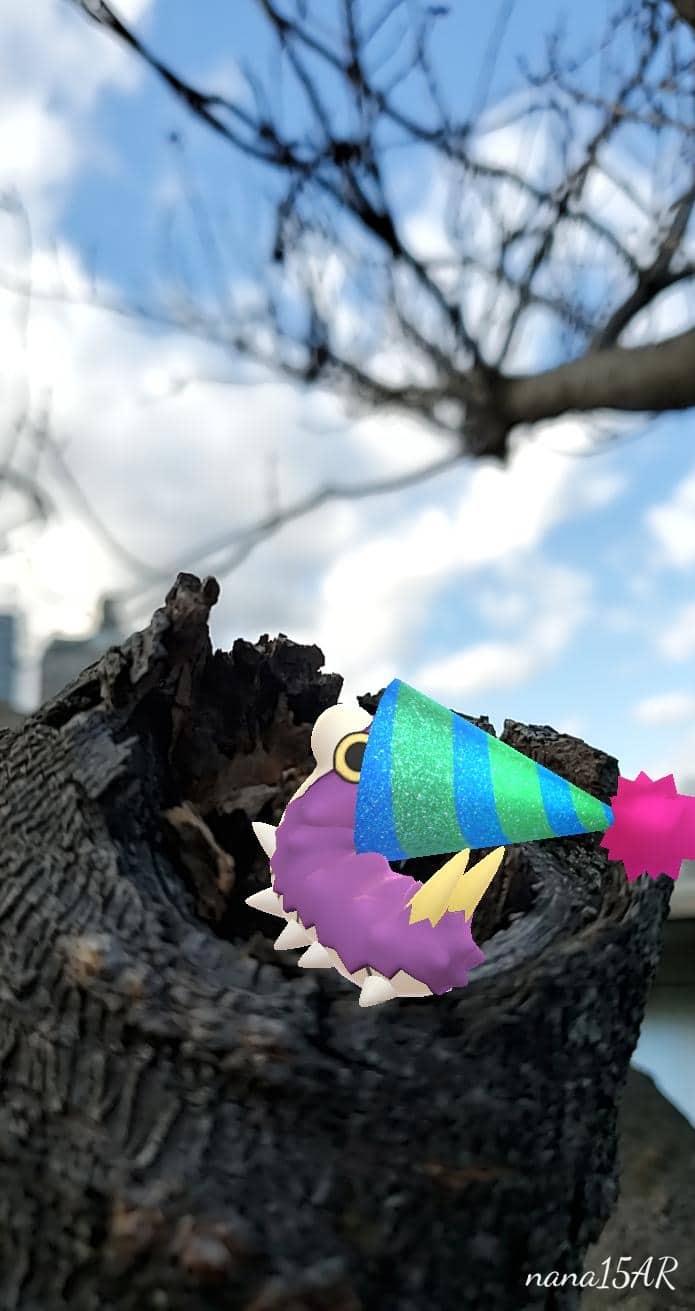 'I can't wait for the cherry blossoms to bloom …I wonder when I'll be able to see them.'
'ice' by karuta, Japan.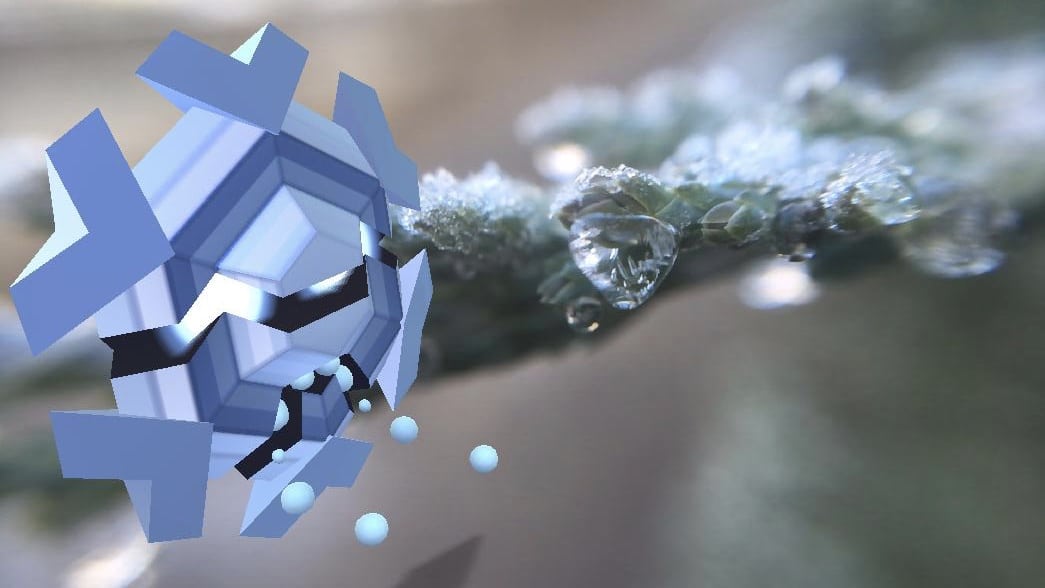 '氷の友達'
'You get SNOW WARNINGS from the Winter Forest Gaurdian.' by Laprasrules12, Massachusetts, U.S.A.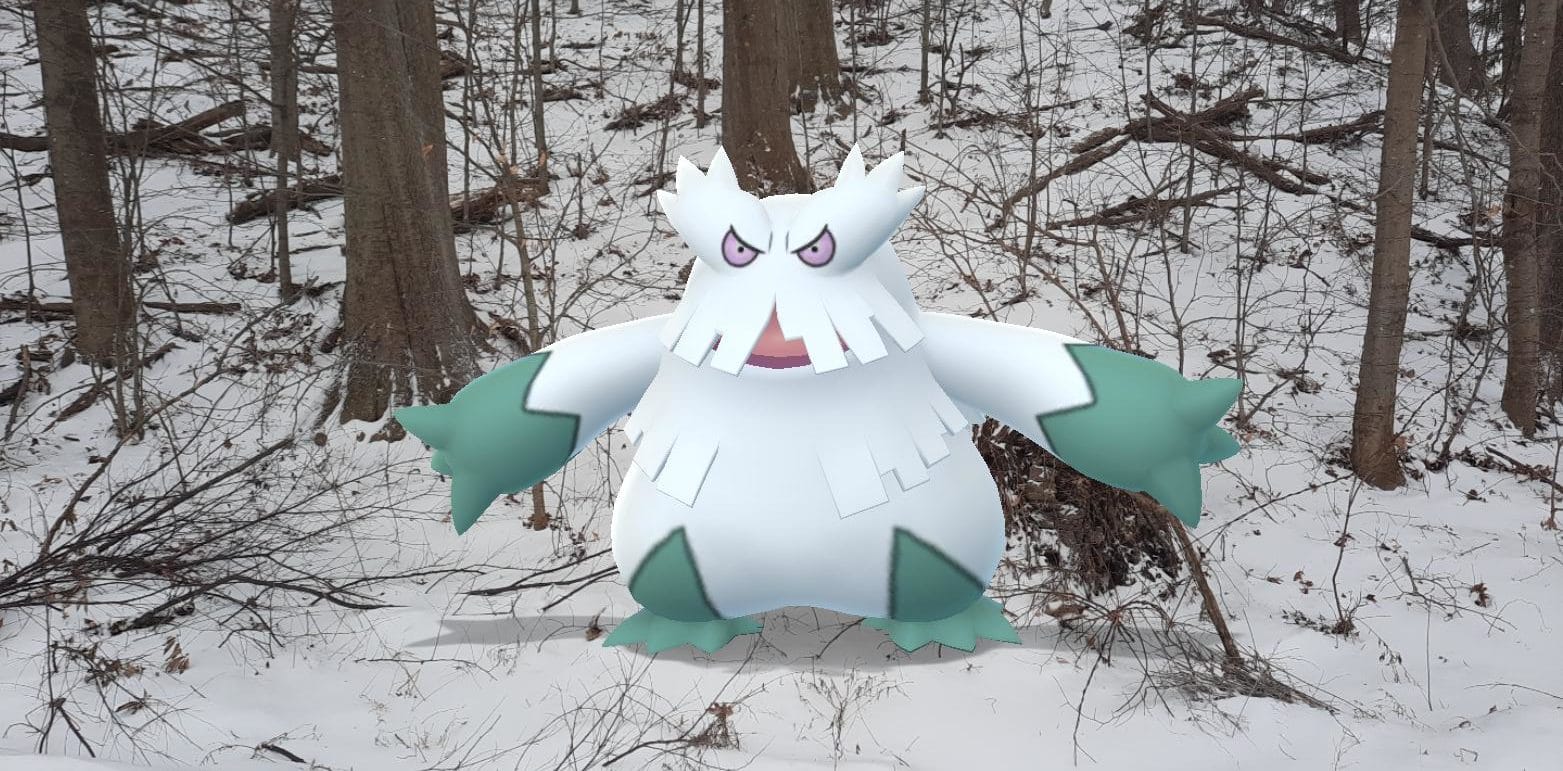 'Its based on the abominable snowman who is known to attack people in its territory. Its also based on when you find it in New Pokemon Snap in where it'll be mad at you and start a snowstorm. The title is a pun of it's main Ability in the mainline Pokémon games called Snow Warning, where when it goes into a battle it'll summon a Hailstorm, or Snowstorm, which is also why it learns Weather Ball Ice in Pokemon Go.'
'An Alola Ninetales Tall Tale' by Chris J. Faria, Uncasville, CT, USA.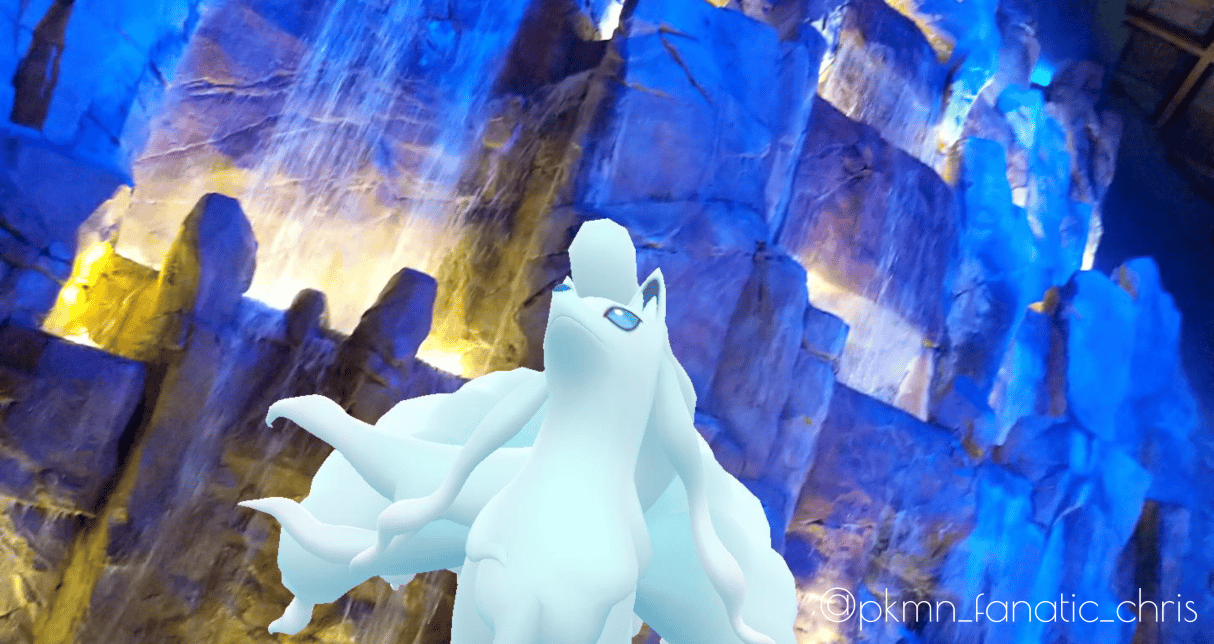 'Alola Ninetales looks up to the sky, reminiscing about an old adventure alongside the mountainside!'
'Winter joy of Bergmite' by pokemoninlife, 2021 Xmas decorations at SOGO Department Store, in Taichung, Taiwan.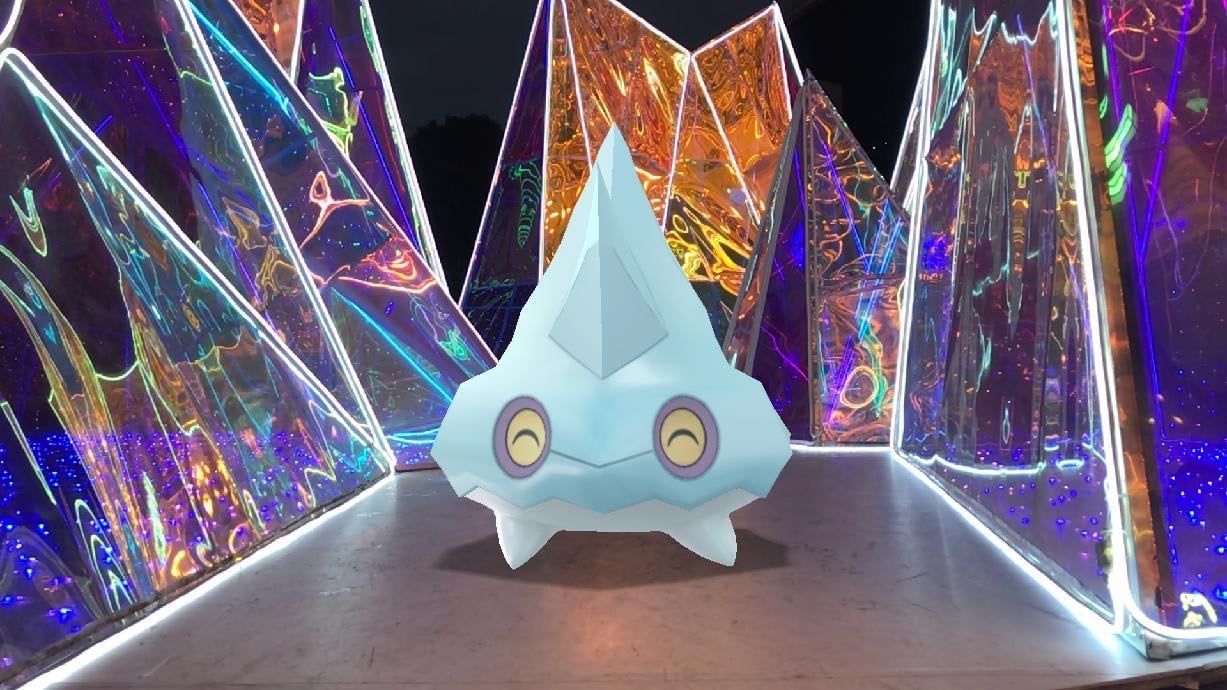 'In Taiwan, we hardly see snowy scenery in most place. However, during Xmas, there will be lots of beautiful decorations everywhere. In 2021, Bergmite made its debut and I brought it to this ice palace. Bergmite expressed its joy and had a good impression of this world.'
'Roaring in the snow' by Dogemon28, Aomori, Japan.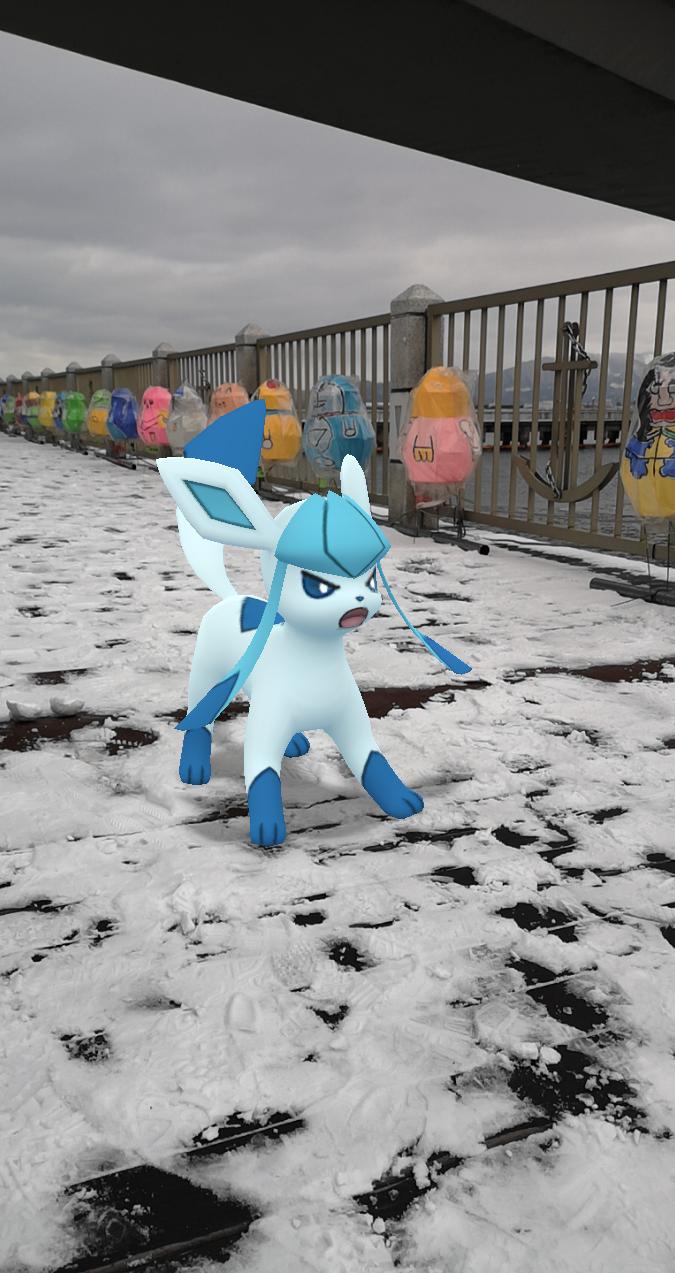 'Glaceon guarding the pathway leading to the ships'
'Fletchinder in winter' by Rhanique, Leeuwarden, the Netherlands.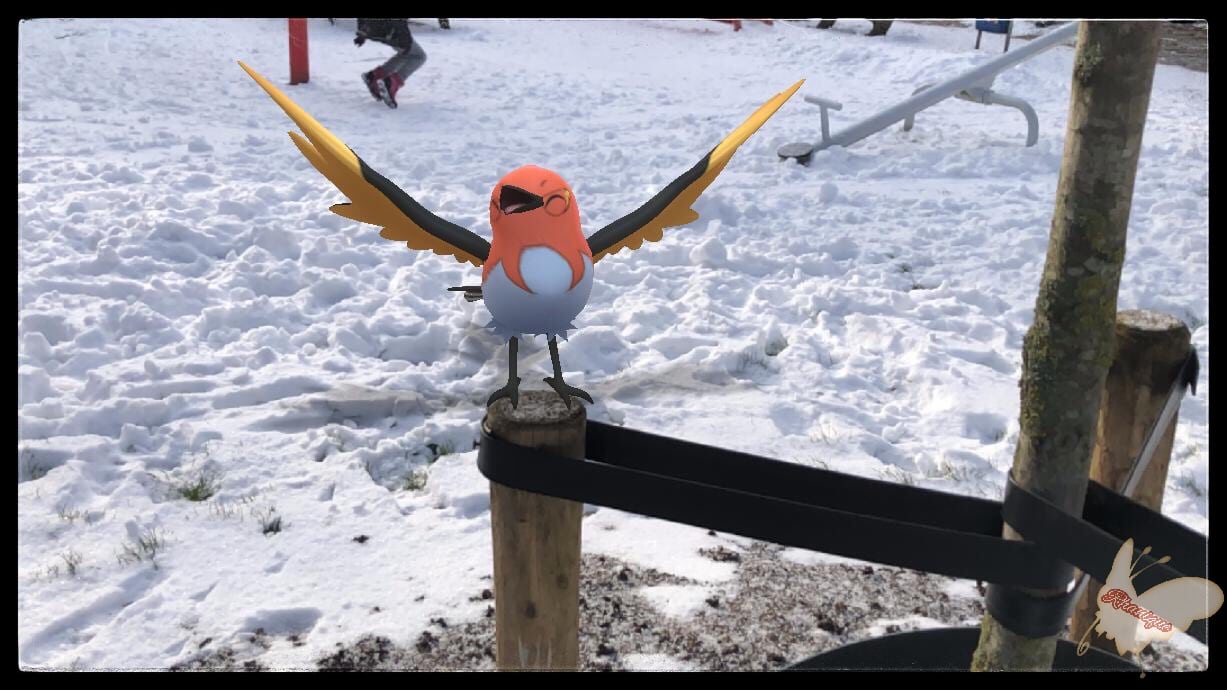 'It's cold outside, but Fletchinder still stretches its wings.'
'Budew's fleeting snow play.' by nana15AR, Hiroshima City, Japan.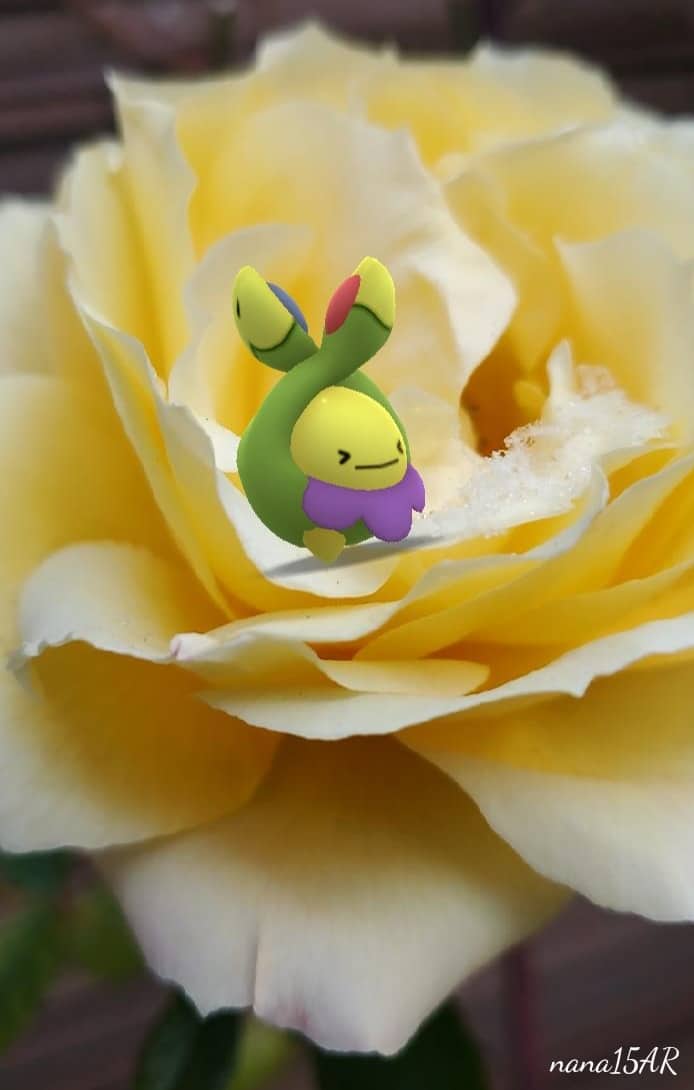 'The snow that rarely falls has fallen a little. Cute snow on the petals ❄can you see?'
Edited Images
The below AR images have been edited or filtered in some way.
'Run' by ElKhan32, Essex, UK.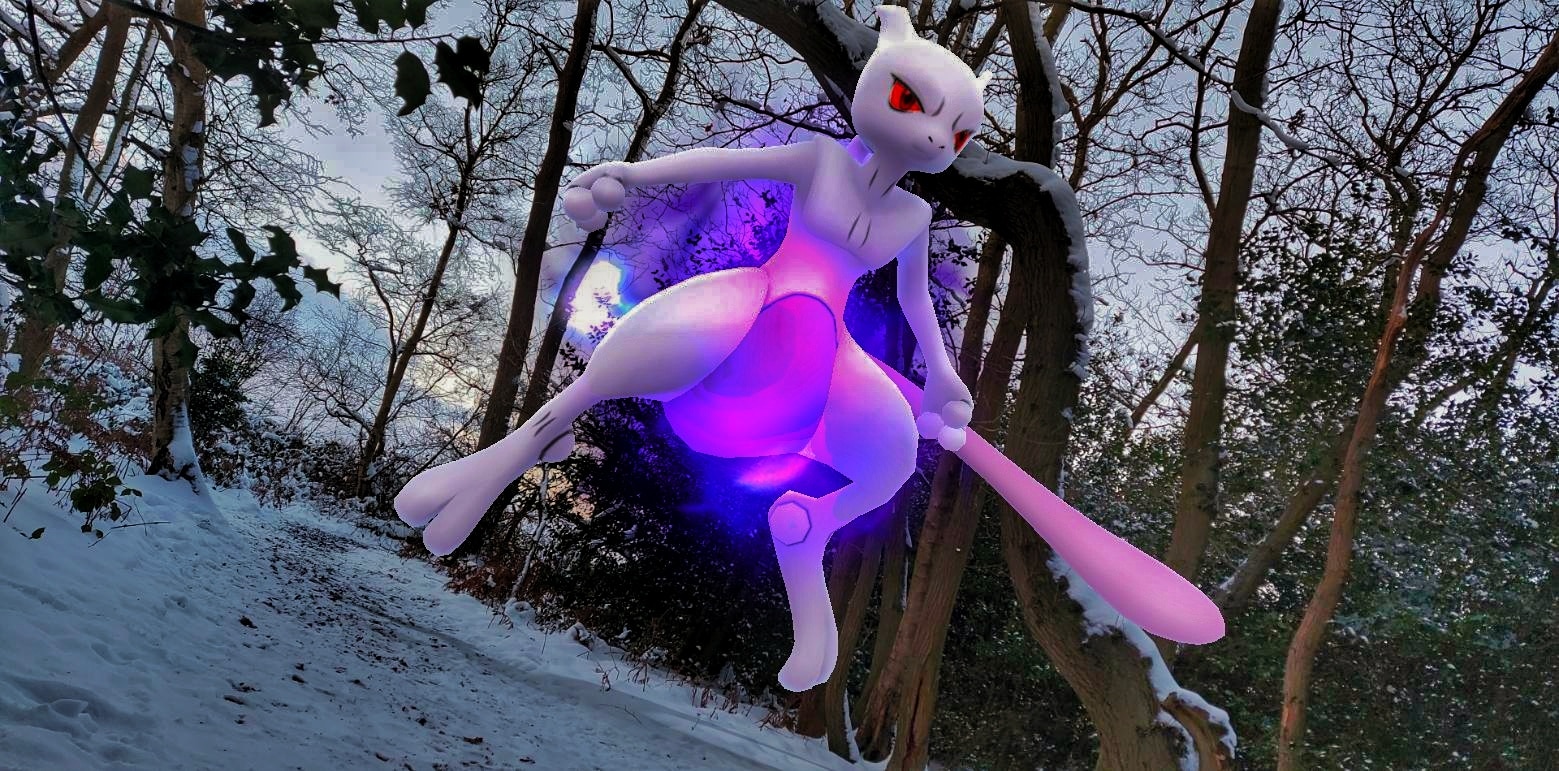 'Running away, searching for a home away from others so as to be free of others.'
'A-slash outside park' by Pokehunter79, Balvatika – Kankaria, Ahmedabad, India.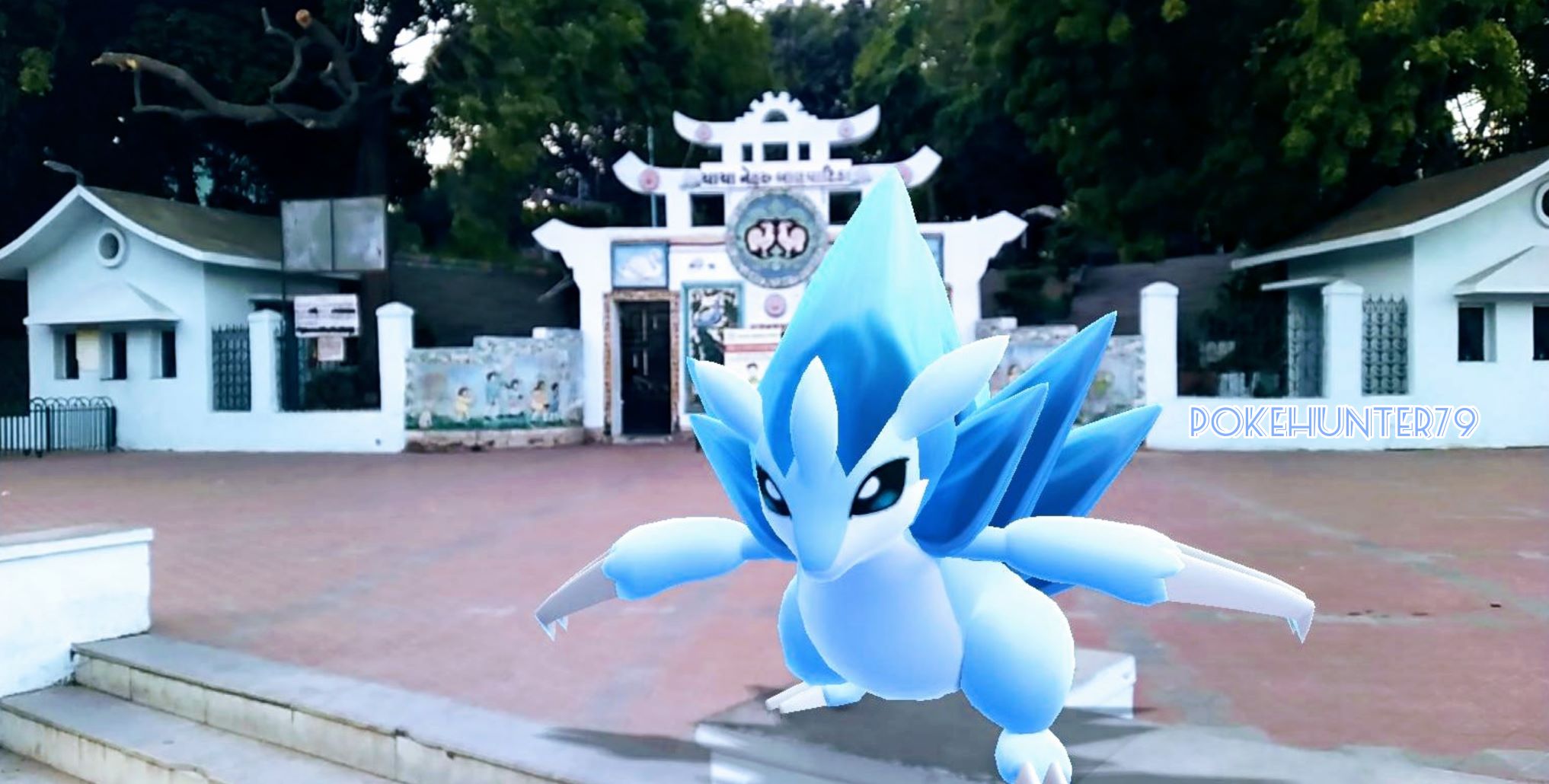 'I went Balvatika in weekend to enjoy leisure time. I seen Alolan Sandshrew outside ticket window. He wished to visit the park. But he is so small so security guard didn't allow me to brought him in. So, His father A-Sandslash came against with angered and it seems I have to bring his kid in with me. Shall I bring him in?'
'Fleeing Articuno ❄️' by Silver_wing2121, Breugelpark Haacht, Belgium.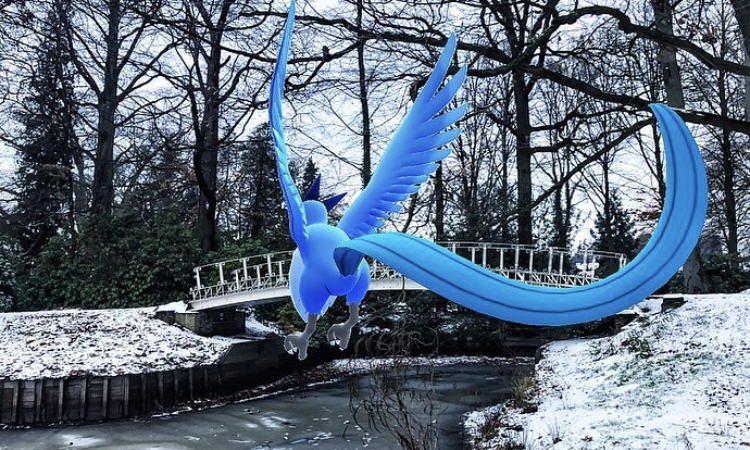 'Winter is almost coming to an end but a fleeing Articuno still flies quickly over our region for the last winter breeze. See you next winter 🥶!'
'The great beast' by ElKhan32, Essex, UK.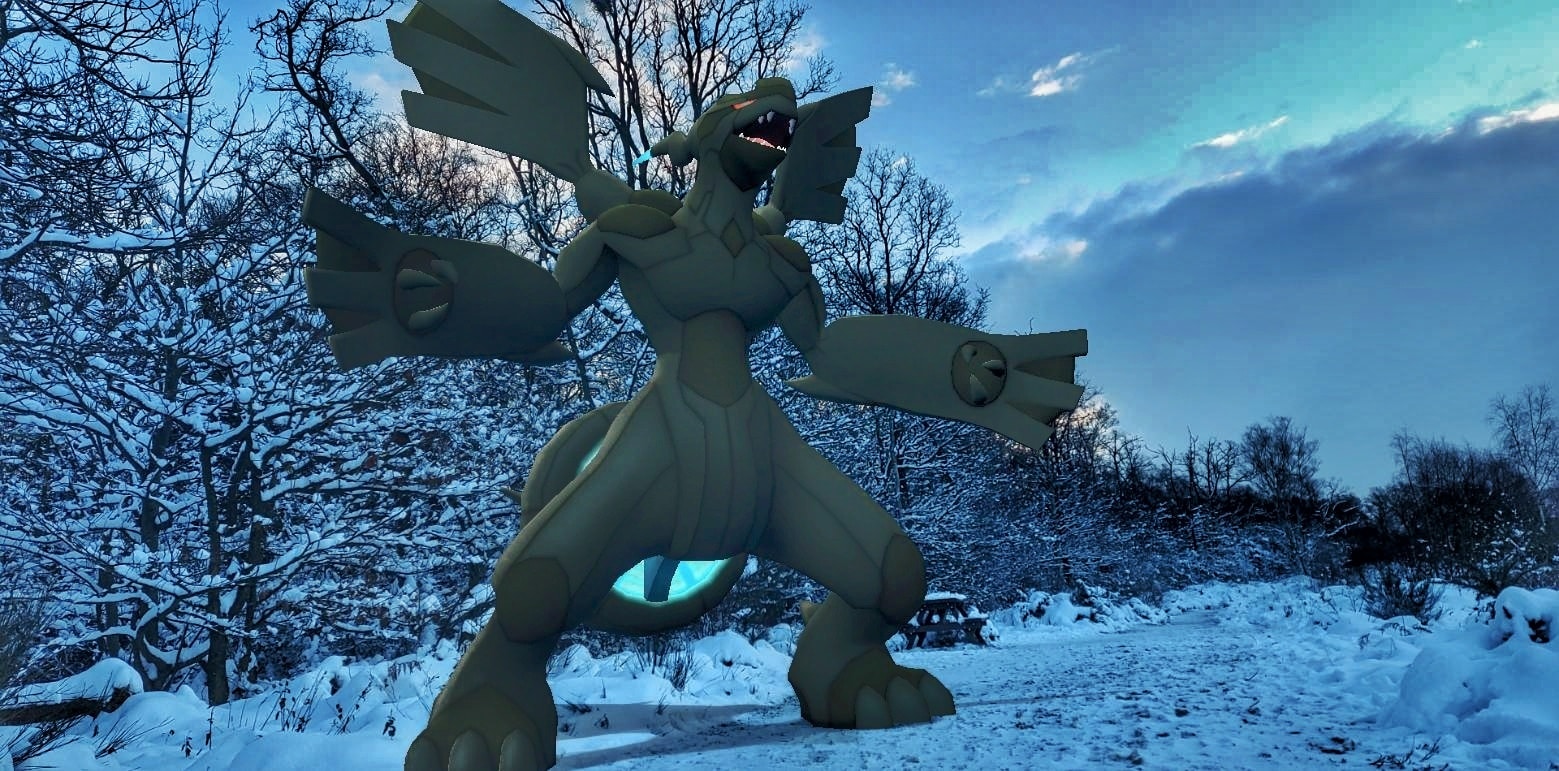 'The great beast came from the frozen North to cause chaos'
'Snow Globe' by Feresk, Dumaguete City, Negros Oriental, Philippines.
'We don't have winter in our country, but one thing that gives me a picture of winter is a snow globe. My Glaceon took the opportunity to fit into one and have me take his picture.'
'Christmas in the South' by Hex_Manifesto, Charleston SC.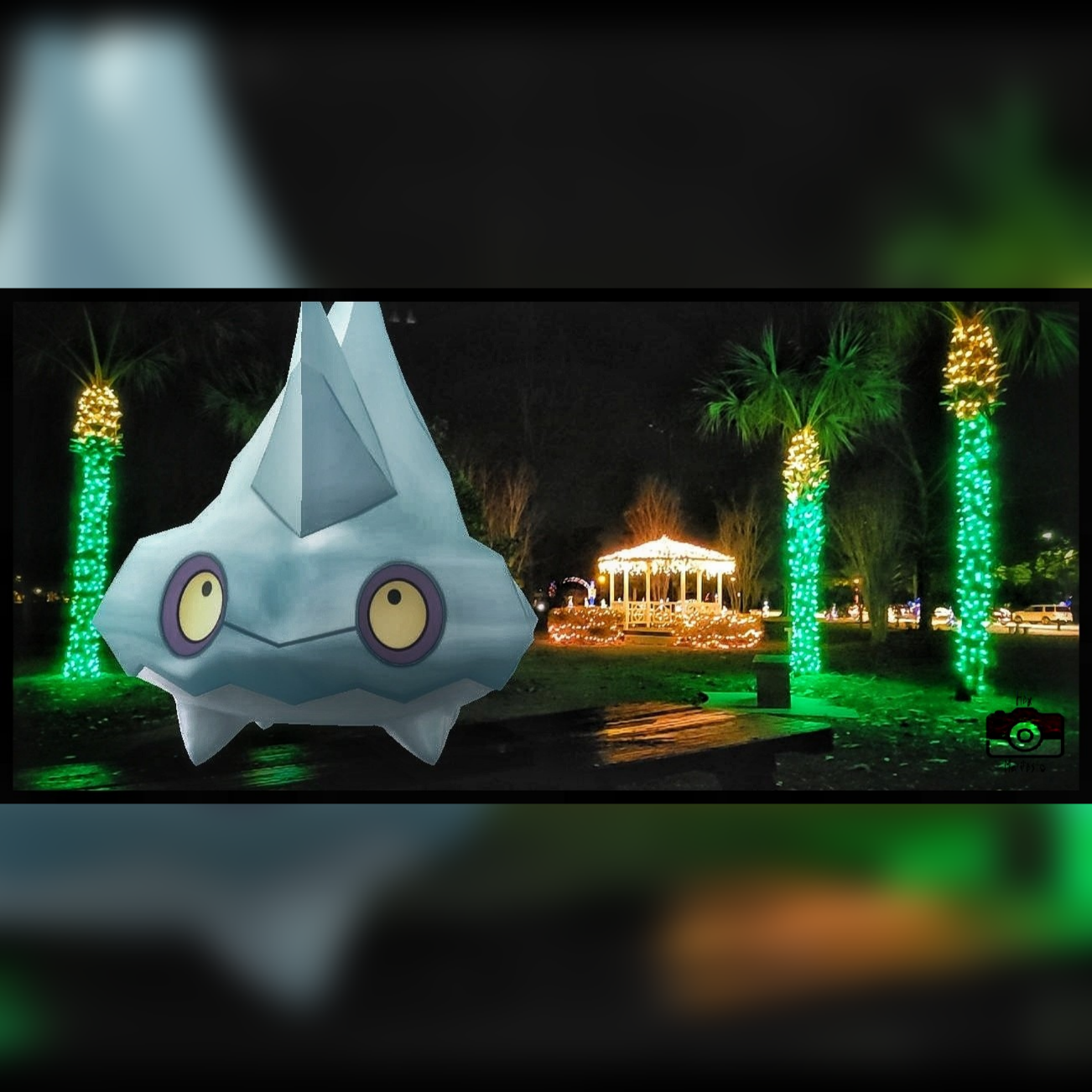 'Nothing says Christmas in the Southern states like Christmas lights on palm trees. This Bergmite couldn't stay out of its Pokéball for long. Even in the winter it rarely gets to freezing temperatures.'
'Purple Lappy' by Pokehunter79, Riverfront Flower Park, Ahmedabad, India.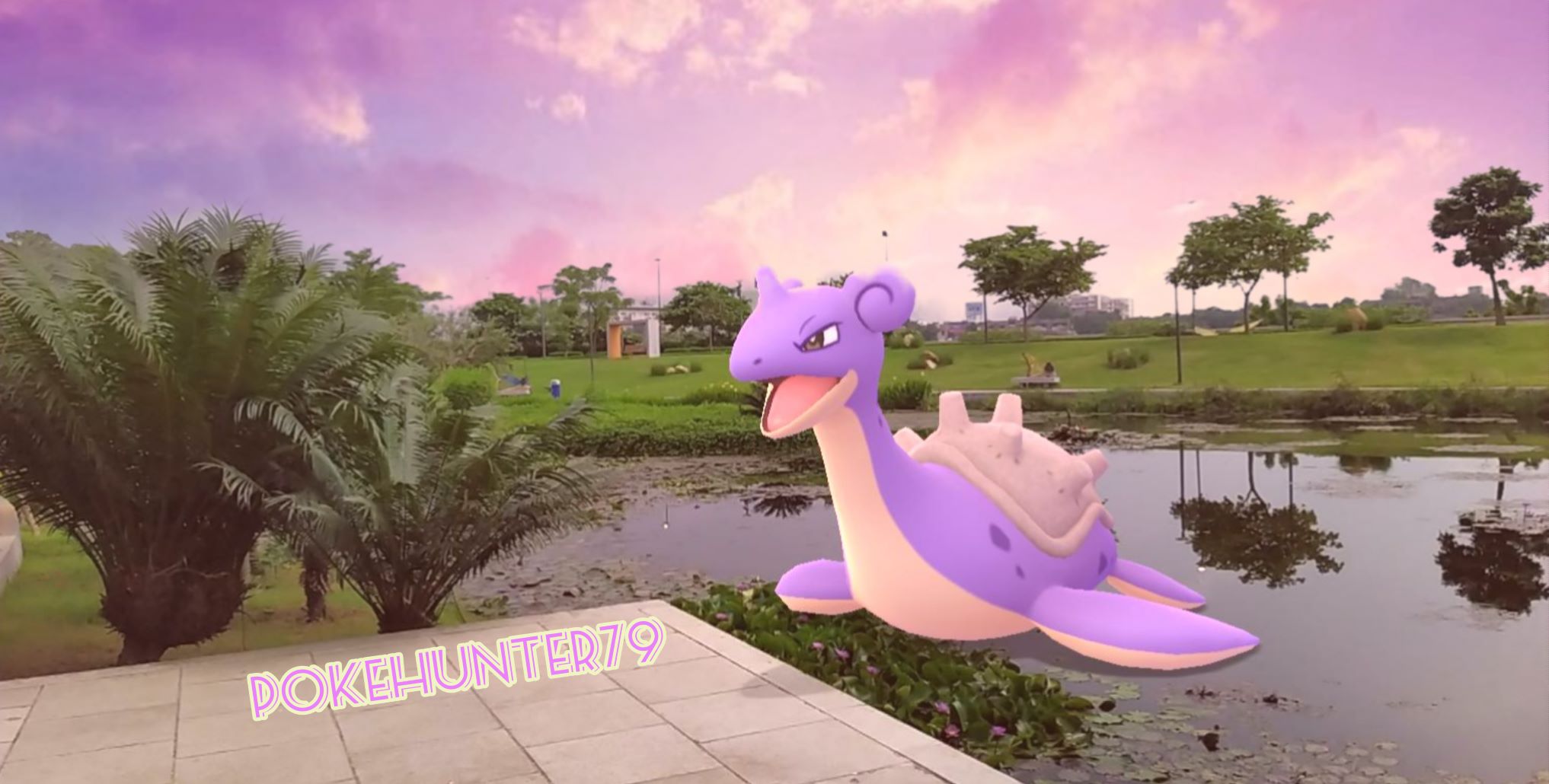 'I was too tired after roaming in Riverfront flower park. And recognized that I also have to cross this river to reach my home. Suddenly this purple Lapras came out and wanted me to cross the river with her. Shall I go with her?'
'"Photobomb Regice!?!?!"' by Chris J. Faria, Marlborough, MA, USA.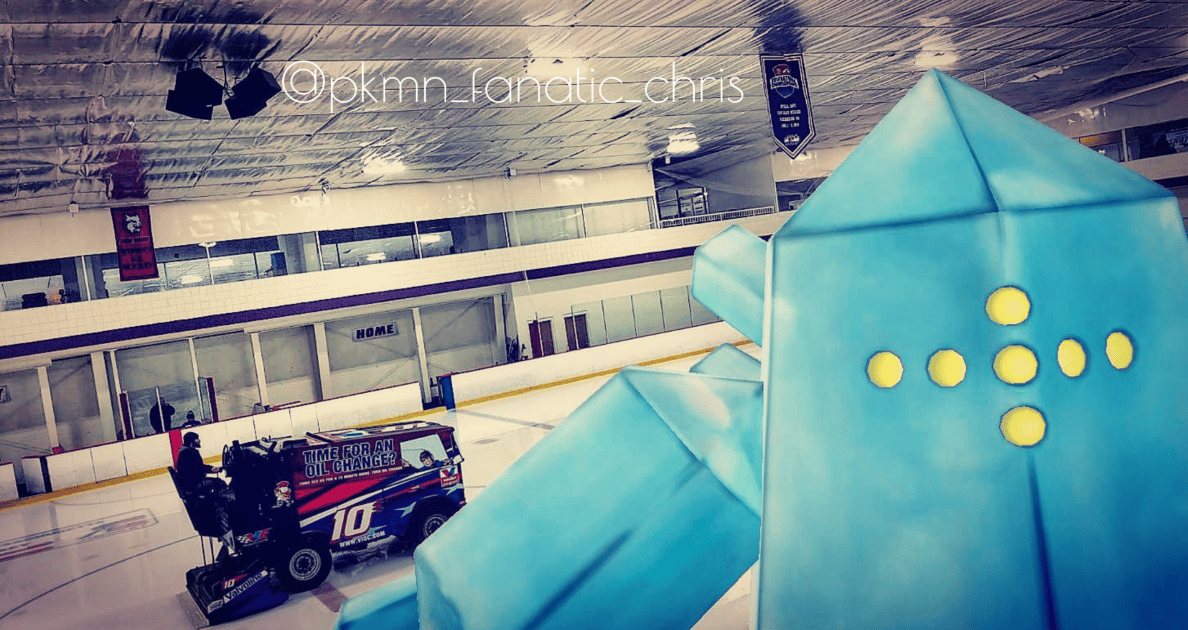 'As a zamboni cleans the ice, Regice gets the good idea of causing mischief and decides to make the picture all about it!'
'Snover Down Under' by Espeon Willow, Melbourne, Australia.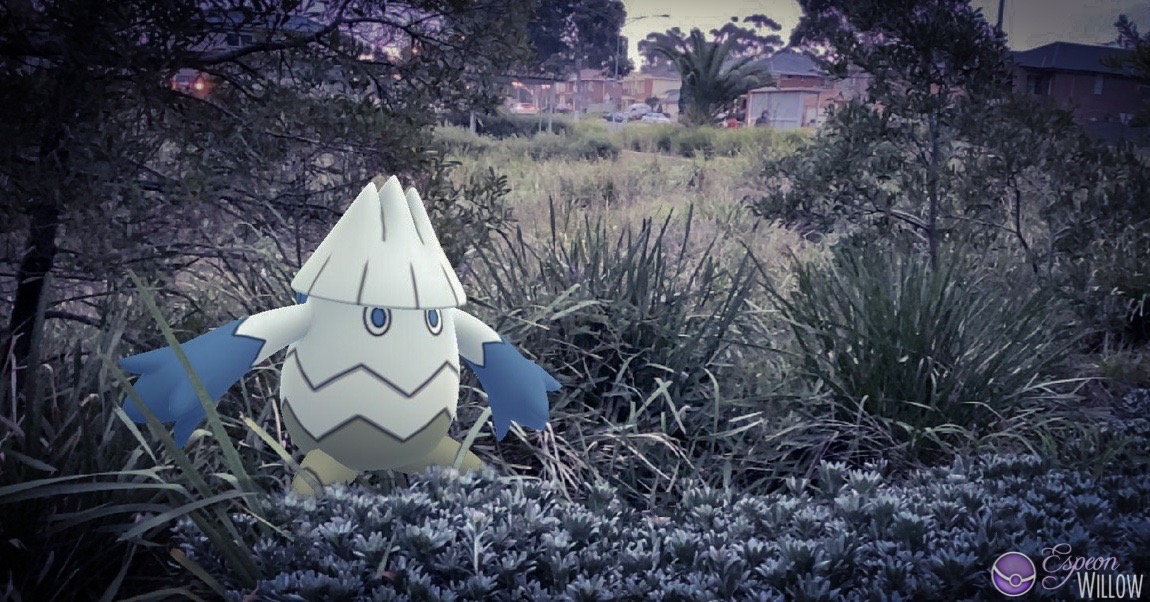 'Winter in Australia isn't like winter in other parts of the world. We don't get snow unless you travel to the mountains. It's just cold and rainy and overcast at times. So a winter photo for someone who lives here doesn't look like your typical winter photo. But this Snover is certainly making itself at home on a bed of tiny white flowers that look like light snow.'
'The great mammoth' by ElKhan32, Essex, UK.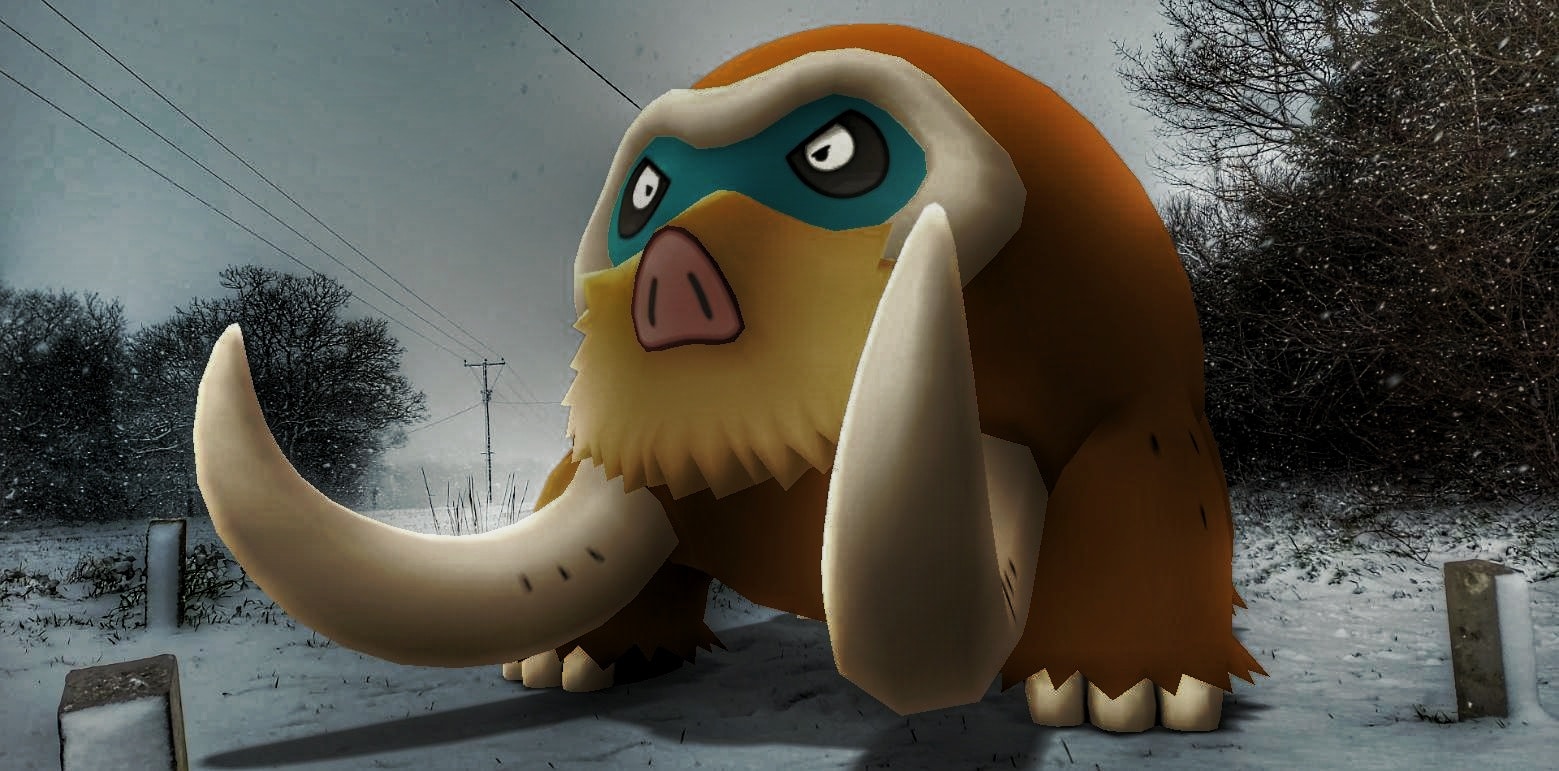 'When the snow sets in and cars can't travel, so the mammoth comes to save those in need.'
AR Masters
The below images are taken by our AR Masters.
'A pretty cool Pokémon' by Pokegramstm, London, UK.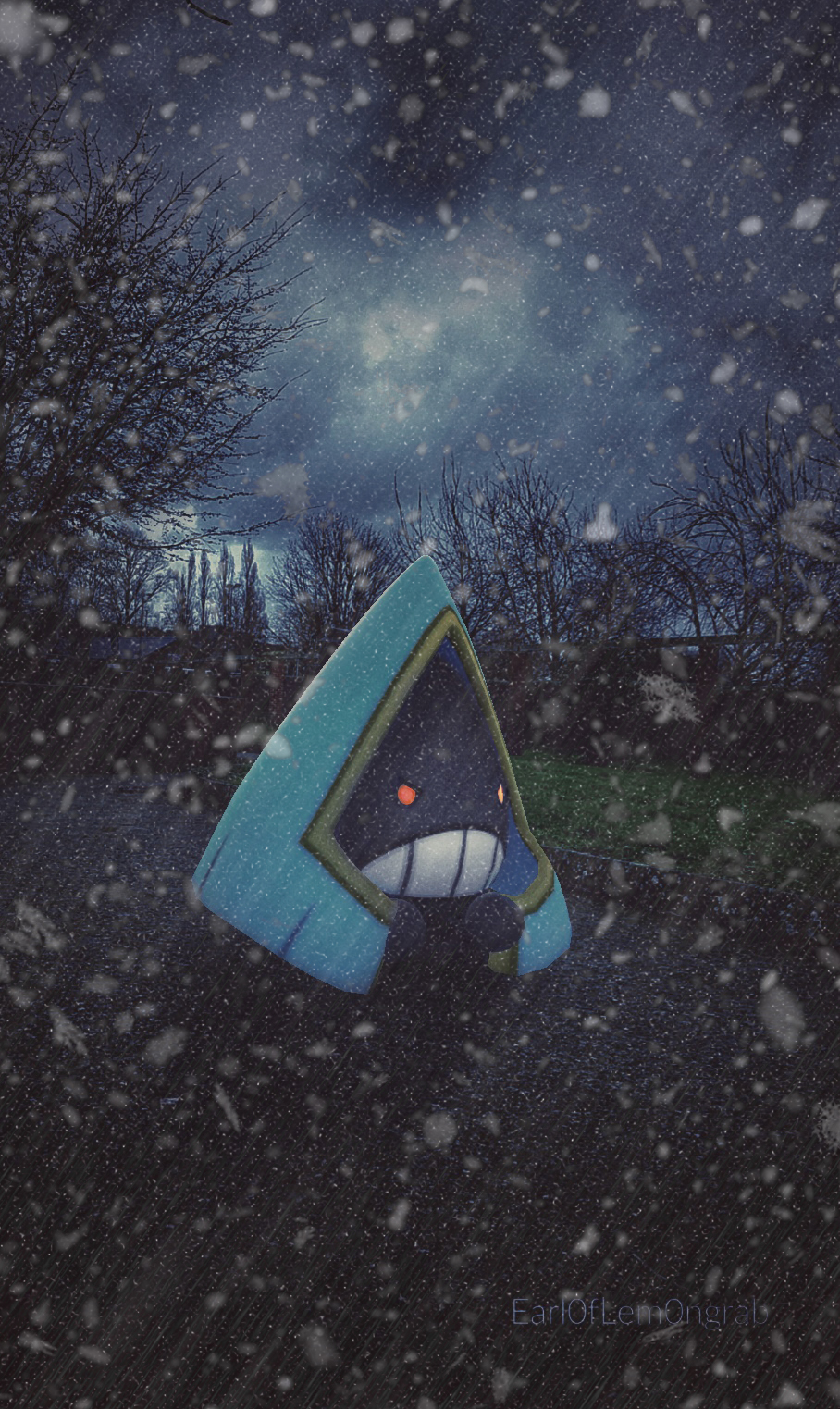 'Caught this little guy deep in winter. I felt as cold as he did!'
'Winter Pichu' by Ash Ketzchup, France, Paris.
'Winter holiday with little Pichu!'
'Tap Dancing' by kittypokemonsalot, Grimsby, UK.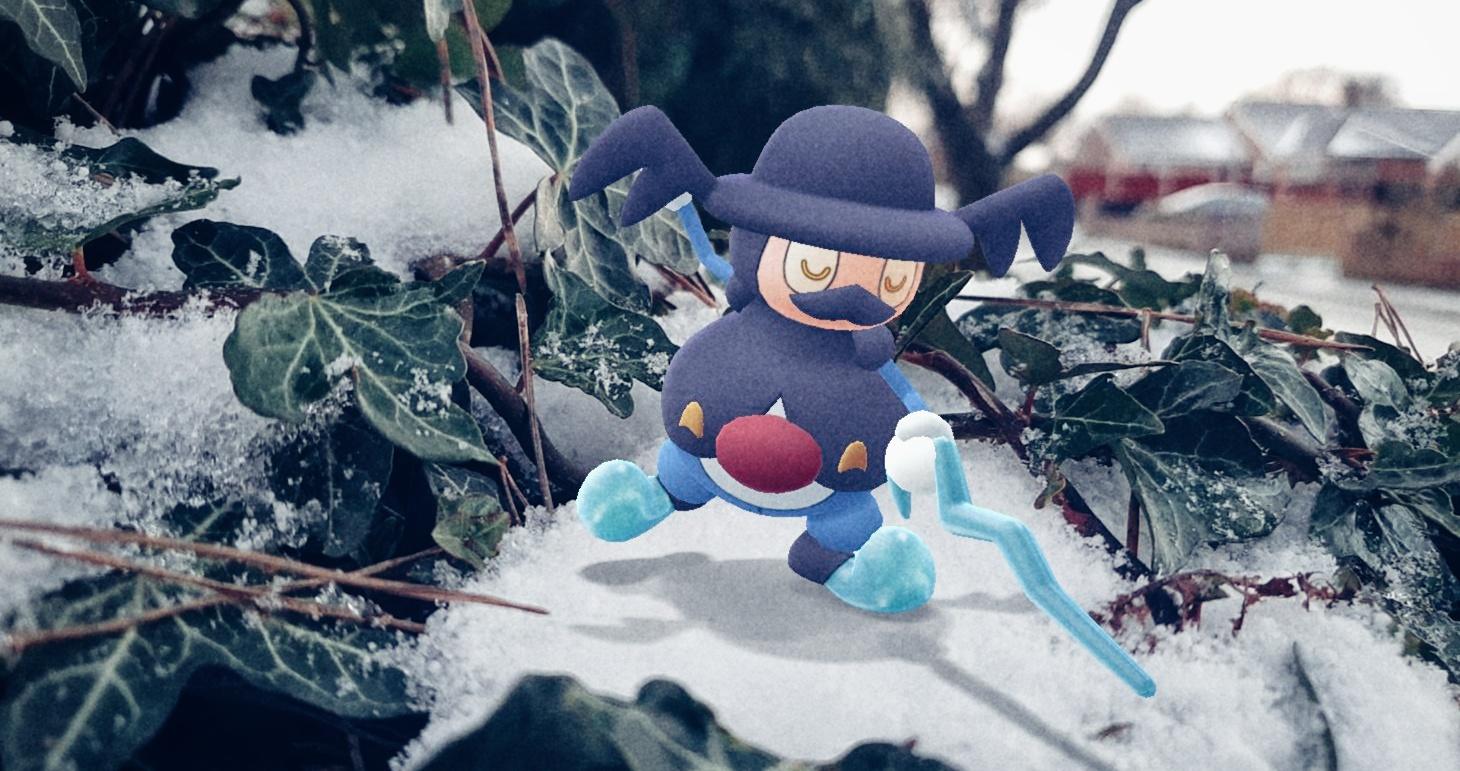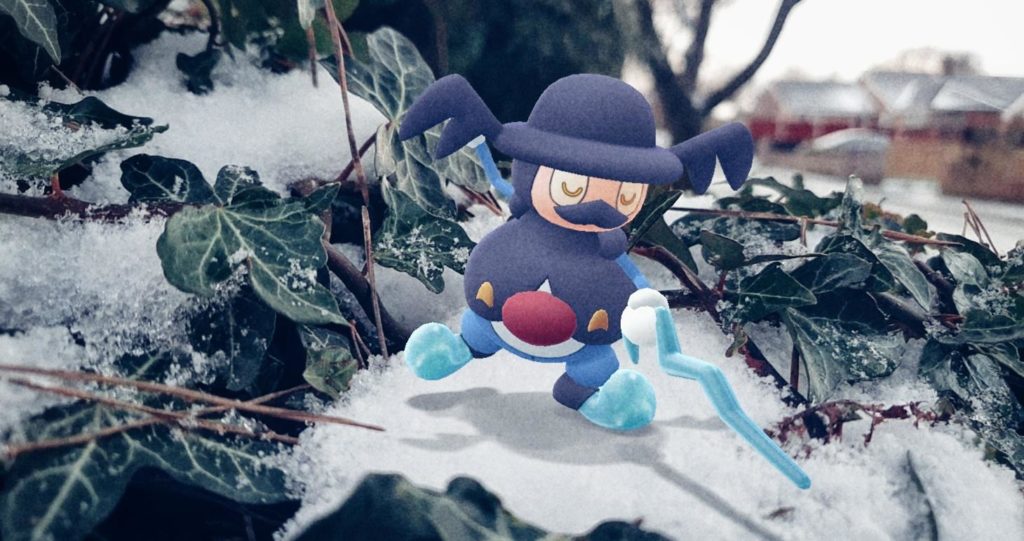 'Using the Tiny Pokémon technique, I couldn't resist making Mr. Rime tap dance in the snow!'
Next Submission Theme
This month we want to see images that feature the colours pink or purple! Submit by 25th March to be considered, full rules at the submission link here. It can be Pokémon that are pink or purple, a setting that is pink or purple, and you don't have to use both colours!