As previously announced, Pokémon GO's Level 50 cap increase is being tested in Australia. Australian players have started reporting level up requirements, new goals for platinum medals and the ways they've managed to obtain XL Candy.
We're collating the currently available information into this post, likely to be updated throughout the day. Stay tuned for our complete guide to leveling up to Pokémon GO's Level 50.
We strongly recommend you read our Pokémon GO Beyond Update Guide for more details on Pokémon GO's Level 50 cap increase, important update dates and the order of testing in Australia.
Level 41+ level up requirements and rewards
As we mentioned above, Niantic is testing the level cap increase in Australia right now. Folks are progressing through the levels nicely and they're reporting new level up task requirements on reddit.
Here are the newly reported level up requirements (verified by Australian Trainers, see screenshots in the gallery below):
Level 41
6,000,000 XP
Power up a Legendary Pokémon 20 times
Win 30 raids
Catch 200 Pokémon in a single day
Earn 5 Gold Medals
Level 42
7,500,000 XP
Evolve Eevee into each of its unique Evolutions (7, Sylveon not included… yet)
Use items to evolve Pokémon 15 times
Make 3 Excellent Throws
Use 200 Berries to help catch Pokémon
Level 43
9,000,000 XP
Earn 100000 Stardust
Use 200 supereffective Charged Attacks
Catch 5 Legendary Pokémon
Level 44
11,000,000 XP
Win 30 Trainer Battles in the Great League
Win 30 Trainer Battles in the Ultra League
Win 30 Trainer Battles in the Master League
Win 20 Trainer Battles in the GO Battle League
Level 45
13,000,000 XP
Defeat 100 Team GO Rocket Grunts
Purify 100 Shadow Pokémon
Defeat a Team GO Rocket Leader 50 times
Earn 10 Platinum Medals
Level 46
15,500,000 XP
Complete 100 Field Research tasks
Take a snapshot of a Pokémon 7 days in a row
Make 50 Excellent Throws
Hatch 30 Eggs
Level up rewards and XP requirements for higher levels have been data mined by PokéMiners, and we're sharing them below. Be aware that these can change very easily and that data mined information is not endorsed by Niantic: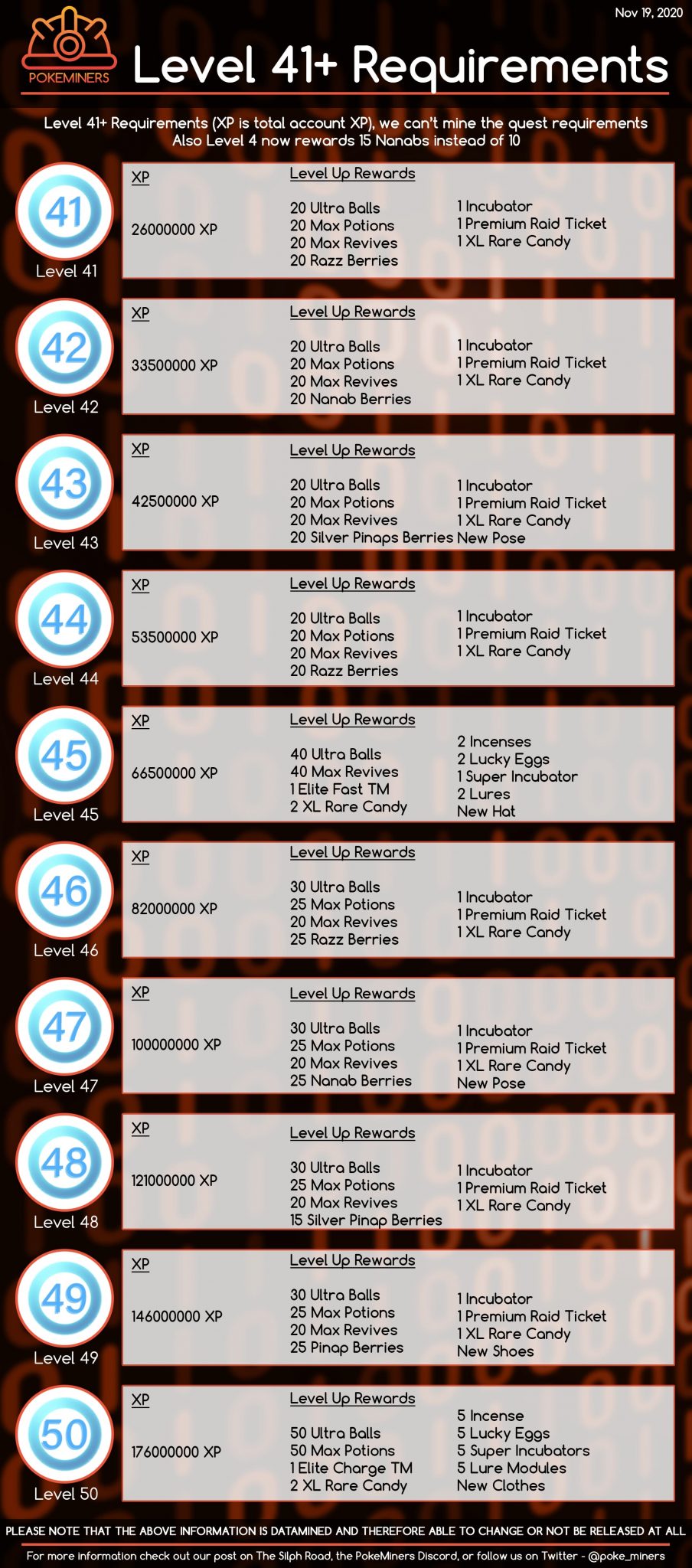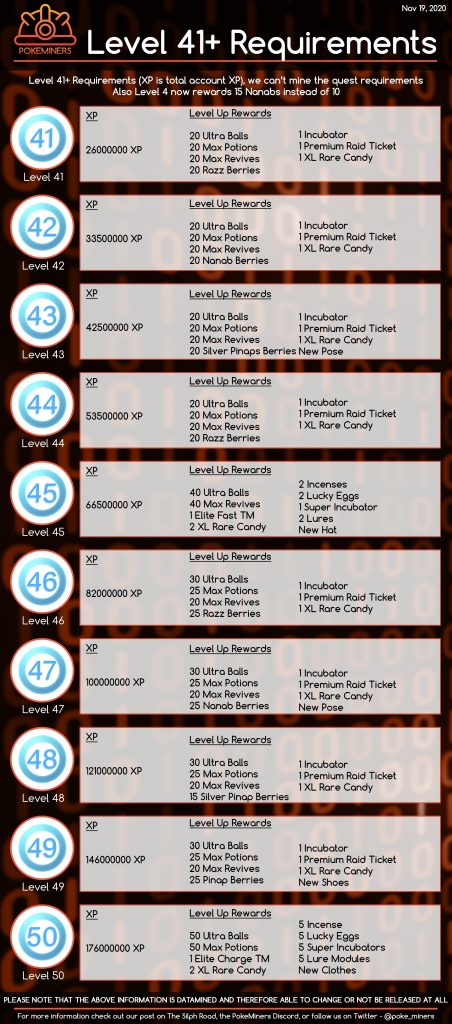 Additionally, ZoeTwoDots posted a video that showcases the initial testing phase in Australia:
---
Candy XL discoveries
In order to power-up Pokémon beyond Level 40 you will need to spend XL Candy and Stardust. The whole chart is attached below: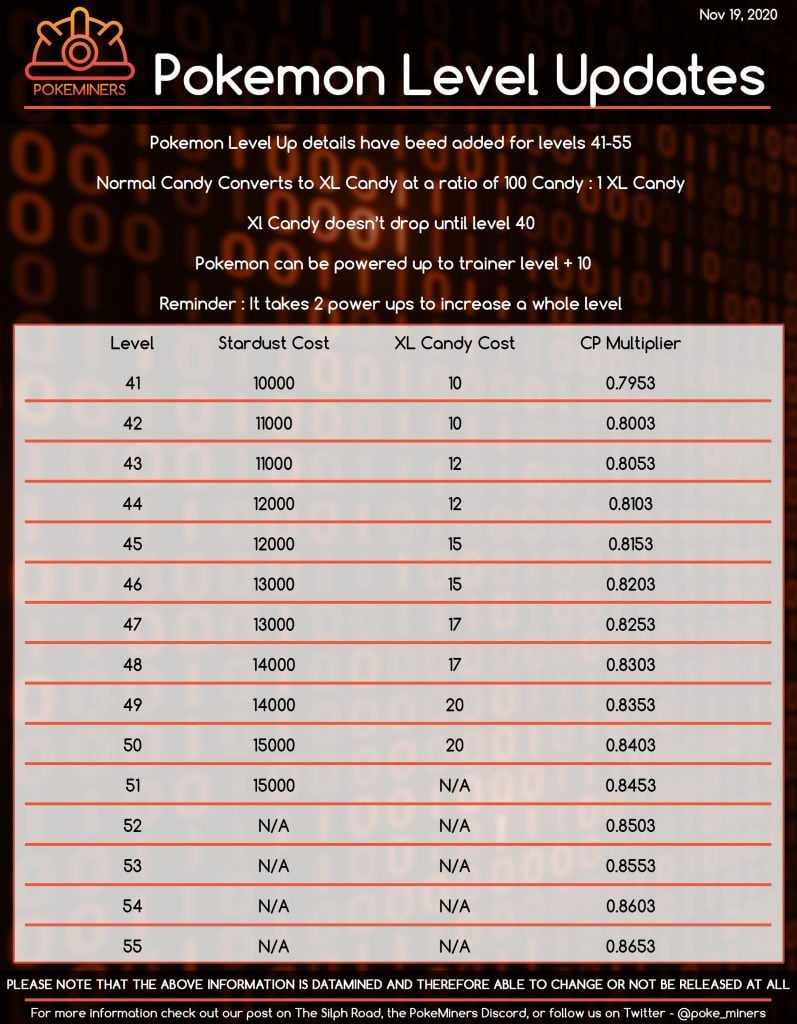 XL Candy news
You need 100 regular Candy to make 1 XL Candy (source). This is quite steep and you should probably get XL Candy elsewhere.
Powering up Purified Pokémon costs slightly less XL candy, Shadow Pokémon a lot more. Powering up Shadow Pokémon beyond Level 50 seems crazy expensive.
Trading can reward XL Candy
Catching Legendary bosses after raids can drop XL Candy
Egg hatches reward XL Candy. Early reports indicate you get 16 XL for 5 km Eggs and 24 XL Candy for 10 km Eggs.
Mystery Box can reward up to 18 XL Meltan Candy during 1 hour of activation
---
New Medals and new Platinum Medal Levels
A Trainer named ginji shared the full list of new medals and the new Platinum Medal levels for the previously available ones:
New medals
Rising Star – Defeat different species of Pokemon in Raids
Triathlete – Have a Pokemon catch or PokéStop visited streak of 7 days
Picknicker – Catch Pokémon attracted by a lure module
Sightseer – Visit Unique Pokéstops
Requirements:
| Medal | Bronze | Silver | Gold | Platinum |
| --- | --- | --- | --- | --- |
| Rising Star | 2 | 10 | 50 | 150 |
| Triathlete | 1 | 10 | 50 | 100 |
| Picknicker | 5 | 25 | 500 | 2500 |
| Sightseer | 10 | 100 | 1000 | 2000 |
New Platinum Medal Levels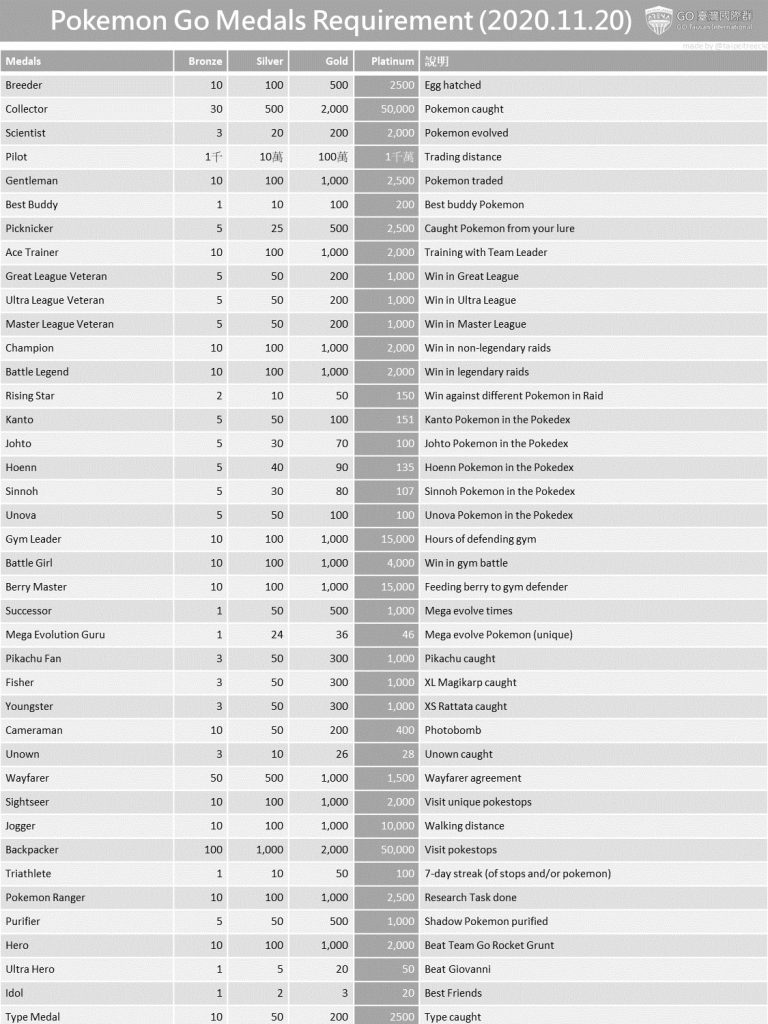 Kanto – 151
Johto – 100
Sinnoh – 107
Unova – 100 (Gold max currently, in theory should be 156)
Hoenn – 135
Breeder – 2500
Gym Leader – 15,000
Pokemon Ranger – 2,500
Idol – 20 BFFS
Jogger – 10,000km
Collector – 50,000
Scientist – 2,000
Backpacker – 50,000 stops
Battle Girl – 4,000 Gym Battles
Pikachu Fan – 1,000 pikas
Berry Master – 15,000
Pilot – 10,000,000km trade distance
Purifier – 1,000
Fisher – 1,000
Ace Trainer – 2,000
Youngster – 1,000
Champion – 2,000
Battle Legend – 2,000
Gentleman – 2,500
Great League Veteran – 1,000
Cameraman – 400
Hero – 2,000
Ultra Hero – 50
Unown – 28
Ultra League Veteran – 1,000
Master League Veteran – 1,000
Best Buddy – 200
Successor – 1,000 mega evolves
Mega Evolution Guru – 46 different species
Wayfarer – 1,500
Pokemon Type Encounters – 2,500 for +4 catch rate