Didn't have the time to catch up on all the things happening in Pokémon GO this week? No worries Trainers! Everything from new Field Research in May to PokéStop Nominations in India, we got you covered in this News Roundup: May 10, 2019!
May Field Research and Rewards
Besides the exciting announcement of Research Breakthrough Rewards for May and June, new Field Research tasks have been discovered by Trainers all around the world! With this, a new Shiny Pokémon was introduced! Trainers can now complete the task "Catch 5 Water-type Pokémon" to be rewarded with a Seel. However, some Trainers may get lucky enough to encounter a Shiny Seel!
You can find all Field Research tasks and rewards here, or in this amazing sharable infographic brought to you by Orange Heart!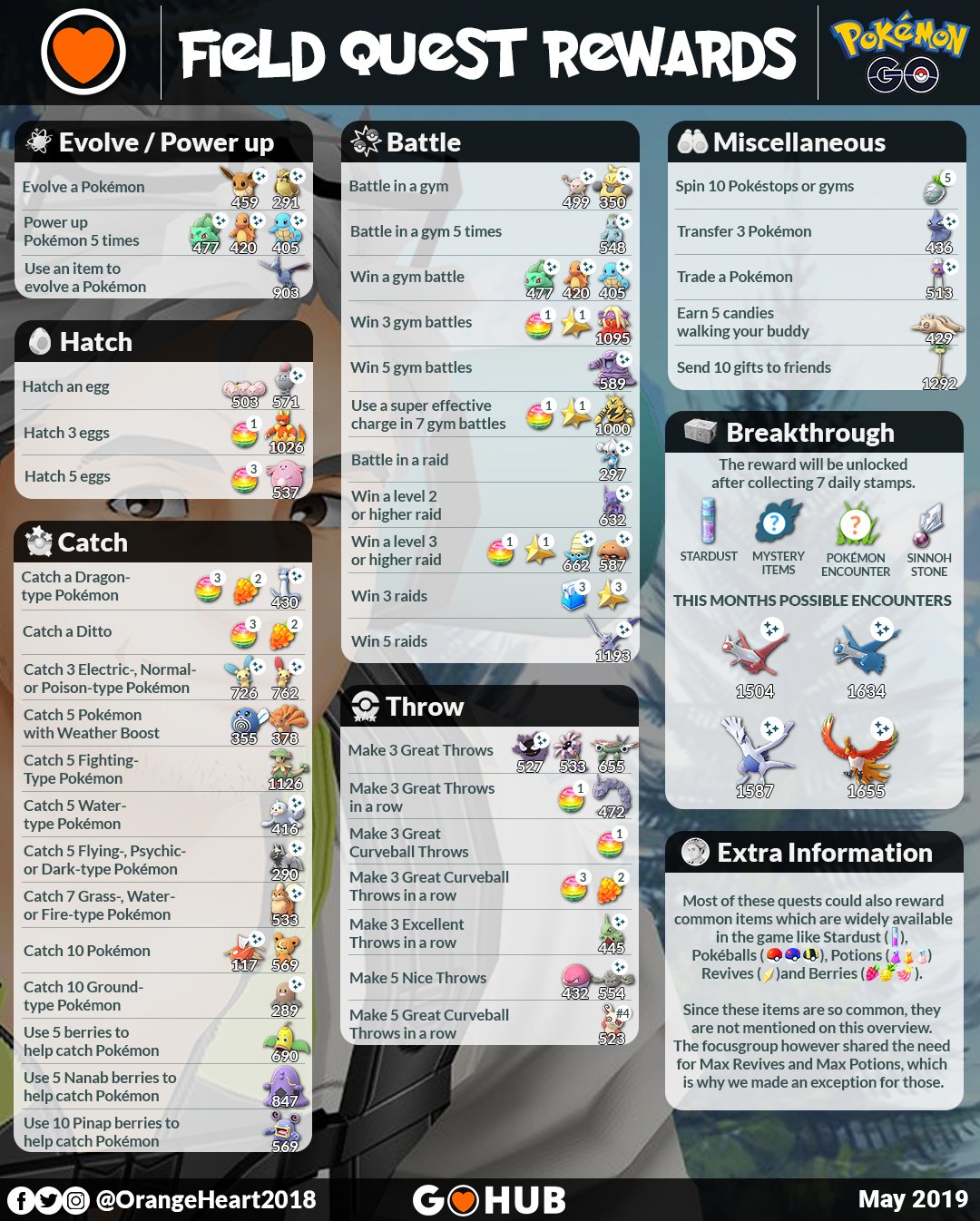 In addition to these tasks, limited Field Research is now available during the Detective Pikachu Event, but more about that later on.
Lake Guardians in Regional Raids
A new Legendary Raid Boss has appeared in Tier 5 Raids. Or should we say, Bosses? After they became available in the wild, the Psychic Legendary Lake Guardians started appearing in Regional Raids around the world. These Legendary Pokémon can be battled, in their respective regions, from May 2, 1 pm PDT – May 27, 1 pm PDT. Azelf can be found in the Americas and Greenland; Mesprit in Europe, the Middle East, Africa and India; and Uxie in the Asia-Pacific Region. You can also find their locations on this beautiful Map by Couple of Gaming.
Important note: Niantic has stated that the Lake Guardians will NOT ROTATE. They will stay in their respective regions.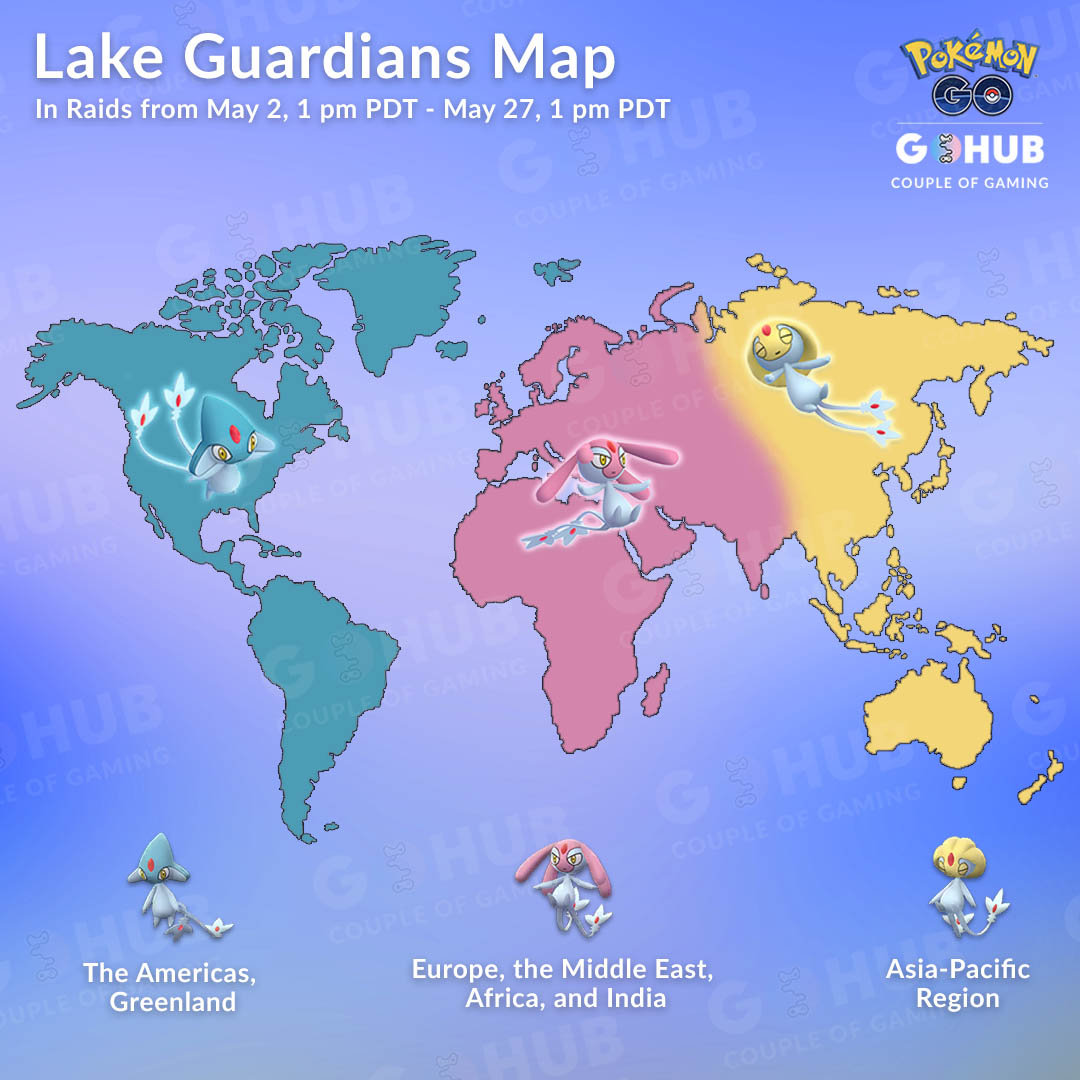 Be sure to check out our Raid Guides to prepare for battle:
Detective Pikachu Event
To celebrate the release of the Detective Pikachu movie, a new Pokémon GO-event is taking place! From May 7th – May 17, Trainers can enjoy some exciting Detective Pikachu-themed features! These include increased encounters with Pokémon seen in the movie, Detective Hat Pikachu photobombs; Detective Pikachu themed Raid Bosses and Field Research, Detective Pikachu avatar items available in the in-game Shop, the chance to encounter shiny Aipom, and Double catch XP for ALL Pokémon caught! It's a great week to Level Up, Trainers!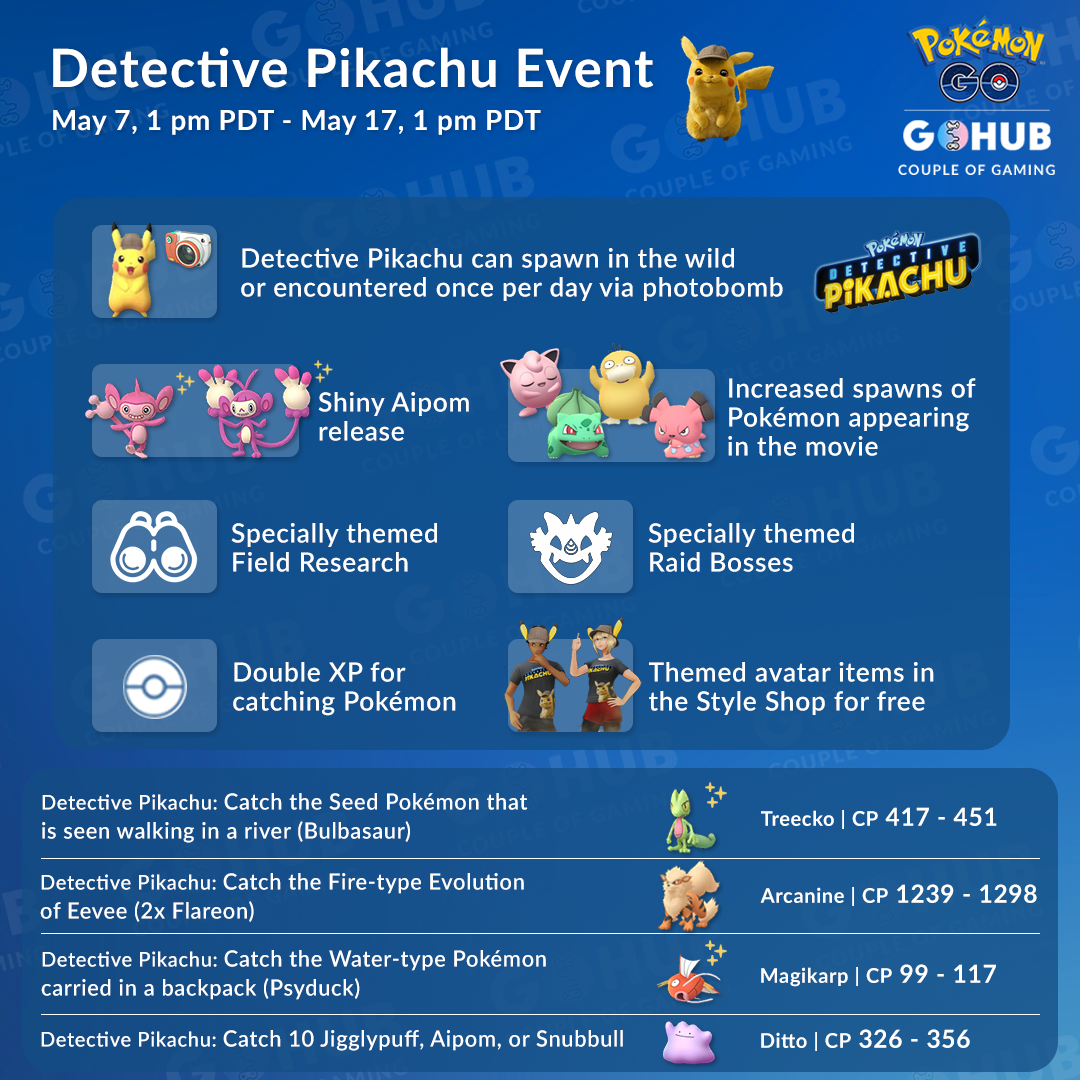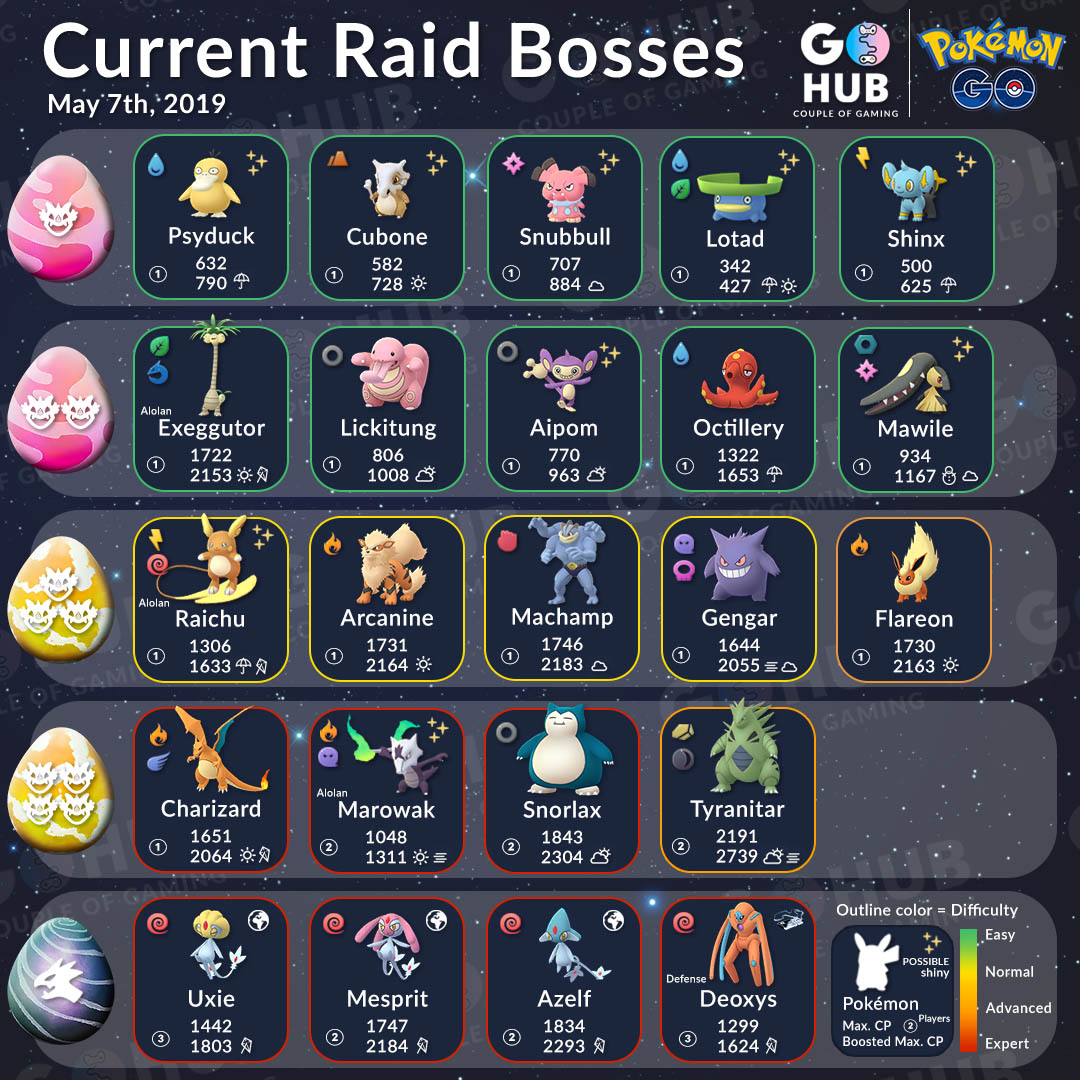 GO Fest Dortmund Details
With tickets for GO Fest Chicago being sold out, Niantic has shared additional information on Pokémon GO Fest Dortmund!
Besides the event's promo artwork, a new event website was launched together with a comprehensive ticketing FAQ. Tickets are not yet available, but starting May 13th, you can enter a drawing to have a chance of purchasing tickets. Be sure to check the new "Events" icon on your Main Menu in the Pokémon GO App. More info about the in-game Ticket Registration can be found here.
New Lure Modules
Exciting news! Data miners have found three new Items in the Pokémon Go code! This information is NOT confirmed by Niantic, and we do not know when or if these Items will be implemented in Pokémon GO. The Items we're talking about are three new attribute-themed Lure Modules, which will cause Pokémon of certain Types, or potential biomes, to spawn. In addition, they could also cause certain Pokémon to evolve.
It is speculated that this is how Magnezone, Leafeon, Glaceon, and Probopass will be released, but again, this information is NOT confirmed by Niantic.
May Box Sale
With new Box Sales appearing in the Shop every month, May also allows you to stock up on some Premium Items at a lower cost! Curious about how much you can save this month, or want to find out which Box best suits you? Check out our May Box Sale Analysis to find out!
Niantic Games in Samsung's Galaxy Store
Starting today, all of Niantic's real-world games are becoming available in the Galaxy Store on Samsung devices. Trainers can now download Pokémon GO in the Galaxy Apps Store. Wizards among us can also pre-register for Harry Potter: Wizards Unite. Ingress-Agents should be on the lookout, as Ingress Prime will soon be available for downloading as well. You can find more information on the official Niantic blog post.
PokéStop Nominations in India
A Beta version of the PokéStop Nomination feature has become available for Level 40-players in India. Trainers in India suffer a significant lack of Stops and Gyms, despite it being one of the largest countries in the world. So, it's needless to say that this new feature will be greatly appreciated!
Besides India, PokéStop Nominations  are also available in: South Korea, Thailand, Indonesia, Taiwan, Denmark, Brazil, Mexico, Chile, Argentina, Peru and the rest of South America.
News Roundup: Parting Words
That's it, Trainers! I hope this News Roundup got you all caught up and ready to take on new adventures! Remember to stay safe, and enjoy the coming days of the Detective Pikachu Event, as well as the rest of your May explorations!