Pokémon GO Events have been announced for Comic Con events in Birmingham (UK) and Utrecht (The Netherlands). From March 23 – 24, 2019, Trainers who purchased tickets for these events can enjoy limited time in-game bonuses!
What can attendees expect of these events? You'll find all information below:
MCM Comic Con Birmingham/Heroes DCC Utrecht 2019
Start date
Mar. 23, 2019
End date
Mar. 24, 2019
Locations

Birmingham, UK
Utrecht, Netherlands

Featured Pokemon
Additional Bonuses

4-hour long Lure modules
2x Stardust for Pokémon catches

Official websites
MCM Birmingham Comic Con 2019
This year, the West Midland's largest pop culture event is taking place at The National Exhibition Centre (NEC) in Birmingham. With 20 interconnected halls, it's the biggest exhibition centre of the UK! For those of you not familiar with Comic Con, let me explain. Comic Con is a large convention where geeks and fans gather, dressed-up like their favorite character of movies, comics, books, games, … There are tons of things to do, such as meeting famous actors and writers, do all different kinds of workshops, as well as discovering the latest movie trailers and get a taste of the latest new game content. It's an amazing experience and encourages to meet new people and make friends!
Besides of the in-game features, MCM will host a PvP Tournament in Birmingham and it will take place on Sunday in the city center. This tournament is organized by the local community and is not an official part of the event. To learn more, visit the MCM Comic Con website.
Dutch Comic Con Utrecht 2019
The largest Comic Con in The Netherlands is back, this year at the 'Jaarbeurs' in Utrecht. You'll have the opportunity to meet Hollywood-stars, do workshops, challenge your friends in the Gaming Hall, and A LOT more.
In addition to the in-game bonuses, DCC will also hold a PvP Tournament in Utrecht. It will take place both on Saturday and Sunday, at the stand of the Dutch Pokémon GO Community. The Tournament's schedule is already out there and can be found here, with additional info.
Infographics
Our very own Orange Heart has got you covered with the sharable infographics: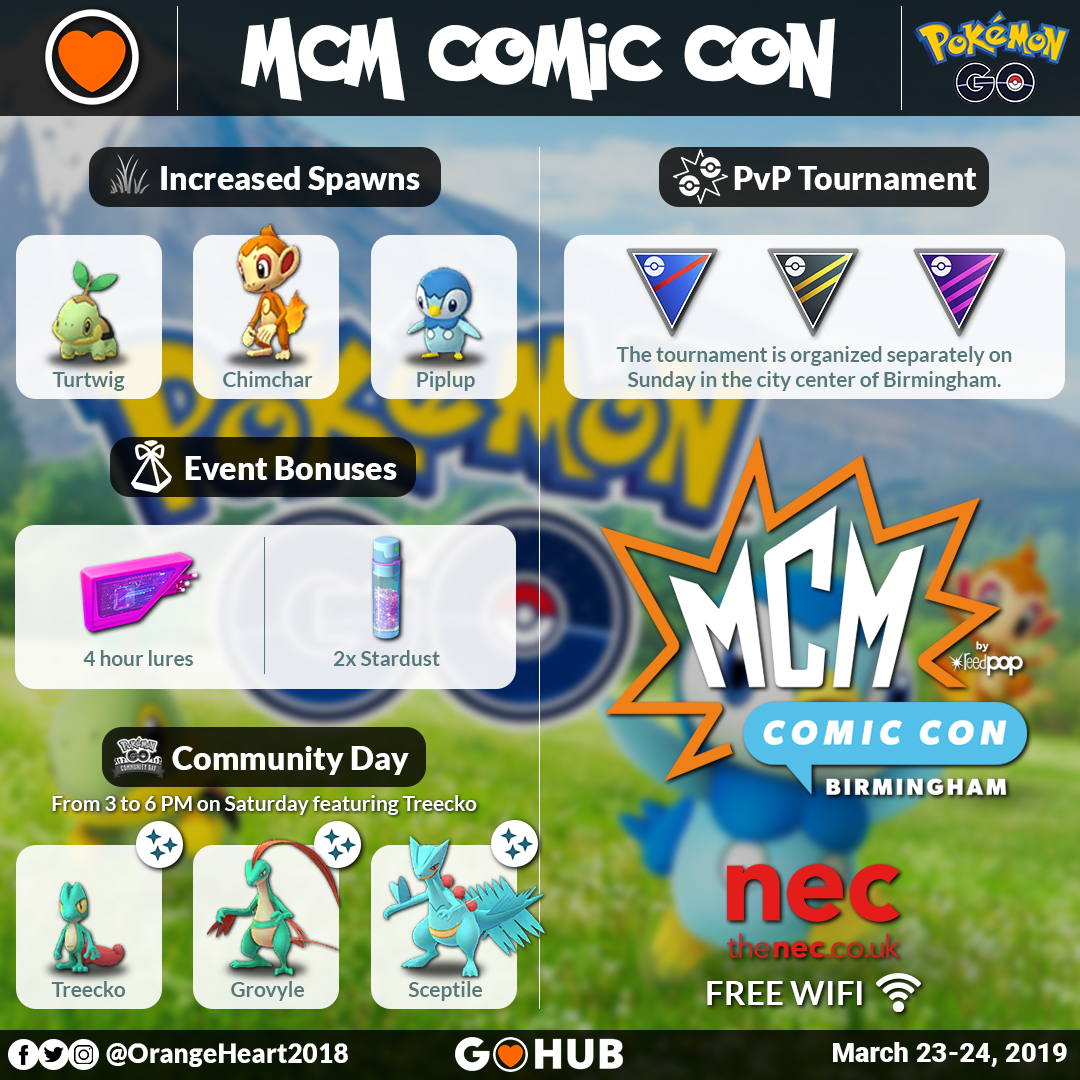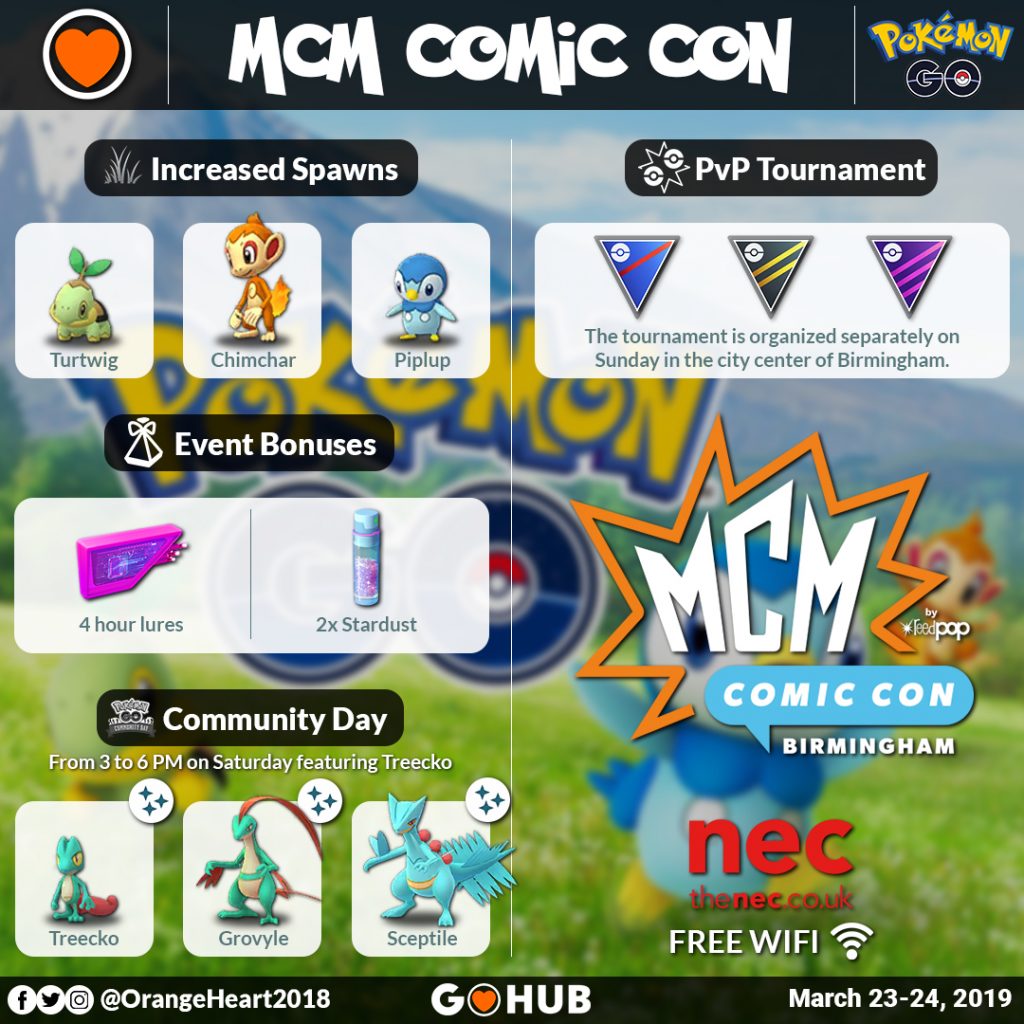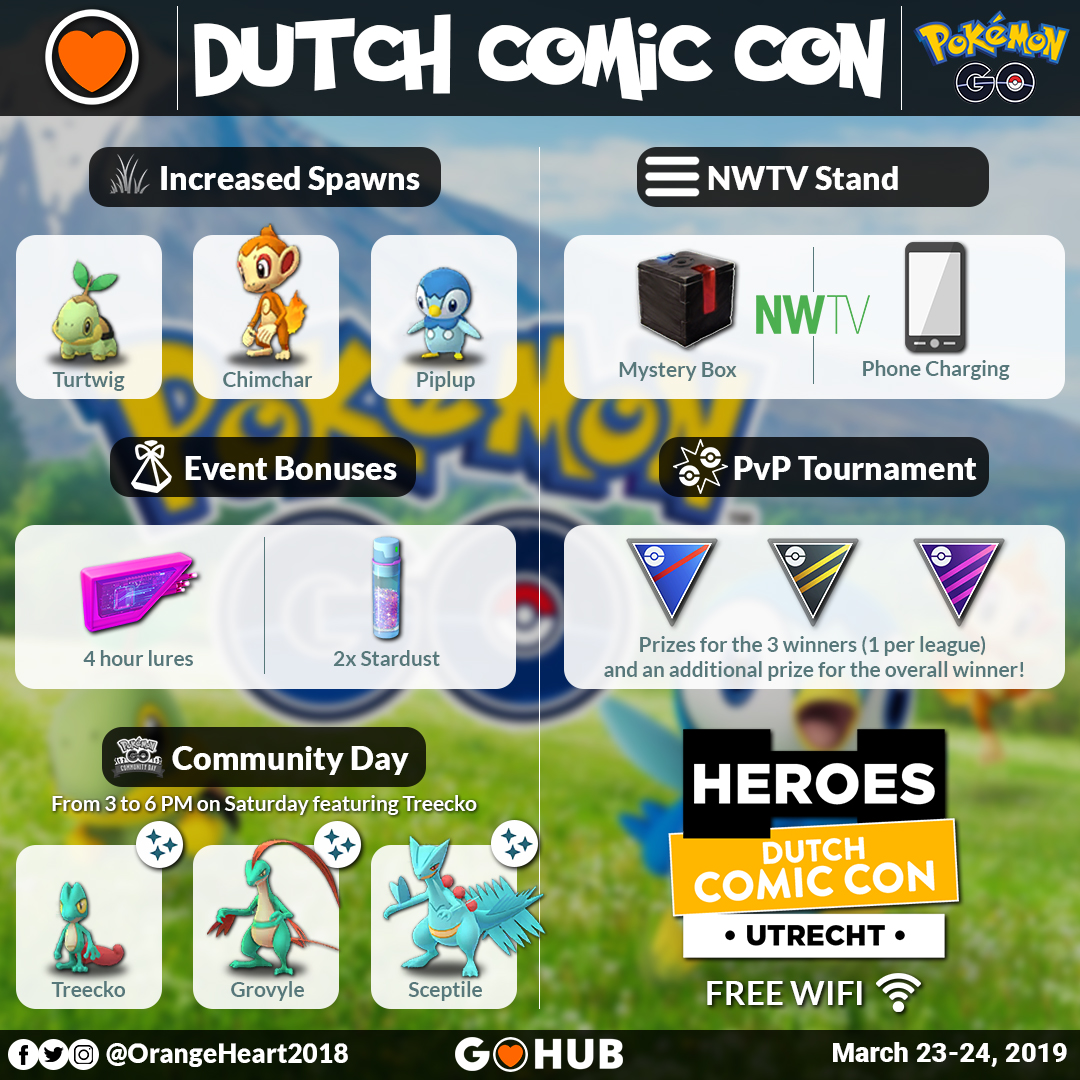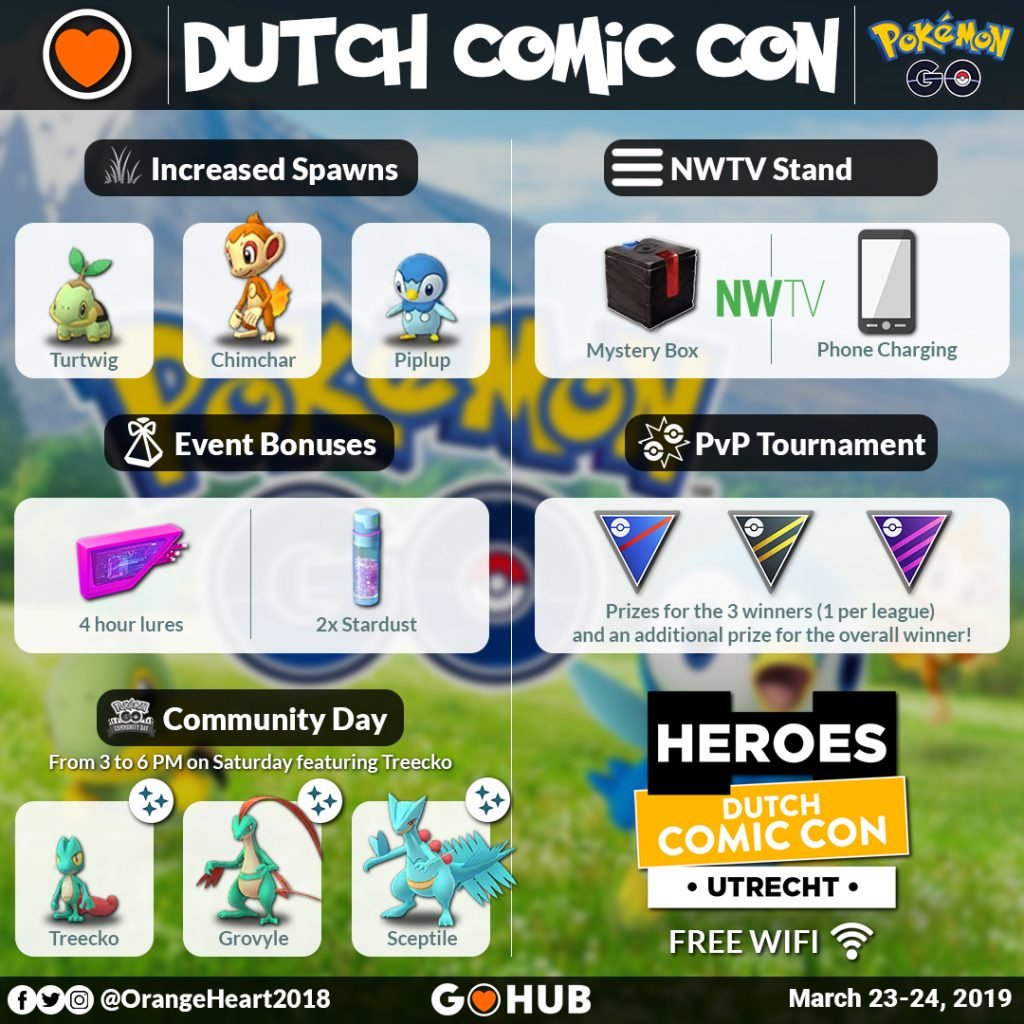 Additional Pokémon Go Events to Keep in Mind
Another exciting part of the event, is that you can experience March Community Day at the Comic Con Events. Be sure to look out for shiny Treecko between 3pm and 6pm local time. The 4-hour long Lure modules will help you along the way! You will also want to walk those legs Trainers, as Incubators will be 4x as effective! Additional info and sharable infographics can be found here.
And last, but certainly not least, let us not forget the Equinox Event will also provide increased grass-type spawns to allow you to rack up on that Stardust bonus for those attending either event! Good luck Trainers!