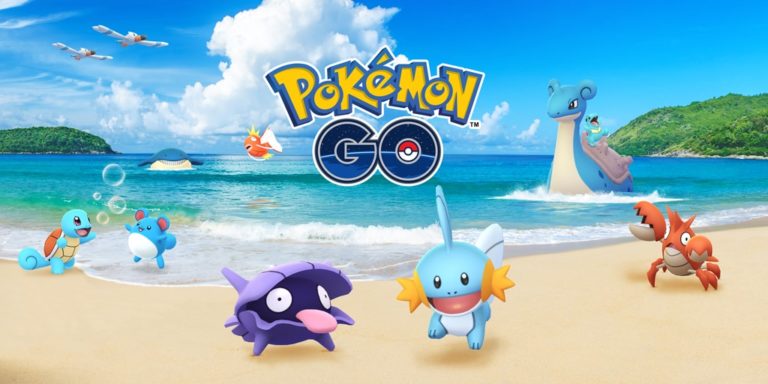 Trainers, the Pokémon Go Water Festival is making a return from last year, bringing a few new Shiny forms along. Last year, the Water Festival brought us our very first shiny, in Magikarp, and this year does not disappoint at all!
Pokemon GO's Water Festival 2018 event starts on June 7th at 1:00pm PDT and features a ton of benefits: boosted Water types in the wild and as 2km egg hatches, 3x catch Stardust for Water types, a shiny Shellder, double candy and Stardust for egg hatches, and, wait for it… Kyogre returning to raid battles with a shiny form in tow!
Table of contents
For those of you who are visual users, here is a graph below:
Water Festival 2018
Start Date
June 7th 2018 at 1:00pm PDT
End Date
June 21st 2018 at 1:00pm PDT
Event bonuses
Increased

Water

spawns in wild and in 2km eggs
3x catch stardust for

Water

types
Shiny Shellder and Shiny Kyogre as a Tier 5 raid boss
Double candy and stardust for egg hatches

Water

type field research tasks
Remoraid as Ditto
New shiny forms and boosted Pokemon spawns
| Shiny Shellder | Shiny Cloyster | Shiny Kyogre |
| --- | --- | --- |
| | | |
And do not forget, shiny Magikarp, Luvdisc and Wailmer will be available for you to catch, as they will be boosted spawns as well!
This is a full list of water types below, though not all can be found in the wild (*cough* Generation 3 third evolution *cough*), but this list should help you see what you might be getting during the event, and hopefully help you figure out what you need for the Pokedex!
Relicanth and Corsola are region exclusives.
Recommended event catches
As you may have gathered from the table above, there's a a lot of Pokémon that could appear more frequently during this event. Water is the most abundant type in the game, and it definitely shows. To make things easier, we've created a table of most important Water types that you should definitely look for during the event:
Pokemon
Reason

Magikarp

We recommend catching Magikarp for two reasons: it can be shiny, and Gyarados is a great Water type to have, regardless of how many Kyogres you have.

Shellder

A shiny Shellder will become available during the Water Festival, and Cloyster is not a bad Gym defender, nor is it too bad as an

Ice

type attacker.

Lapras

Lapras is ultra rare and a coveted catch, if you spot it in the wild, go right for the catch.

Wailmer

Wailmer can be shiny, and Wailord takes 400 Candy to evolve, so you might try out your luck while the event lasts.

Spheal

Walrein is a solid

Ice

type, nothing super exciting, but catching Spheals helps you level up your Ice type medal and get a solid filler

Ice

type in the end.
Water Festival raid bosses
The following Water Festival raid bosses are appearing while the event lasts:
Tier 1:

Kabuto,
Omanyte,
Shellder,
Wailmer

Tier 2:

Croconaw,
Marshtomp,
Tentacruel

Tier 3:
Tier 4:
Tier 5:
As for those that always appreciate the infographics produced by Couple of Gaming, here is a raid boss graphic for Kyogre:
Water Festival Box Sale
| Items | Special Box | Great Box | Ultra Box |
| --- | --- | --- | --- |
| Incense | 6 | – | 12 |
| Incubator | 2 | 4 | – |
| Super Incubator | – | – | 10 |
| Raid Pass | 3 | 8 | 12 |
| Star Piece | – | – | 18 |
| Lucky Egg | – | 8 | – |
| Lure Module | – | 6 | – |
| Coins | 480 | 780 | 1480 |
The sale is a bit weird this time around, with the focus mixed between Incubators and Raid Passes. Again, Ultra Box is the best value among the bunch, but the Great Box does offer some extra Incubators and Lucky Eggs with minimally discounted Raid Passes.
Parting words
You can find the official event announcement on Pokemon GO's official website, titled Soak Up Special Bonuses during Water Festival 2018! The GO Hub team is super excited for this event, for two big reasons:
This is one of the rare times Niantic has mentioned a shiny Pokemon in their official announcement, with the only other instances being Ho-Oh and a tweet about Magikarp.
This event came out of the blue and surprised us completely! Honestly, we thought that NIA forgot about the Water Festival completely, but we were wrong!
That is it for now Trainers! As always, be sure to join us on our Discord server and help report new raid bosses and other research items!