Party Up! is a special Pokémon GO event highlighting the new Party Play feature that runs from November 22 through November 27, 2023 and brings costumed Pokémon and exclusive bonuses to the world of Pokémon GO.
The costumed Pokémon in question is Wurmple. Other Pokémon include just about every Paldean Pokémon released so far. As for the exclusive bonuses, let's just say it'll be a great opportunity to get some candies.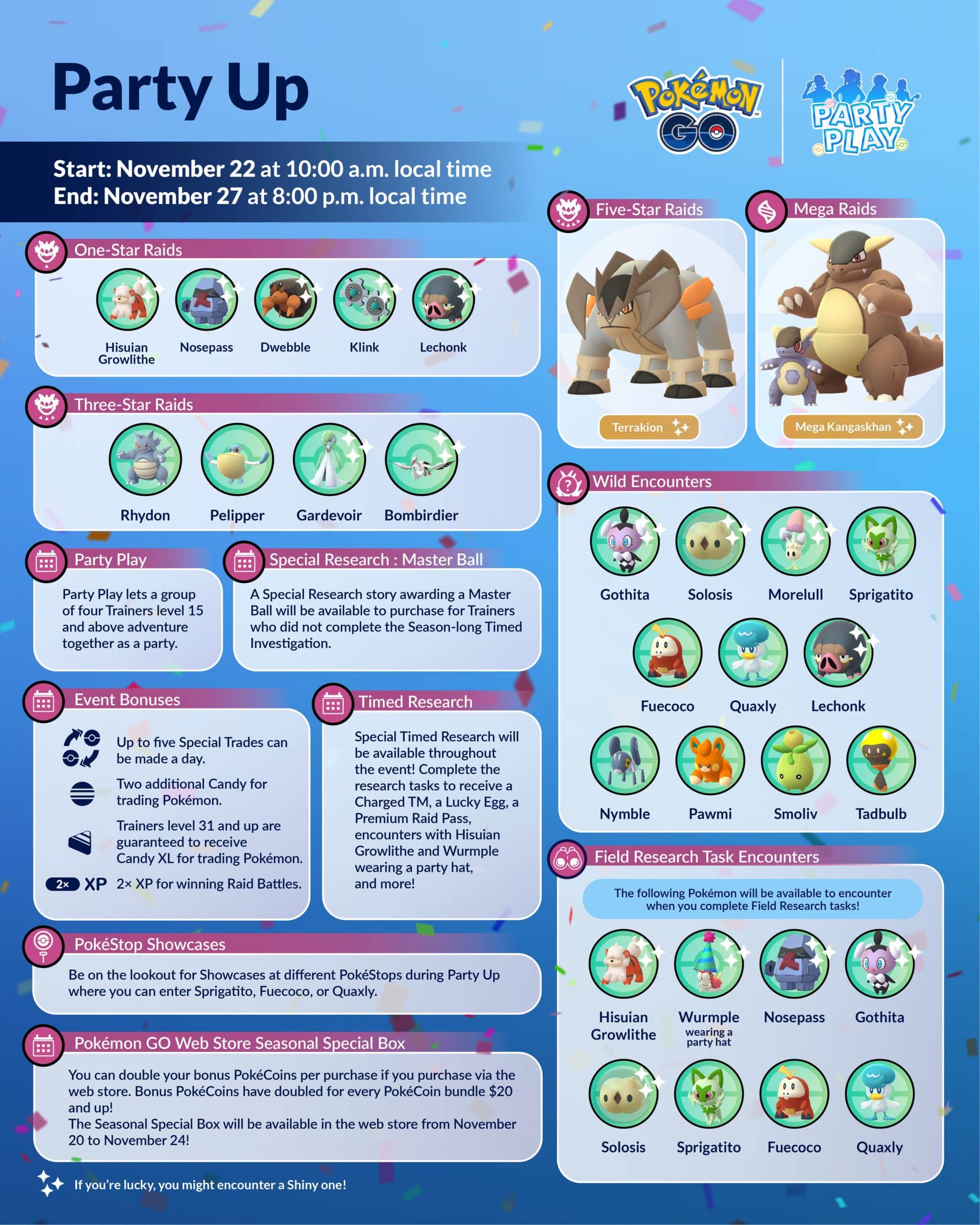 Start and end time
Start: November 22, at 10:00 a.m. local time
End: November 27, at 8:00 p.m. local time
Bonuses
Up to 5 Special Trades can be made in a day.
Two additional Candies for trading Pokémon.
Guaranteed Candy XL for trading Pokémon for trainers Level 31 and up.
2x XP for winning Raid Battles.
Timed research featuring Party Play
Sprigatito, Fuecoco, and Quaxly Showcases.
Master Ball Research be purchasable for Trainers who did not complete the Timed Investigation: Master Ball during the Season of Adventures Abound
Pokémon GO Black Friday Sale live on the Pokémon GO Web Store
---
The following Pokémon will appear more frequently in the wild.
PokéStop Showcases
Be on the lookout for Showcases at different PokéStops during this event where you can enter:
---
---
The following Pokémon will be available to encounter when you complete Field Research tasks.
Task Text
Reward
Power up Pokemon 10 times
Win a Raid

Wurmple

Wearing a Party Hat

Trade a Pokemon
Explore 1km

Sprigatito

Power up Pokemon 5 times

Fuecoco

Catch 10 Pokemon

Quaxly

Spin 5 Pokestops

300

×

Stardust

Spin 10 Pokestops

3

×

Hyper Potion

2

×

Revive
---
Special Timed Research will be available throughout the event! Complete the research tasks to receive a Charged TM, a Lucky Egg, a Premium Raid Pass, encounters with Hisuian Growlithe and Wurmple wearing a party hat and more!
Party Up – 1/1
Task
Reward
Win 3 raids while in a party

Growlithe (Hisuian)

Use 5 supereffective Charged Attacks while in a party

3

×

Charge TM

Catch 30 Pokémon while in a party

1

×

Lucky Egg

Spin 30 PokéStops or Gyms while in a party

1

×

Premium Raid Pass

Explore 3km while in a party

2500

×

XP

Complete 3 Party Challenges

1000

×

Stardust

Rewards

2000

×

Stardust

5000

×

XP
---
Pokémon GO Web Store Seasonal Special Box
You can double your bonus PokéCoins per purchase if you purchase via the web store. Bonus PokéCoins have doubled for every PokéCoin bundle $20
and up!
The Seasonal Special Box will be available in the web store from November 20 to November 24!
Special Research : Master Ball
A Special Research story awarding a Master Ball will be available to purchase for Trainers who did not complete the Season-long Timed Investigation.