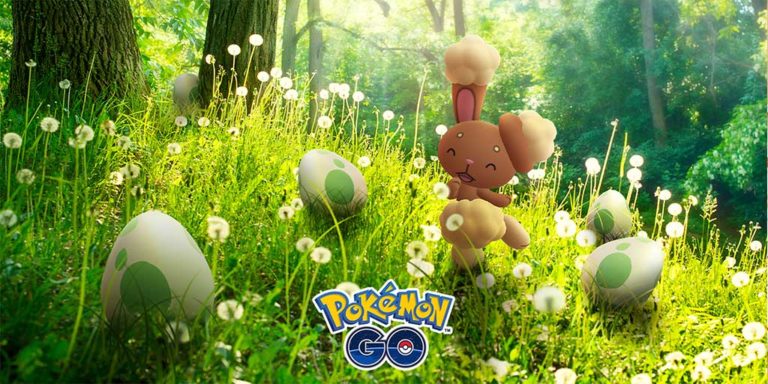 GO Hub's news roundup is a weekly summary of all the important Pokémon GO news published this week. From events to highlighted articles, news roundup has you covered.
---
This week's Pokémon GO News Roundup sees a bunch of new events and announcements. Starting with the end of the Bug event, another Legendary Lunch Hour, the announcement of another Eggstravaganza, Earth Day Cleanups starting, plus a few minor local events.
Other announcements included: Latios' return for one week with its shiny form being available, Outrage as the exclusive Move for Salamance on Community Day, the introduction of Lucky Friends, the addition of Trainer Poses, PokéStop Submissions being extended to Taiwan, and an all-new AR Contest. Just another crazy week in the World of Pokémon Go.
Bug Out
The Bug Out! Event from April 2 – 9 saw increased Bug spawns, Shiny Scyther, the return of Nincada to Task Rewards and Ninjask to Raids, and Incense lasting twice as long.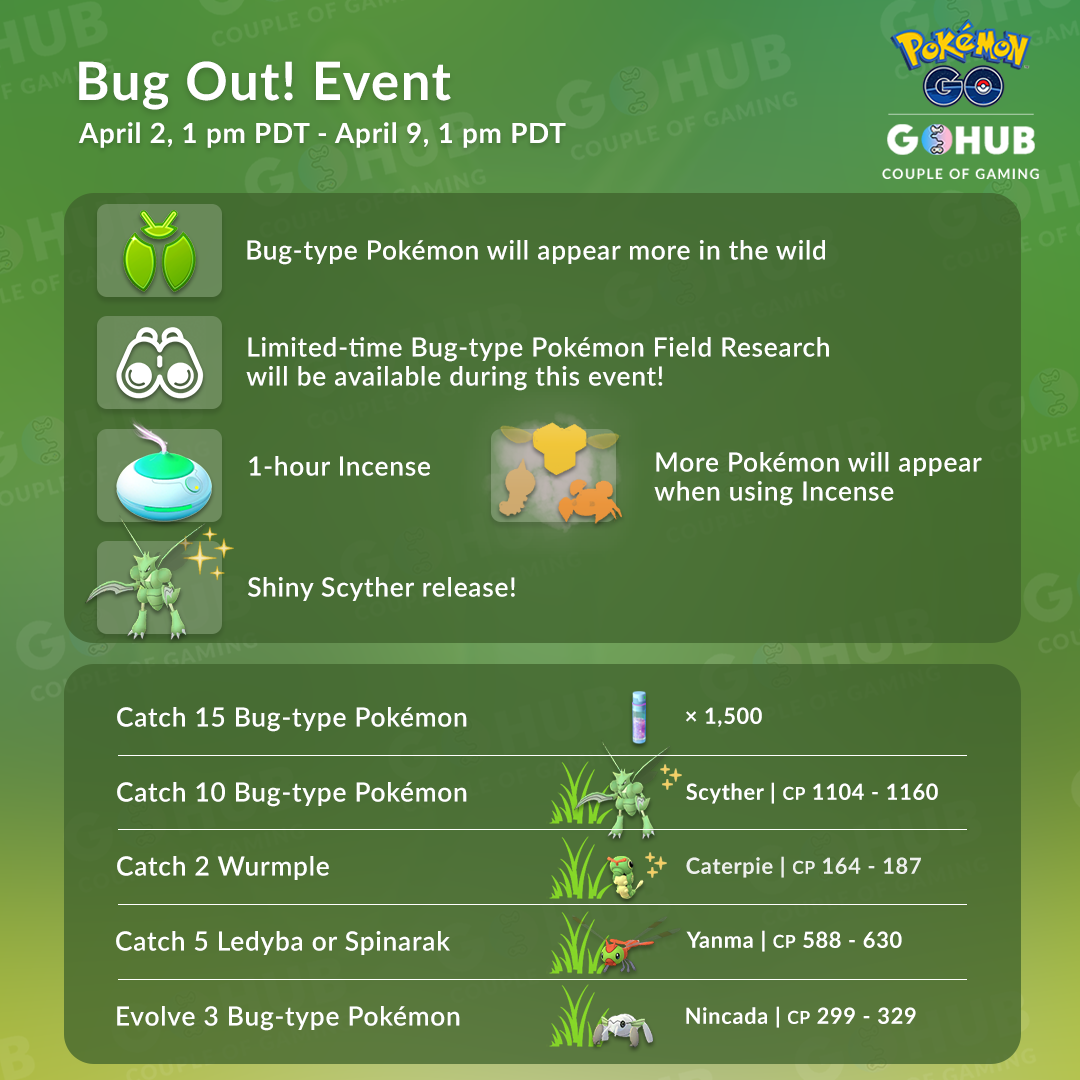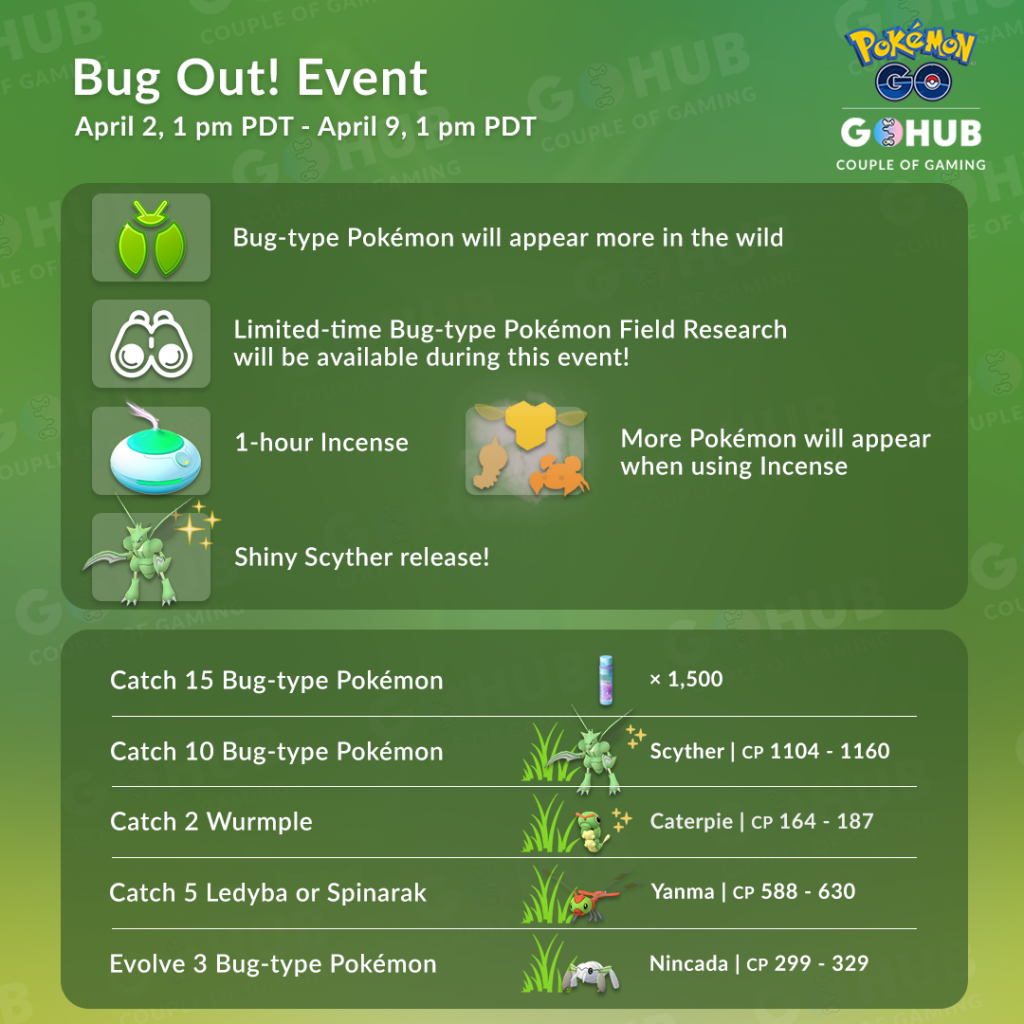 Giratina Legendary Lunch Hour
Niantic gave it another go with the Legendary Lunch Hour Raid format, this time with Giratina (Origin Forme). This month interest seemed higher, and the event benefited from taking place early in the release of Giratina. It looks like this may become another monthly event.
Eggstravaganza
Eggstravaganza is back again! This time it will run from April 16 – April 23 at 1 PM PDT (GMT -7). During the event, baby Pokémon such as Pichu, Smoochum, and Magby will be in 2km eggs, plus there will be a massive Egg Pool shake-up. Other bonuses include 2x Candy from hatches, 2x Incubator effectiveness, and 2x Lucky Egg duration (60 minutes.) Most exciting is the announcement of Shiny Buneary!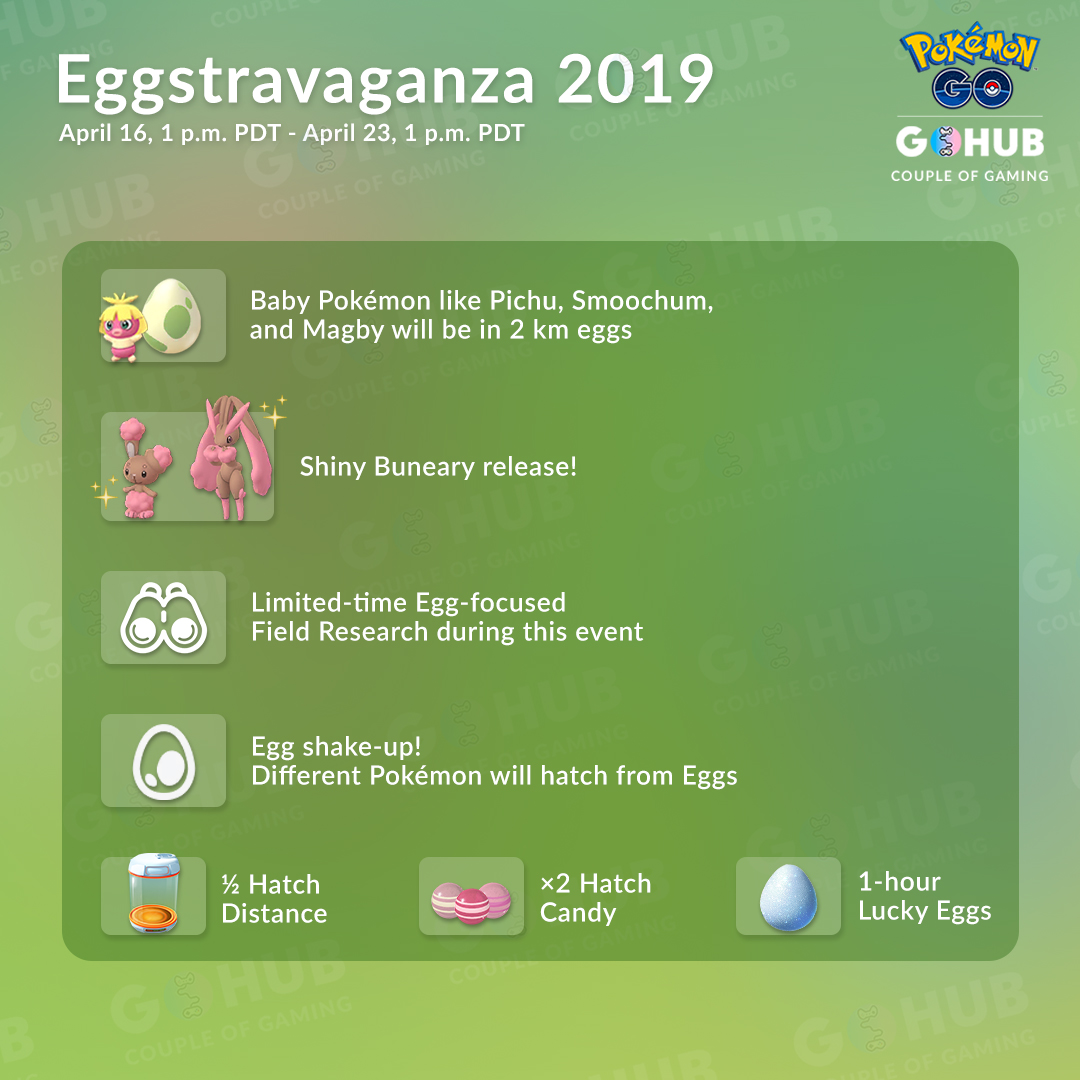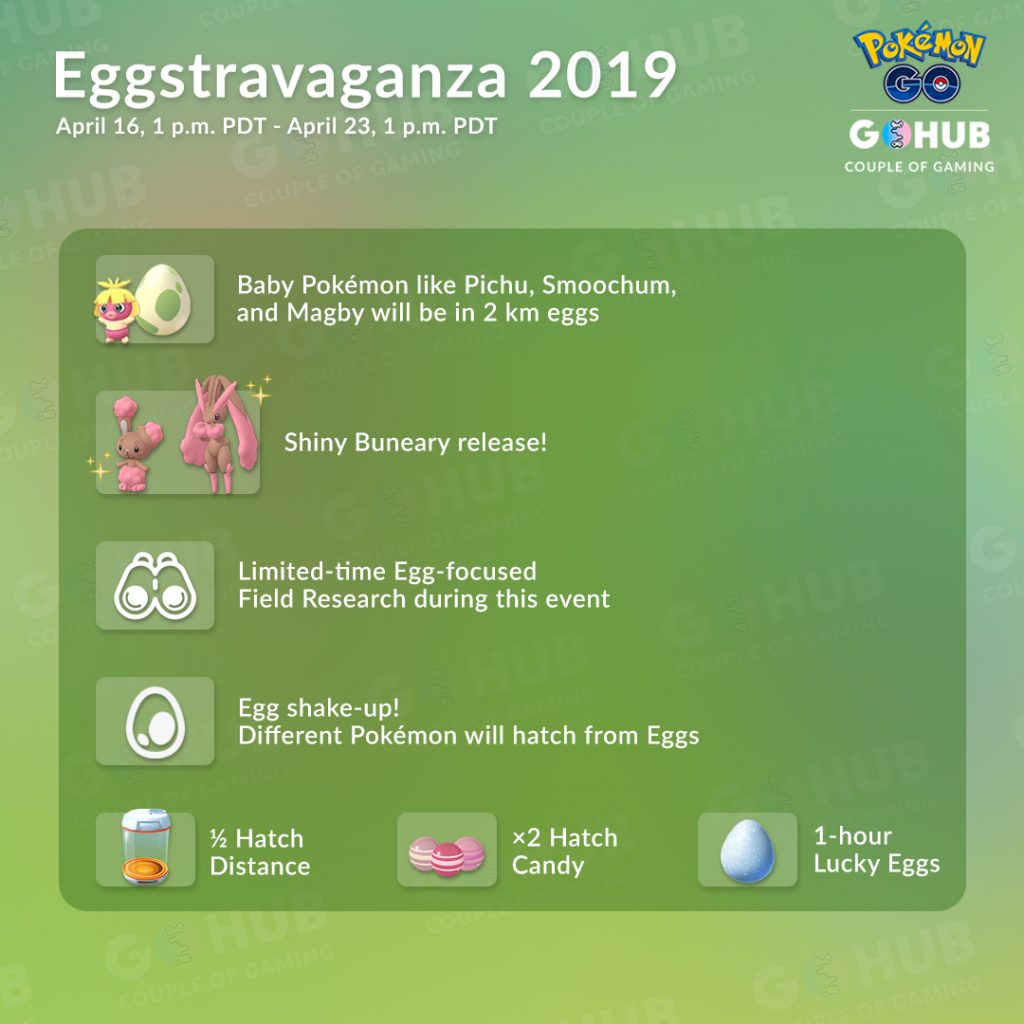 Earth Day
The annual Earth Day campaign started April 13 and runs until April 28; worldwide cleanup events are being organized by Niantic in partnership with Playmob and local NGOs. Three tiers of in-game bonuses for both Pokémon Go and Ingress can be unlocked if enough volunteers attend these events. This includes the release of Shiny Diglett and a return of Groudon in raids.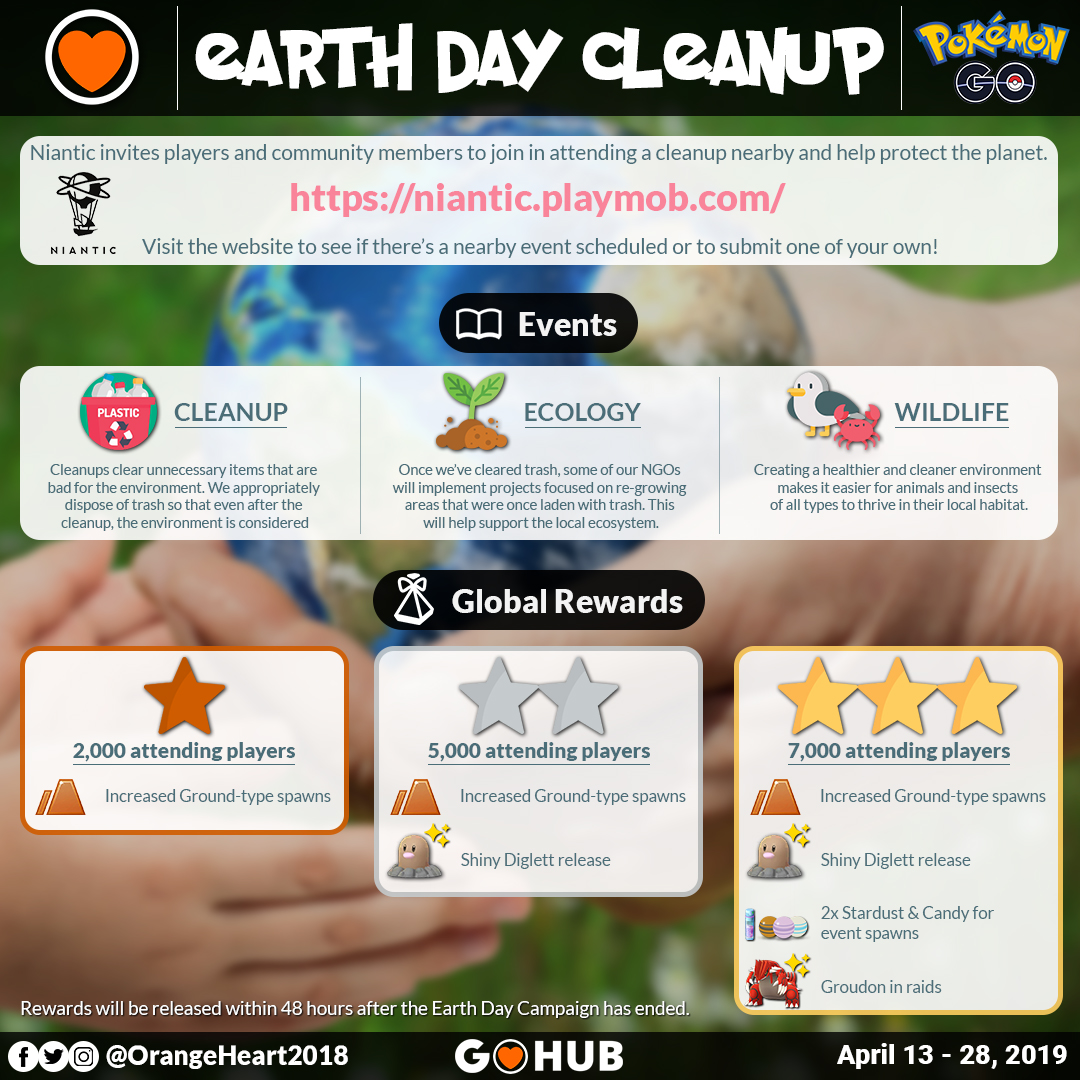 GDC 2019
Although GDC 2019 was held March 18 -22 in San Fransisco, it wasn't until this week that the "Vision Talk" held by John Hanke titled "The State & Future of AR Games: Rose-Colored Glasses" was made accessible. Although we strongly recommend that you watch the video in full (56 minutes), we provided a written summary for our busy readers.
Local Events
Armageddon Expo in Wellington, NZ held April 13 – 15, Insomnia 64 in Birmingham, England held April 19 – 21, and Anime Boston 2019 in Boston, MA, USA also held April 19 – 21 will all experience Pokémon Go bonuses of increased Gen IV starter spawns, 4-hour lures, and 2x Stardust on catches.
Additionally, an Open Streets event in New Brunswick, NJ, USA will be held April 14, 2019. This event will run from 11-4 pm.
Latios Raid Week
The long-awaited Shiny Latios is coming to raids! This has been hotly anticipated ever since the Latias Special Raid Weekend back in February. Latios will return April 15 – 22 at 1 pm PDT (GMT −7). We have updated our Latios Raid Counters Guide and stay tuned for our Heat Map.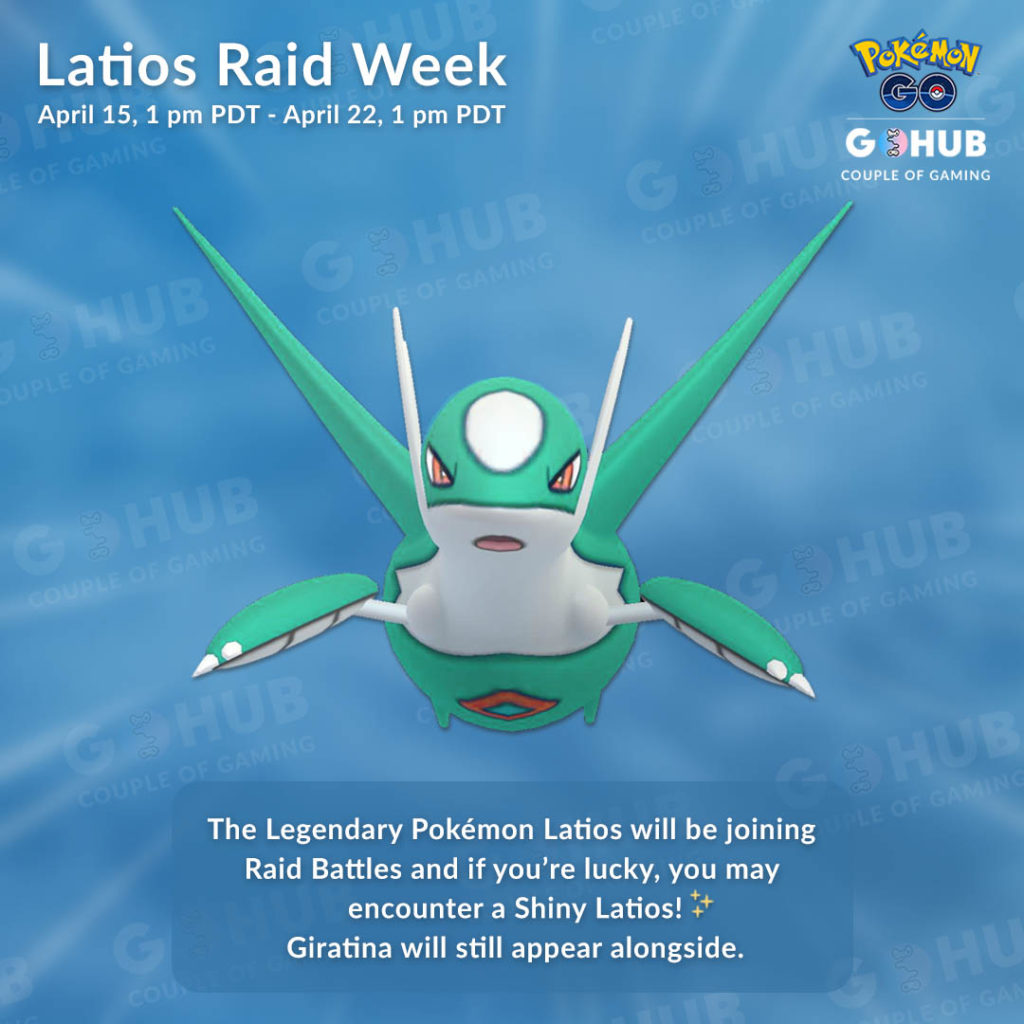 Outrage – Community Day Exclusive Move
April 13th was Bagon Community Day, and the exclusive move announced was Outrage! Just as last month Community Day was from 3 – 6 pm local time. Evolving your Shelgon into Salamence between 3 – 7 pm local time did give Outrage, (although some trainers missed out due to CD extensions for server issues and others a little extra time…we aren't sure why). As always,  TM's and/or second charged moves did not allow your Salamence to get the exclusive move.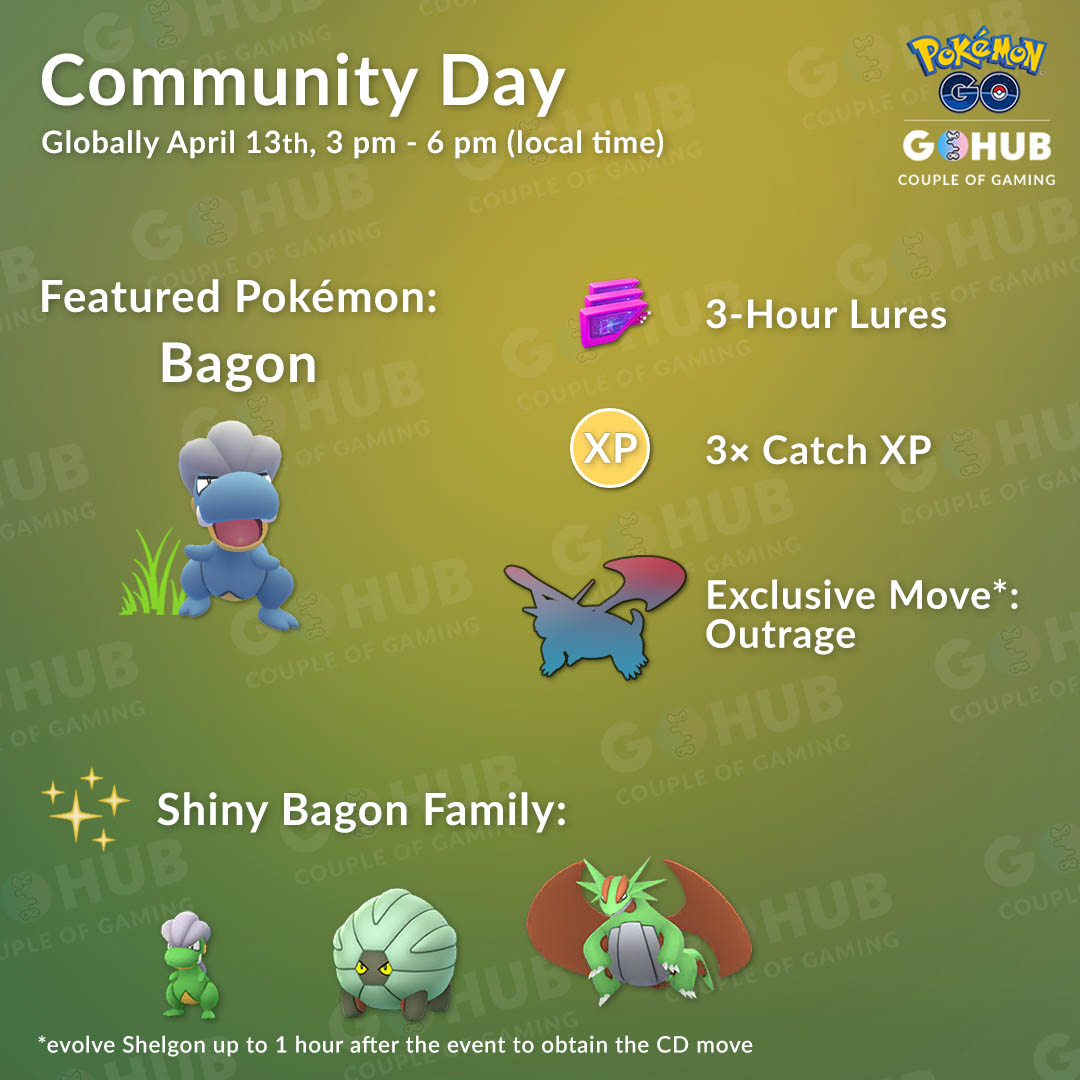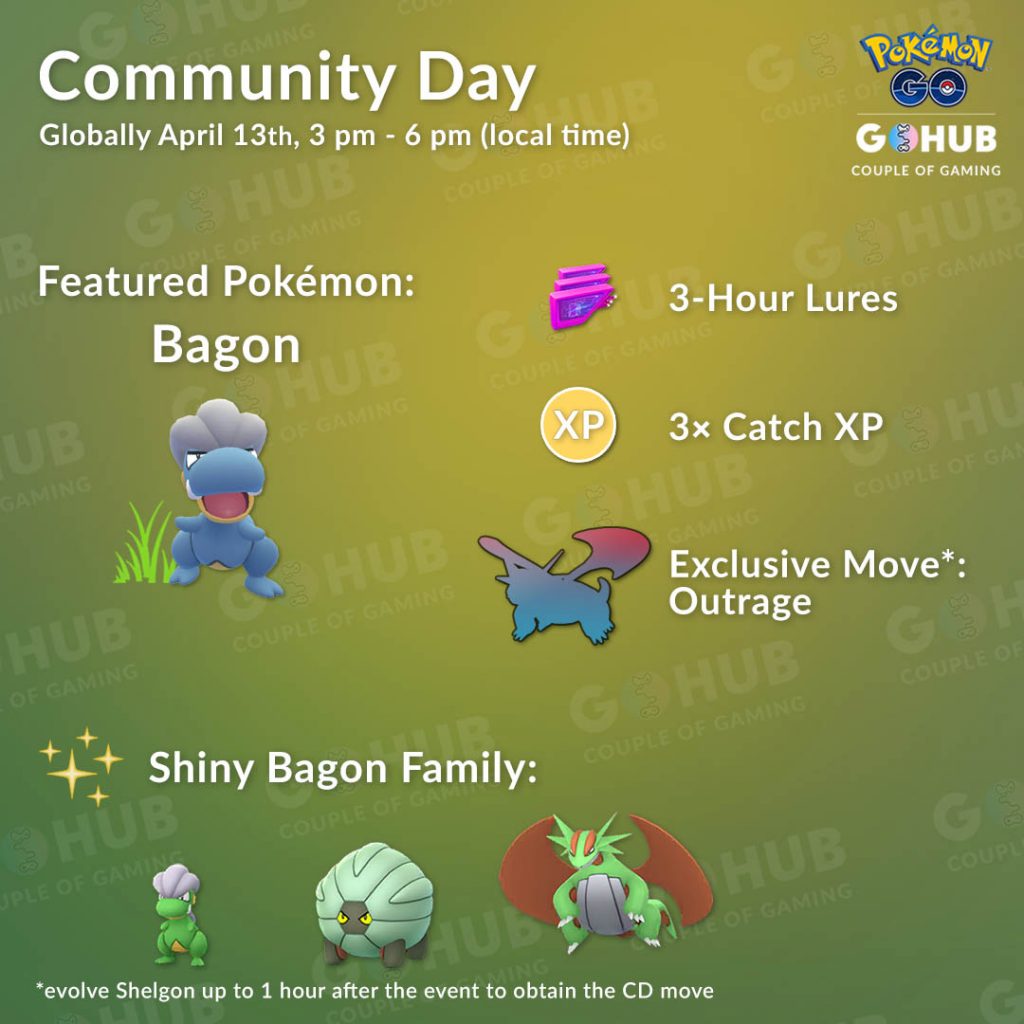 Lucky Friends
Lucky Friends rolled out this week. This new feature allows Best Friends to become Lucky Friends after interacting. A Lucky Friend guarantees your next trade together is Lucky. This is a great chance to get Lucky Shiny Legendary Pokémon, as Lucky Pokémon are guaranteed to be over 12/12/12 and cost half the Stardust to Power Up.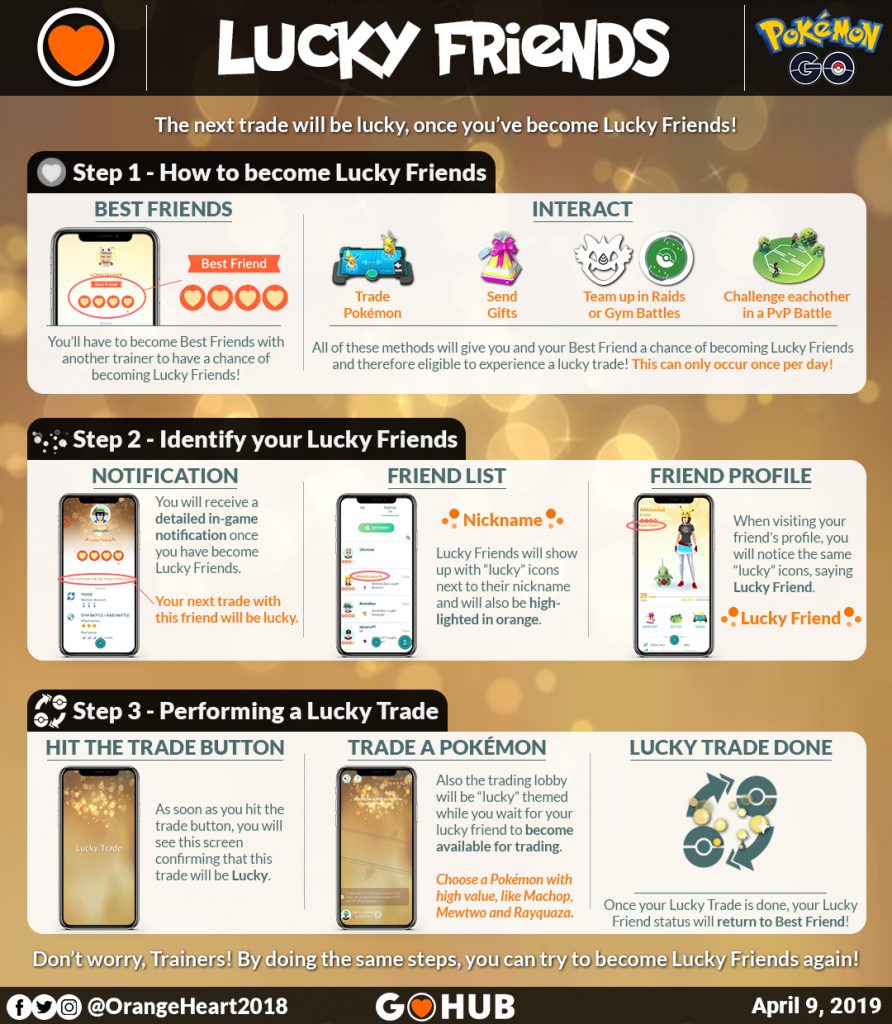 Poses
New Avatar Poses were introduced in Pokémon GO! They allow you to customize your Trainer's pose in your Trainer profile, the Friend List, raid lobbies, Gyms, and battle previews. These poses cost 500 PokéCoins each and show your character flexing in various positions, holding a Poké Ball and sometimes event taunting the viewer.
PokéStop Submissions – Taiwan
A beta version of the PokéStop nomination feature has become available for level 40 Trainers in Taiwan! This brings the full list of Countries to have access to this feature to: Ecuador, Bolivia, Colombia, Uruguay, Paraguay, Suriname, Venezuela, Guyana, El Salvador, Guatemala, Nicaragua, Costa Rica, Panama, Honduras, Belize, Indonesia, Peru, Vietnam, Argentina, Chile, Thailand, Mexico, Brazil, and South Korea.
GoSnapshot Challenge
Niantic announced the global GOSnapshot Challenge April 15 to May 22, made up of three separate and unique 10-day challenges. Prizes include your own PokéStop (for three months) and a trip to a 2019 Pokémon GO Fest of your choice, travel and ticket expenses covered!
| GO Snapshot Challenge | Starts | Ends |
| --- | --- | --- |
| Buddy Challenge | April 15 | April 24 |
| Habitat Challenge | April 29 | May 8 |
| Go Create Challenge | May 13 | May 22 |