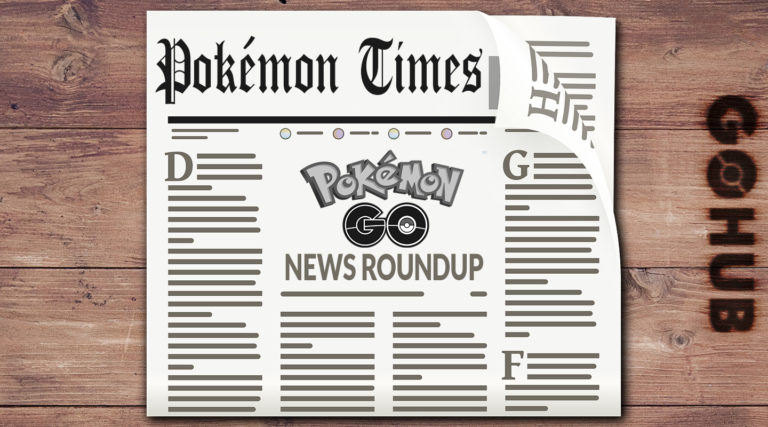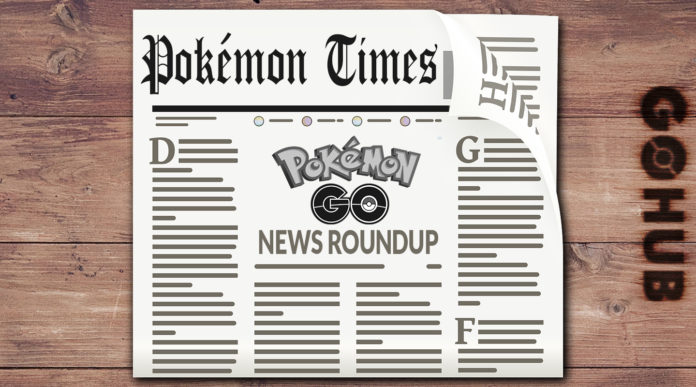 This week's News Roundup is an exciting one Trainers, as a lot is going on in the land of Pokémon GO! Earlier this week, Deoxys Defense Form arrived in EX Raids, together with the appearance of new EX eligible gyms. Niantic also announced a series of Earth Day 2019 events, followed by April's Community Day featuring Bagon, a new Bug-type event, and additional countries added to the PokéStop Submission Beta. The most exciting news, however, is the announcement of Summer of GO: a series of worldwide Pokémon GO live-events coming later in 2019. Let's take a look!
Summer of GO
Get excited Trainers, as Niantic just announced Summer of GO: a series of worldwide Pokémon GO live-events coming in 2019! The announcement came in the form of a catchy new video on the official Pokémon GO YouTube-channel. As of now, we don't know much. Niantic will release a full announcement on April 4.
The Announcement
https://www.youtube.com/watch?v=uuhKgC8rKFg
In the video, we get a summary of all official Pokémon GO events of 2018, accompanied by some astronomical numbers of last year!
Pokémon GO Fest in Chicago and the 4 Safari Zone Events in Taiwan (2), Dortmund and Yokosuka brought around 3,000,000 Trainers together.
All 12 Community Days counted up encouraged around 100,000,000 Trainers to go out and play.
Trainers worldwide walked over 5 billion km and caught over 70 billion Pokémon.
The new Friendship feature connected over 190,000,000 Trainers with each other.
What to expect?
Niantic will give a full announcement on Thursday, April 4. As of now, there is not much that we know. We could only speculate about upcoming events, but we expect there will be an announcement about Pokémon GO Fest 2019 and some additional Safari Zone Events.
As for the rest: mark down April 4 on those calendars Trainers!
New Giratina themed raid bosses
Following Giratina's return as a Tier 5 raid boss, several other raid bosses have changed:
Bagon Community Day
On April 13th, the long-awaited Bagon Community Day will take place! For the second time,  the time window is from 3 – 6 pm local time. Be sure to look out for increased spawns and shiny rates of Bagon, in addition to 3-hour lures, 3x catch XP and an exclusive move for Salamence yet to be announced.
Be sure to evolve your Shellgon into Salamence between 3 – 7 pm local time, as this will be your only chance of getting the exclusive move. TM's and/or second charged moves will not allow your Salamence to get the exclusive move.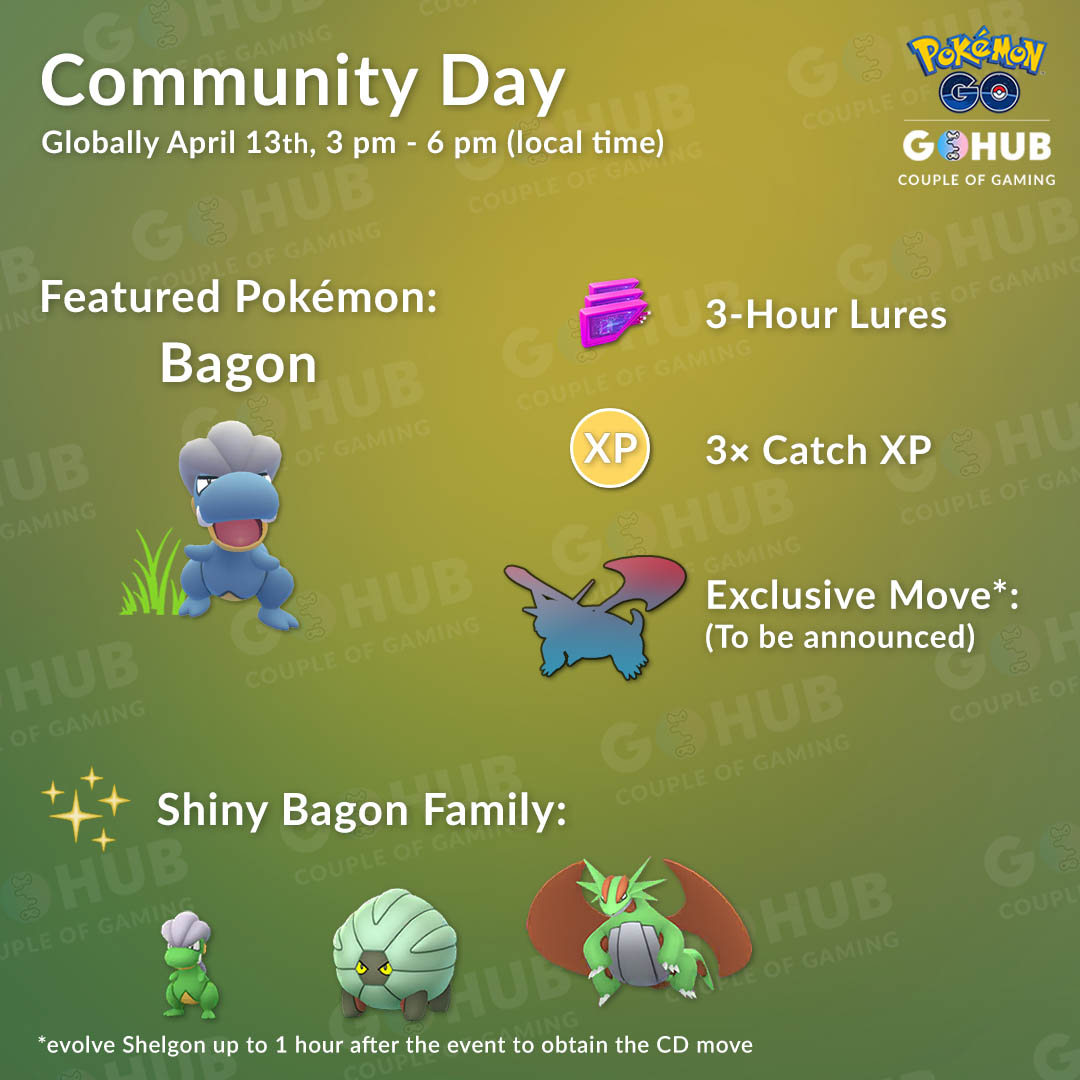 Bug Out!
A new Pokémon GO Event has been announced: Bug Out!. From Apr. 2, 2019, at 1:00 p.m. PDT to Apr. 9, 2019, at 1:00 p.m. PDT, Bug type Pokémon will be appearing more frequently in the wild. Also, Incense will last twice as long (60minutes!) and will spawn more Pokémon when activated! Limited-time Research tasks featuring Bug type Pokémon will also be available during the event. As of now, no new shiny Pokémon have been confirmed.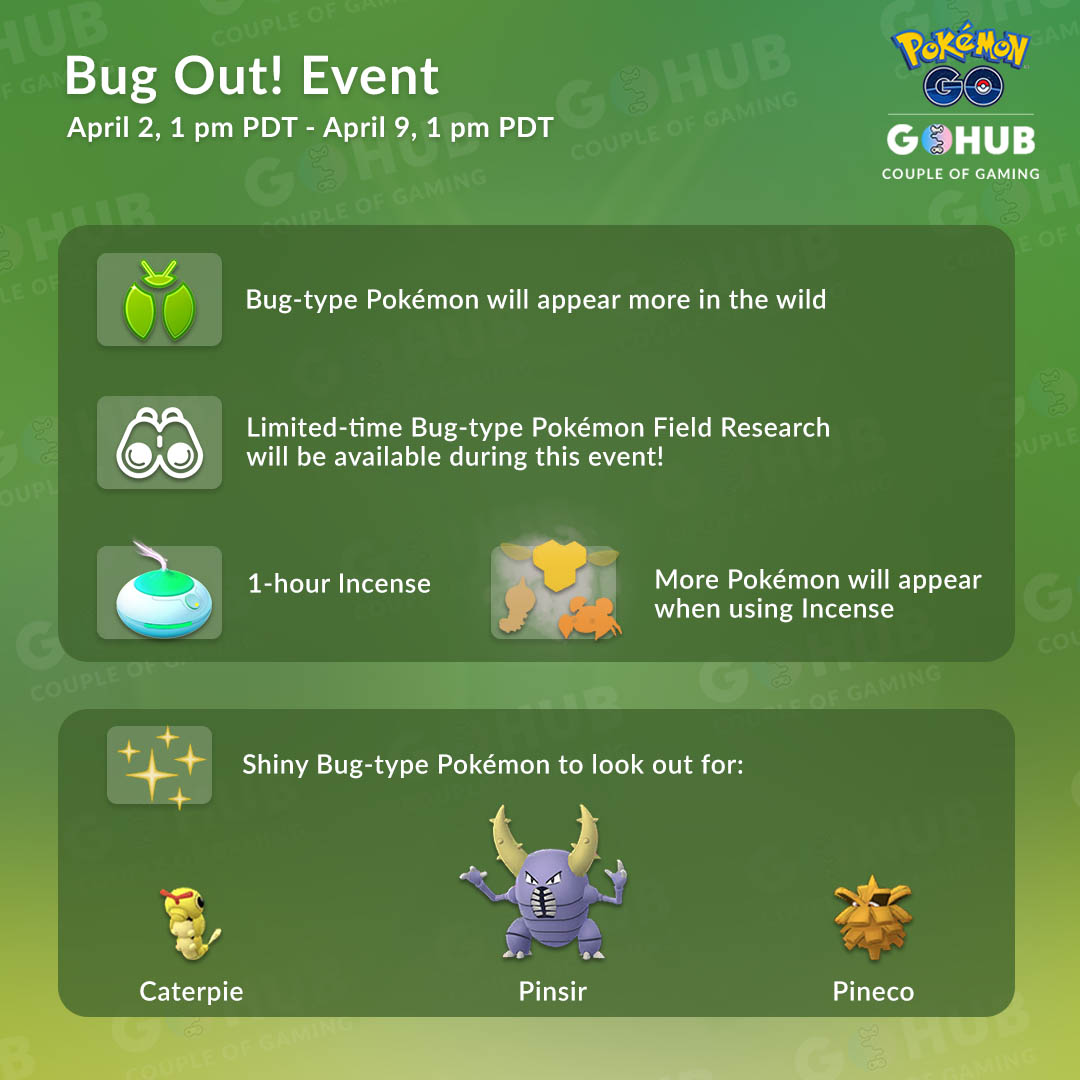 Earth Day 2019
For the second year in a row, Niantic announced their annual Earth Day campaign. From April 13 – 28, worldwide cleanup events will be organized by Niantic in partnership with Playmob and local NGOs.
Just like last year, achieving specific global goals will reward Trainers from all around the world with in-game bonuses. Unlike last year, rewards this year will be available in both Pokémon GO and Ingress! In-game rewards will be released within a 48-hour window from the end of the Earth Day Campaign. Additional info will probably be given by then. More info, as well as all goals with their rewards, can be found here.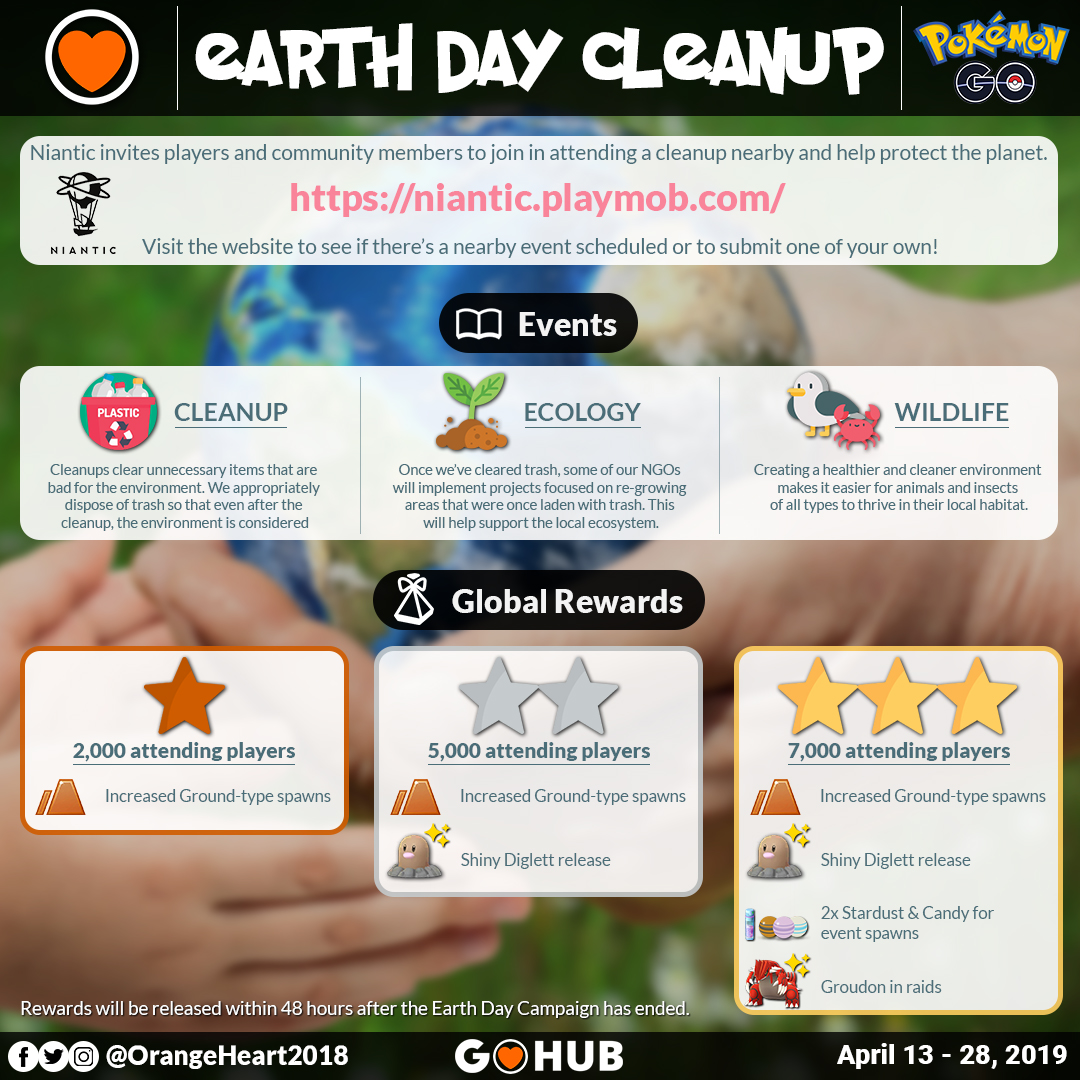 New EX Raid Gyms
Earlier this week, Niantic pushed a silent update which caused a certain amount of gyms to become EX Raid eligible! Multiple reports have shown these changes appeared worldwide. However, all gyms which have become eligible after this update were Pokéstops that existed on the map prior to the EX Raid system being implemented. Gyms that were directly created from approved Ingress portals and did not exist as Pokéstops on the map back then did not become eligible. Additional info can be found in the article published earlier this week.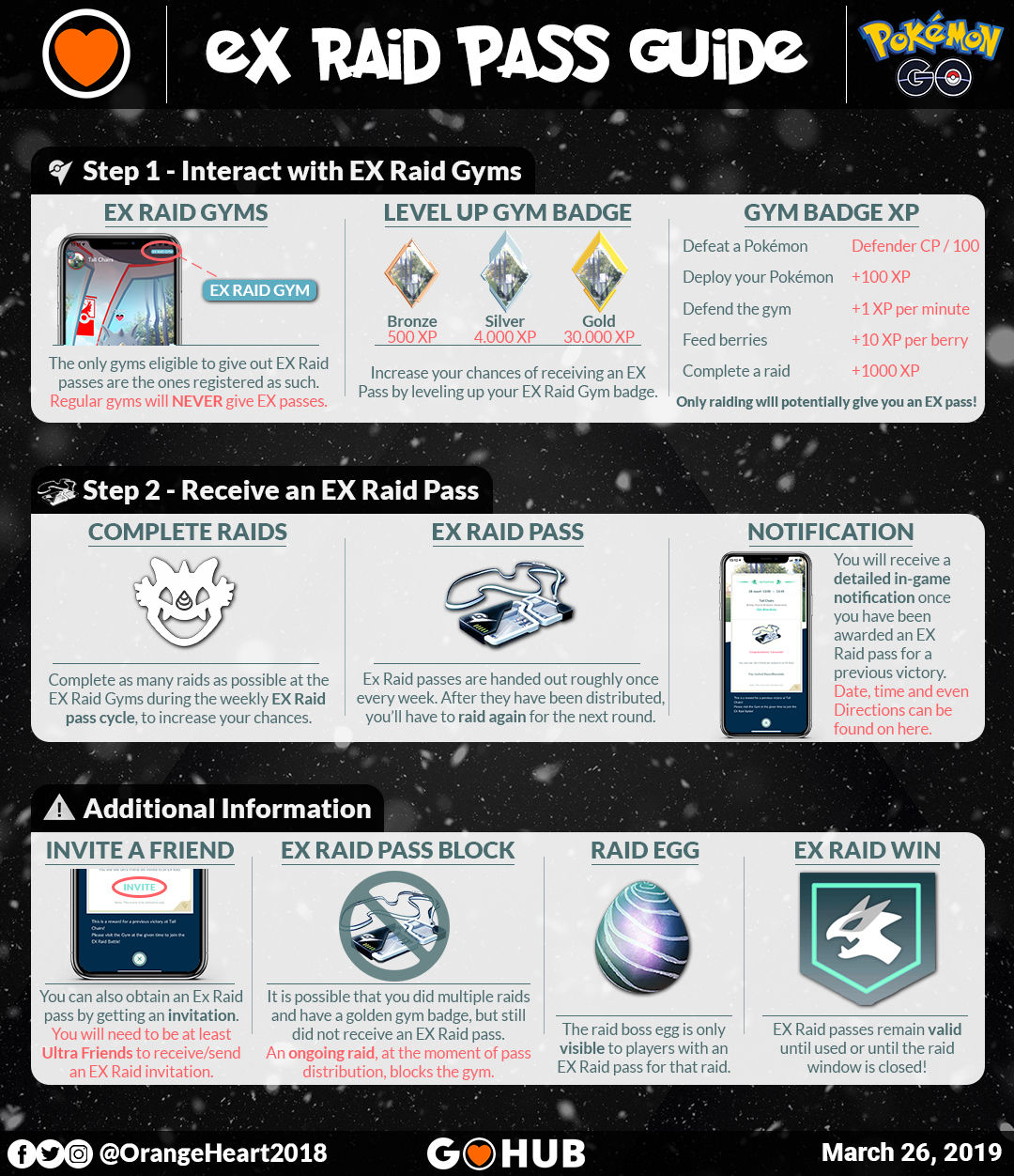 Defense Forme Deoxys Arrives
On March 25, Deoxys altered to it's Defense Forme and is making its first appearance in EX Raids on March 27/28. You can receive an EX Raid pass by successfully completing raids on eligible gyms. The arrival of new eligible gyms can help you to receive an invitation for you and one Ultra Friend. You can see which gyms are eligible through a handy tag in the top right corner of the gym details.
Be sure to check our Defense Forme Deoxys Raid guide and Heat Map to prepare yourself for battling this Mythical Pokémon!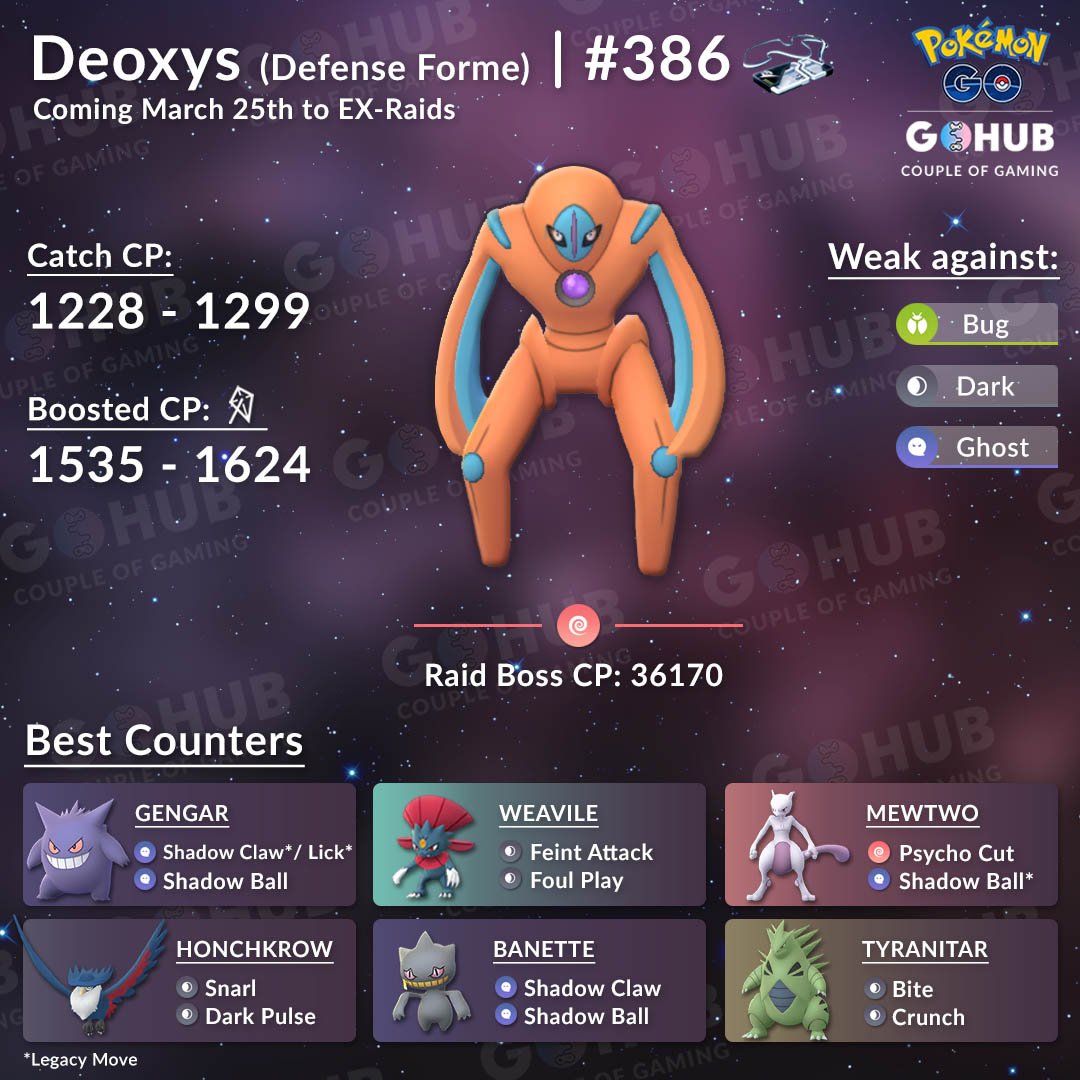 Pokéstop Submissions Beta in Latin America
A beta version of the Pokéstop nomination feature has become available for level 40 Trainers in many countries in Latin America! Trainers in Ecuador, Bolivia, Colombia, Uruguay, Paraguay, Suriname, Venezuela (Bolivarian Republic), Guyana, El Salvador, Guatemala, Nicaragua, Costa Rica, Panama, Honduras, and Belize have been granted access to this beta feature. The newly added countries join Indonesia, Peru, Vietnam, Argentina, Chile, Thailand, Mexico, Brazil, and South Korea to test this feature.
EGX Rezzed 2019 in London
A small Pokémon GO event will take place on EGX Rezzed at the Tobacco Dock in London. Starting April 4th through April 6th, in game bonuses will be available at the event. These bonuses include increased Pokémon spawns, 4 hour Lure Modules and 2x Stardust. EGX Rezzed is a gaming event where you get the oppurtunity to enjoy "playable pre-release games on both PC and console, developer sessions by well known game designers and the opportunity to chat with developers on the show floor." It takes place daily from 10am – 6pm.