This week's News Roundup sees that the trend of dropping new content/events in bunches is going strong. Starting with a grass themed equinox event and two minor local events (one with Unowns); followed by the announcements of a one week return of Giratina's Altered Forme followed by a month of its Origin Forme, Sceptile getting the exclusive move Frenzy Plant, and a Weather Themed Research Day featuring shiny Lotad and Castform. Niantic once again has provided plenty to get players out playing.
Equinox Event
March 19–26 has been the Pokémon Go Equinox Event. It features increased spawns of Grass type Pokémon; new Grass Raid Bosses; Lunatone and Solrock switching places, and the introduction of their shiny forms; plus two new moves: Acid Spray and Leaf Tornado. For more information on these new moves: Acid Spray and Leaf Tornado Performance.
Local Events
GDC 2019 was held March 18-22 in San Fransisco and saw the appearance of G, D, and C Unowns appearing around the venue. A special research task was also available that rewarded 3 Rare Candy. Niantic held three lectures and participated in a workshop.
Comic-Con events in Birmingham (UK) and Utrecht (The Netherlands) are being held March 23–24. Pokémon Go bonuses include increased Gen IV starter spawns, 4-hour lures, and 2x Stardust on catches.
Dreamhack Dota announced a partnership with Pokémon GO for their CORSAIR Dream League Major being held in Stockholm, Sweden on March 22, 2019. The day-long event featured increased spawns, extended lure duration, and double stardust!
Giratina's Return
The third Dragon, in as many months, to get a limited time return. This time the Legendary Pokémon Giratina in it's Altered Forme will return March 27 to April 2 (1 PM PDT). Following Altered Forme Giratina's mini-return is the release of Origin Forme Giratina April 2 to April 29 (1 PM PDT). For more information about both: Giratina Returns! Origin and Altered Formes. We also have our Giratina (Altered Forme) Counters Guide, and Giratina (Origin Forme) Counters Guide.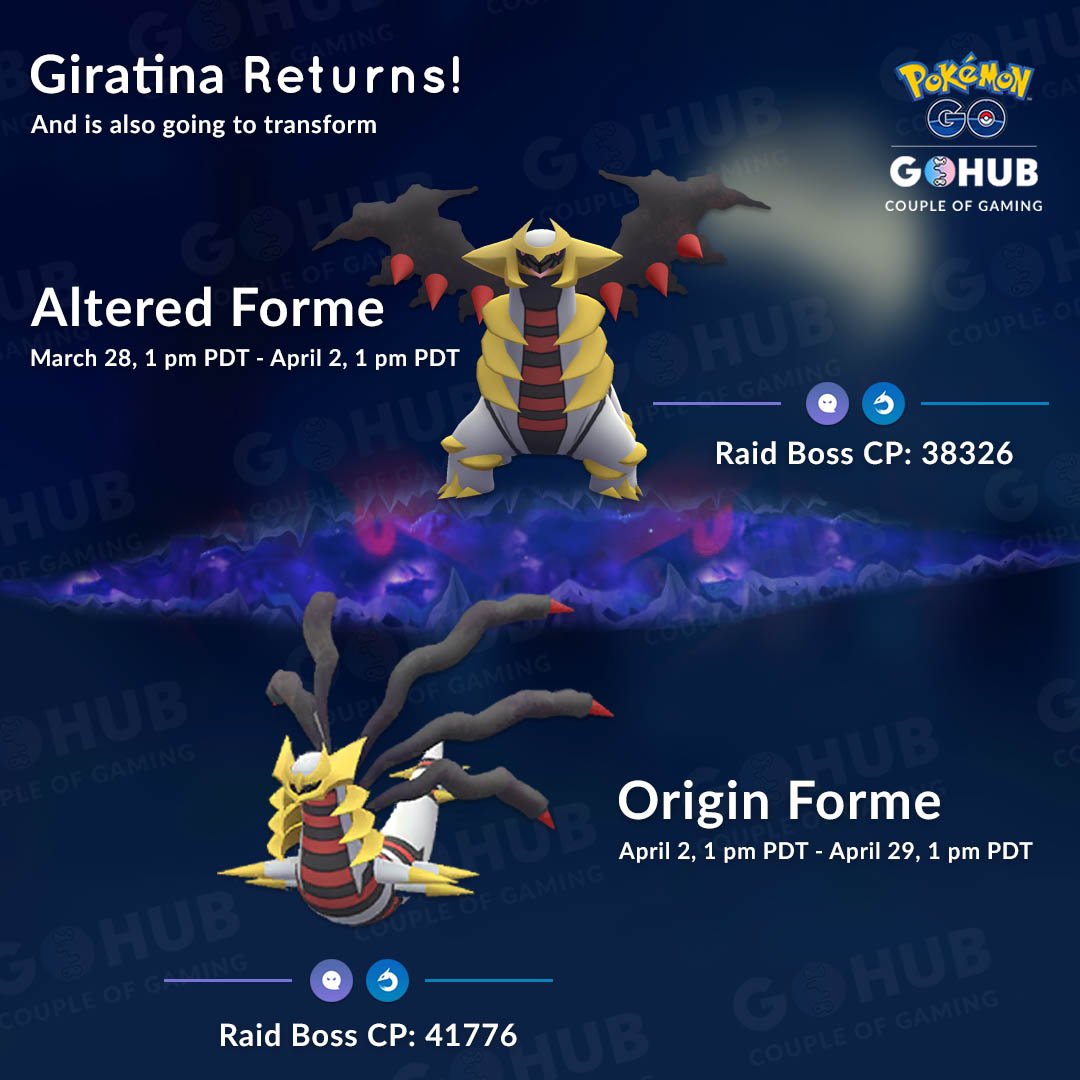 Community Day
March 23rd is Treecko Community Day, and this month in an effort to improve the experience it will take place from 3 – 6 pm local time. Bonuses include 3-hour lures, 1/4 egg hatch distances, an increase shiny and spawn rates of Treecko, and Sceptile learning the exclusive move Frenzy Plant.
As usual, the exclusive move can only be obtained by evolving Grovyle into Sceptile between 3 – 7 pm local time, no TM or second move. Check out a full breakdown on Frenzy Plant Sceptile.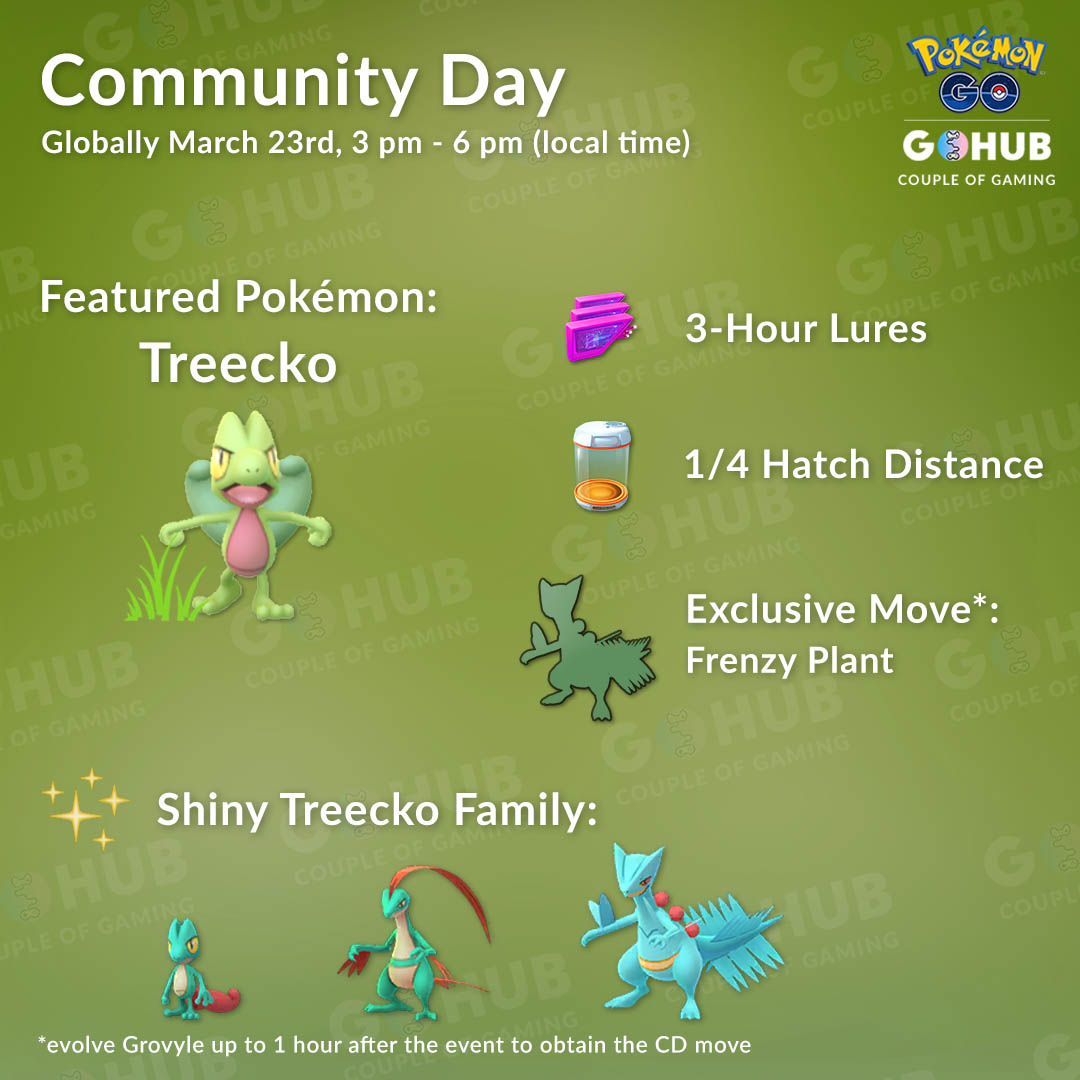 Weather Research Day
For the third month, Pokémon Go has announced a Special Research Day. In another effort to improve the event, it will now take place from 11 am – 8 pm local time, giving players nine whole hours. This event will feature weather specific Pokémon; introduces two new shinies as research rewards, Lotad and Castform; and a new move, Weather Ball, will be added for Castform.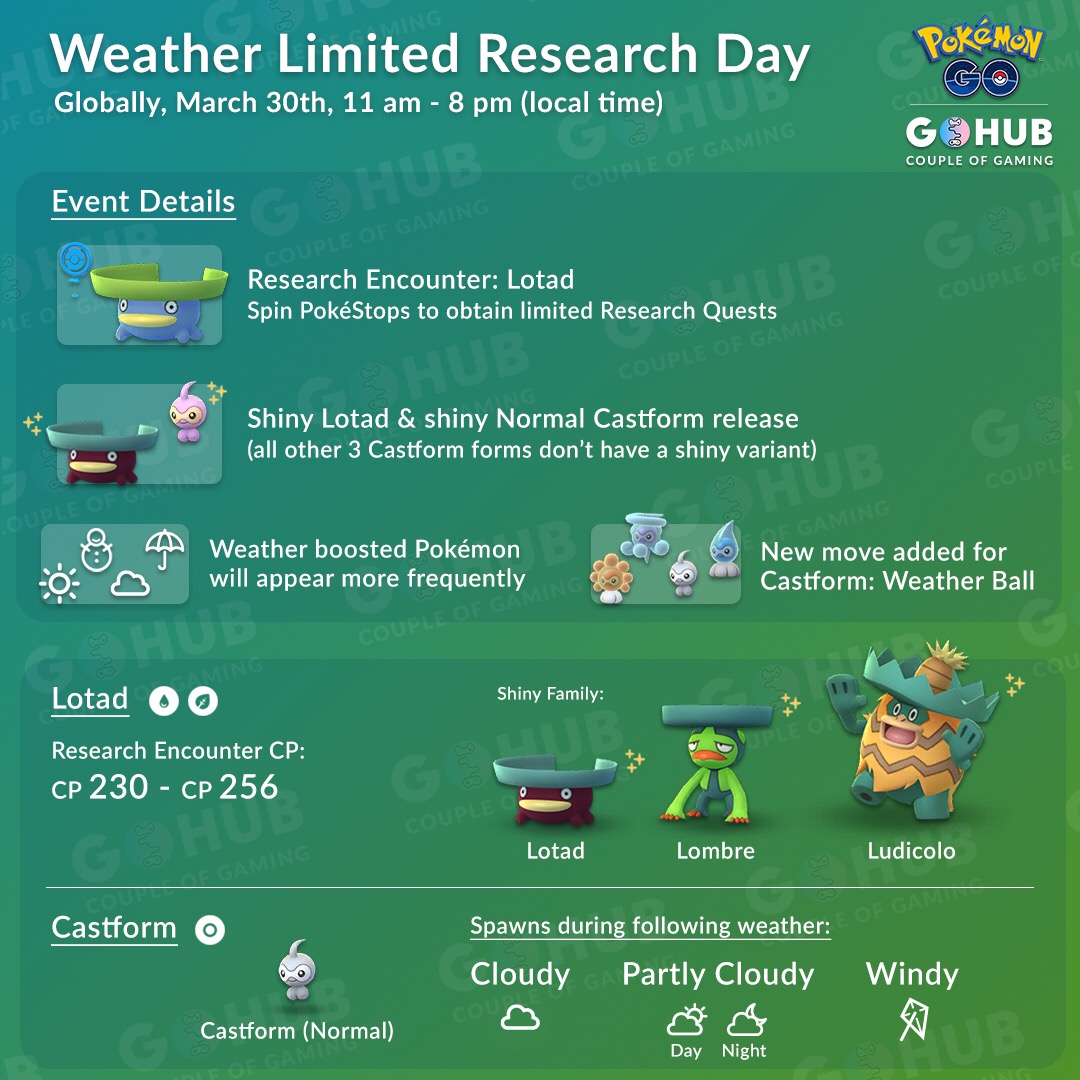 The Kingdom Cup
In addition to all the announcements by Niantic, The Silph Road announced The Kingdom Cup, their next themed cup for April. This cup will only allow Ice, Fire, Dragon, and Steel Pokémon. Stay tuned for an in-depth guide.