This week's News Roundup sees a significant release of new content and events. The announcement of a Raid Week Event, including a Special Lapras Raid Day; the release of most of the remaining Sinnoh Pokémon; Blaziken getting the exclusive Community Day move Blast Burn and a new move Blake Kick. The announcement of the dates for Yokohama Go Fest, and two new Pokémon Mobile Games; the full worldwide release of  Ingress Portal Nomination; and two mini-events for May 18th & 19th. It looks like Niantic has started to kick off an event packed summer.
---
New Pokémon and Lures
May 17th saw the release of the final wave of New Sinnoh Pokemon. The new list of Pokémon includes the following families: Cherubi, Burmy, Shellos, Hippopotas, and Gibble. Additionally, three new lures were introduced: Glacial, Magnetic, and Mossy. These lures attract certain Pokémon Types, plus they are the only method to evolve into the newly released Glaceon, Leafeon, Magnezon, and Probopass. This brings the remaining non-legendary or mythical Pokémon to Mime Jr. and Rotom. Lastly, a new Ground Charge Move – Earth Power was released. This move is a 2 Bar Charge Move with 100 Base Power.
Side Note: the Eevee naming trick continues with Glaceon and Leafeon. Linnea -> Leafeon and Rea -> Glaceon.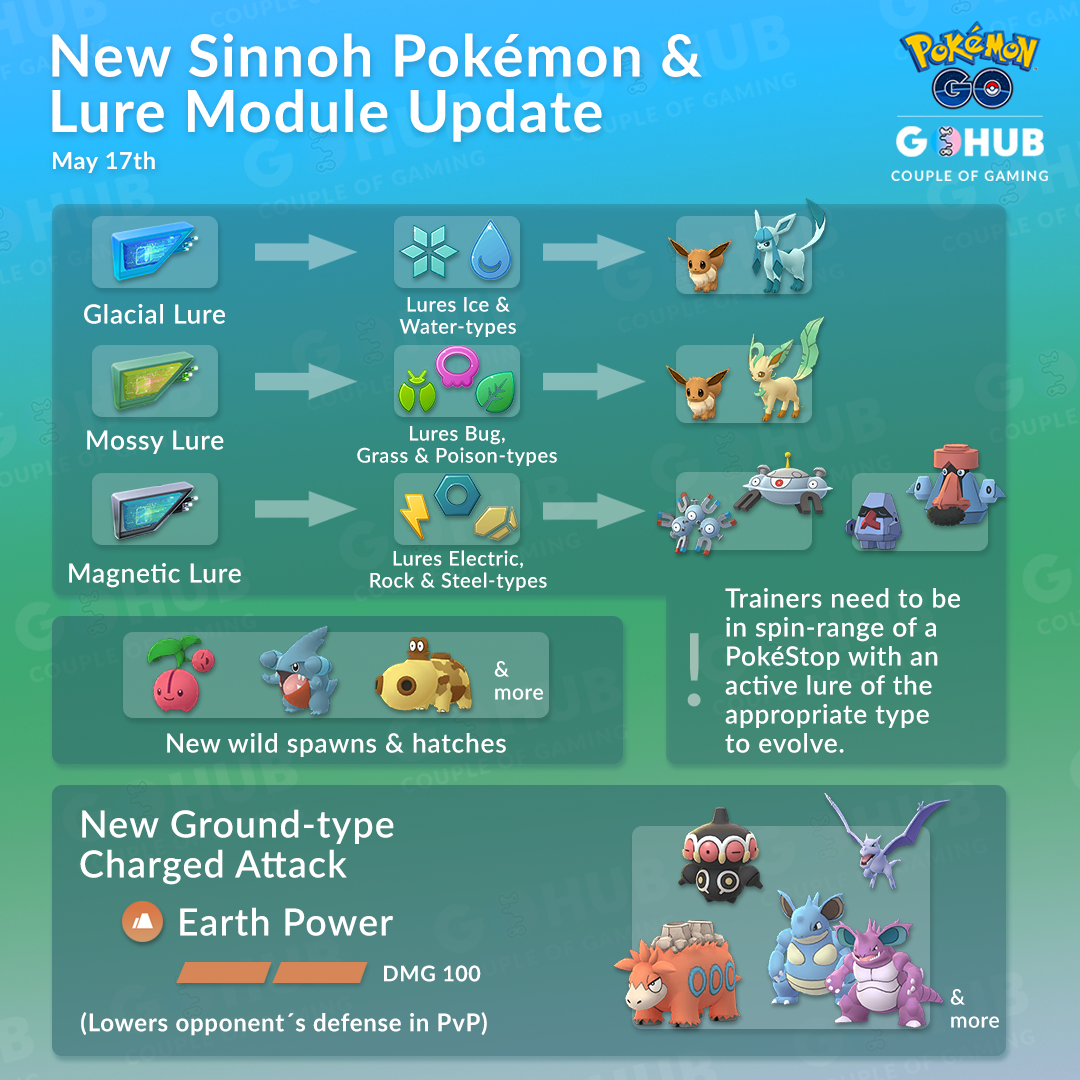 ---
Extraordinary Raid Week
It was announced that an Extraordinary Raid Week will take place May 21st – 28th, which will consist of three separate events. First off is the release of Shiny Bronzor. This Psychic Steel Pokémon has been somewhat rare, and increased spawns will help many finally evolve into Bronzong. Second is a shake-up of Raid Bosses; this list includes many fan-favorite Shiny Pokémon. Third and possibly most exciting is the announcement of a Lapras Raid Day! This event will operate the same as the Legendary Bird and Gengar Raid Days and take place on May 26th in the Asia Pacific Region and May 25th in the rest of the World. Lapras caught during the Raid Window will have the Legacy Moves Ice Shard and Ice Beam, plus Shiny Lapras was just released at Sentosa Safari Zone. Check out our Lapras Raid Counters Guide for help preparing for this special event. Lastly are the two Bonuses running during the event: 2x Raid Stardust and XP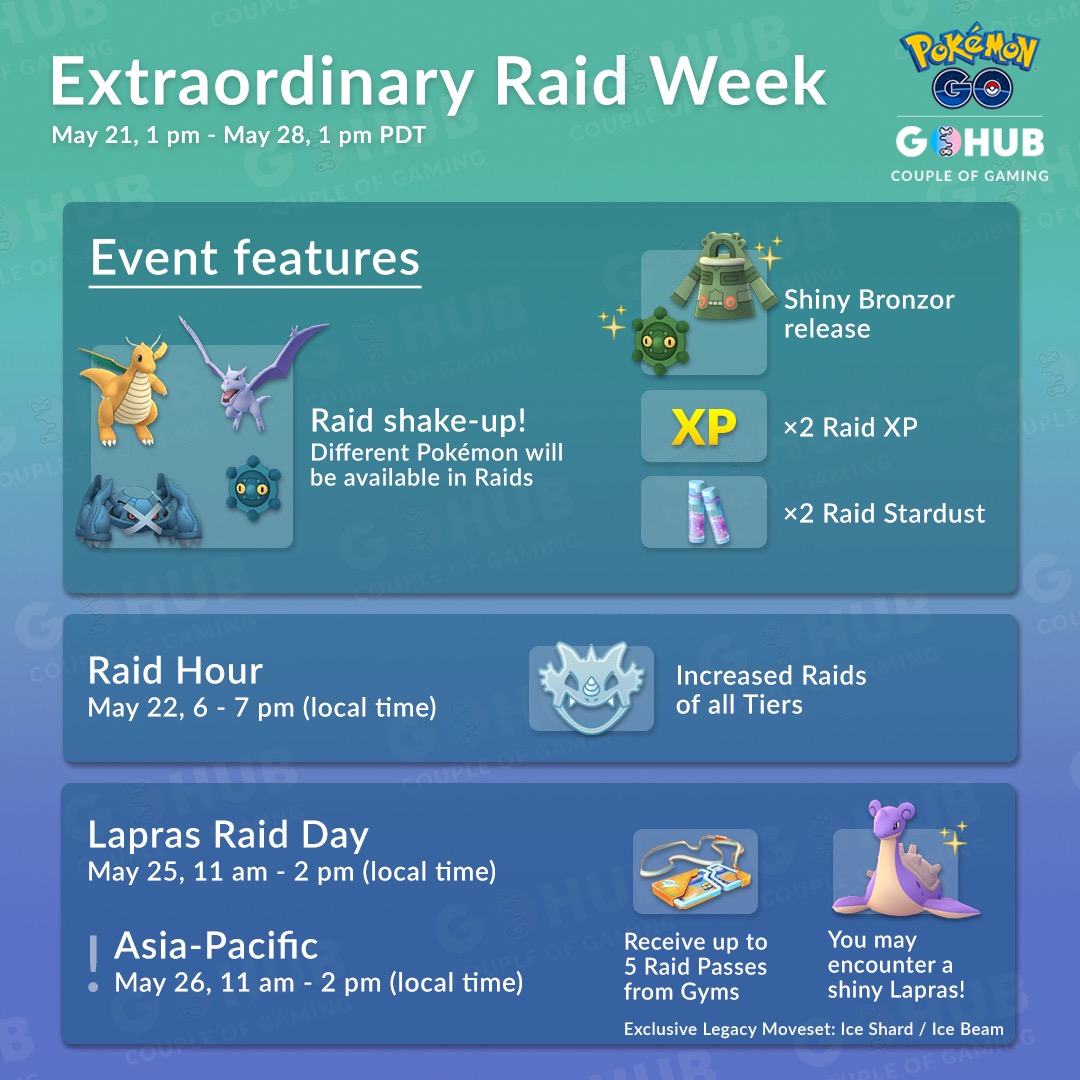 ---
Blaziken CD Move Announced
It was announced that Blaziken would follow the other Fire Starters and get access to the Exclusive CD Move Blast Burn. This powerful Fire move is the most powerful one available to Blaziken. It was also announced that starting on Community Day Blaziken will also gain access to Blaze Kick via TM. This is the signature move for Blaziken in the Main Series Games, and while not quite as good as Blast Burn, it is better than Overheat.
---
Pikachu Outbreak & Yokohama Go Fest
Niantic announced that Yokohama Go Fest will take place during Pikachu Outbreak this year! These events will take place August 6-12. Go Fest will require a ticket that will be available in a similar method to Chicago and Dortmund. Both Pikachu Outbreak and Yokohama Go Fest were huge successes last year, so this year should be no exception.
---
Pokémon Rumble
The announcement of Pokémon Rumble coming to mobile happened on May 15th came with its release in the Australian Google Play Store. Pokémon Rumble Rush is a free-to-start game in which you discover new islands and the various Pokémon that inhabit them. Each island also has its own Super Bosses that offer items to power up your Pokémon. This game joins Rumble Games for Wii, 3DS, and Wii U.
---
DeNA Pokémon Game
DeNA, a big player in the gaming world, has announced a new Pokémon mobile game in their financial report! This new mobile game will be a partnership between The Pokémon Company and DeNA. According to the financial report made available by DeNA, the game should be released this fiscal year, which lasts until March 2020. DeNa – pronounced D-N-A is a Japanese developer company that has previously teamed up with Nintendo for games such as Super Mario Run, Animal Crossing: Pocket Camp, Fire Emblem: Heroes, and the upcoming Mario Kart Tour.
---
Ingress Prime Portal Nominations
Ingress Portal Nomination is now available to Agents across the globe! This feature uses the newly introduced Ingress Prime scanner, and after months of testing, has finally rolled out worldwide. This is exciting news for Pokémon Go because this Portal Nomination system is the same one used for PokéStop nomination; therefore, most new Ingress Portals appear in Pokémon Go. This means PokéStop nomination may be released worldwide sooner rather than later.
---
Long Night of the Museums Announcement
Another Mini Event, Long Night of the Museums, was announced for May 18th in Hamburg, Germany. This event features 4-hour lures, 2x Stardust, 50+ extra PokéStops, and increased Finneon spawns.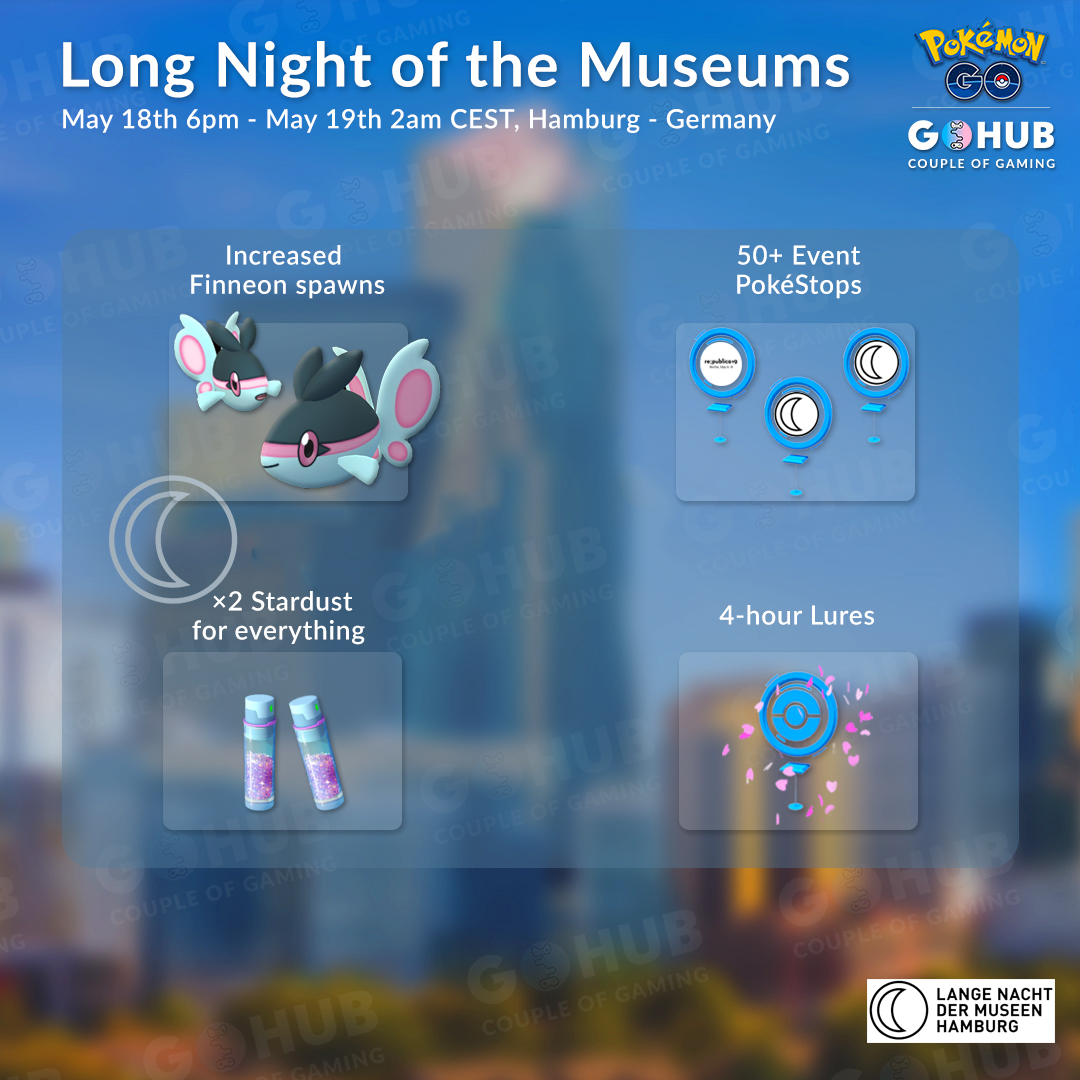 ---
VivaCalleSJ
A second Mini Event, VivaCalleSJ, will take place May 19th in San Jose, California. This event will feature a Niantic Scavenger Hunt. This event in the past has included increased stops and spawns.