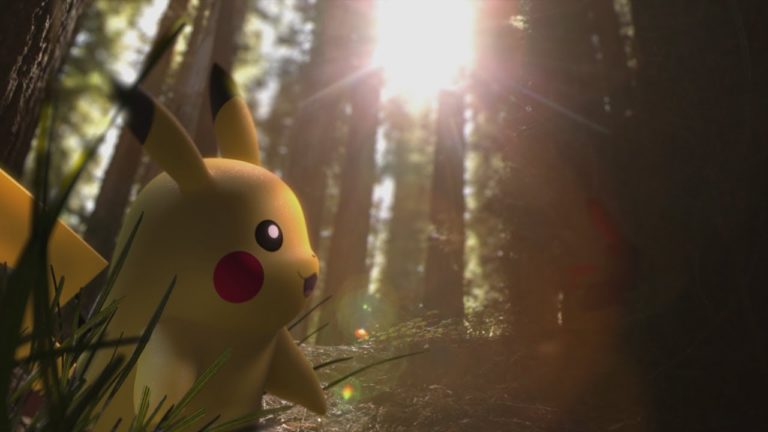 This Week In Pokémon GO History
With updates, activities, events, and more coming out every single week in Pokémon GO, we thought it was about time to take a look at this week, and how it stacks up with what we have seen in previous years. TWIPGH, or "This Week in Pokemon GO History," is a series on GO Hub that takes a look at this calendar week from 2019 to 2016.
This Week in Pokémon GO History Index
Segment:
Featuring:
2019
Community Day / Equinox Event / Comic Con Events
2018
Eggstravaganza Event / Unown Event / Maps and Trackers Down
2017
Water Festival / Shinies
Final Notes
My closing thoughts on this week of Pokémon GO
In this edition of TWIPGH, we will be taking a look at Week 12 of this year, which takes into account March 18th to March 24th.
---
Week 12 of 2019
This week of 2019 saw the return of Community Day, a popular event from last year, and the return of a rare Unown event.
Community Day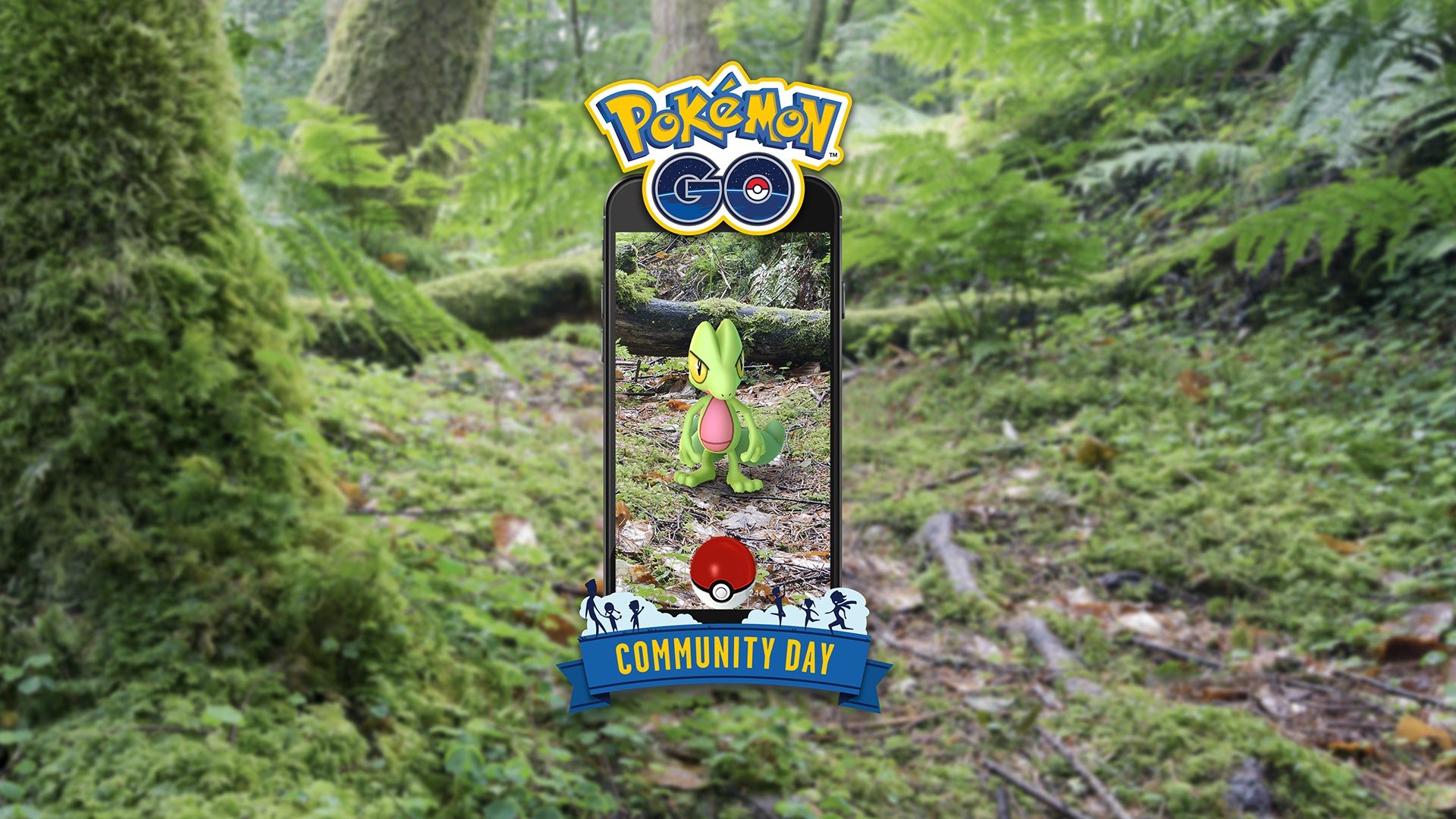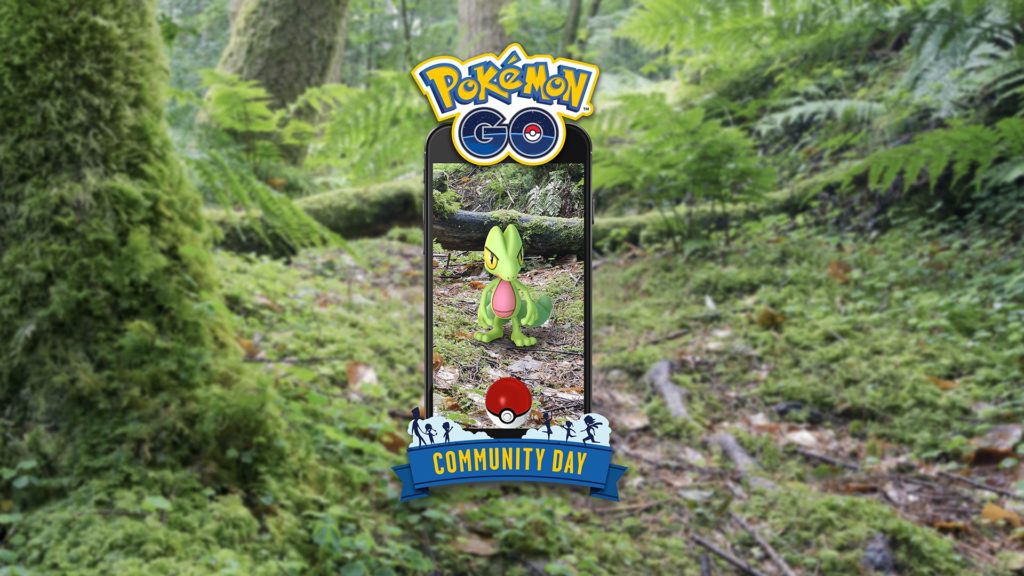 This Community Day featured the next starter in line; Treecko! Of course, Shiny Treecko made an appearance, and it also brought with it a 1/4 egg hatch bonus, and the regular 3-hour lures. Not to mention, the exclusive move of Frenzy Plant!
Equinox Event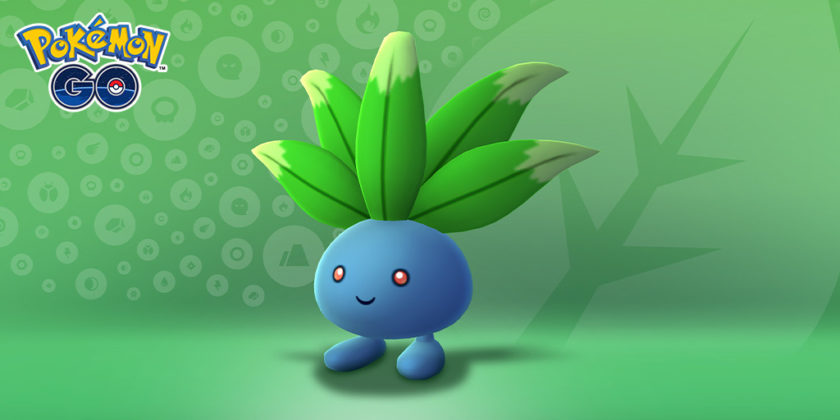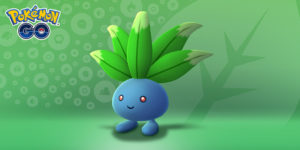 The Equinox Event brought the increased appearance of Grass-type Pokémon and the switching of Lunatone and Solrock from their respective regions. Besides this, we saw a grass-type raid boss shakeup, limited grass-type research, and finally the addition of two new moves.
Mini-News Roundup – Comic Con Events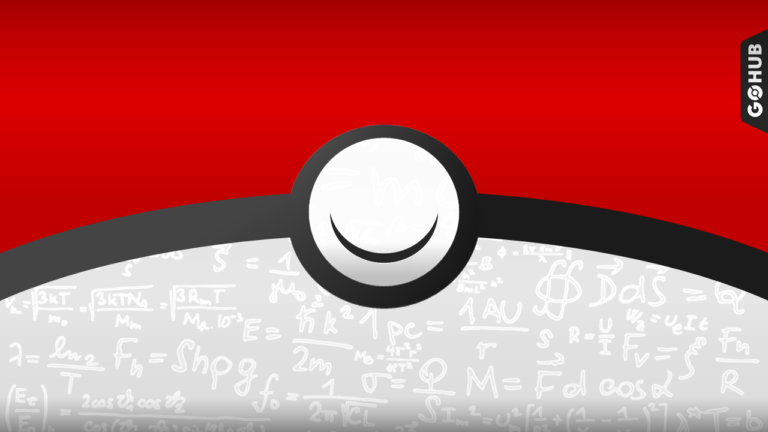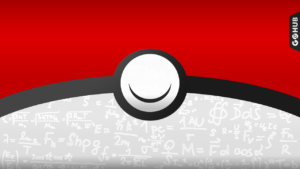 In one of the first occasions ever, it appears that the same Pokémon GO event took place at different conventions at the same time. During MCM Comic Con Birmingham and Heroes Dutch Comic-Con, generation IV starters appeared more frequently and brought a few bonuses with them. Besides this, we also saw Unown appear at GDC in San Francisco!
---
Week 12 of 2018
This week of 2018 made hatching eggs a whole lot more fun, Unown events a bit less rare, and sent maps and trackers entirely under! (Yes it rhymes! No, not very well)
Eggstravaganza Event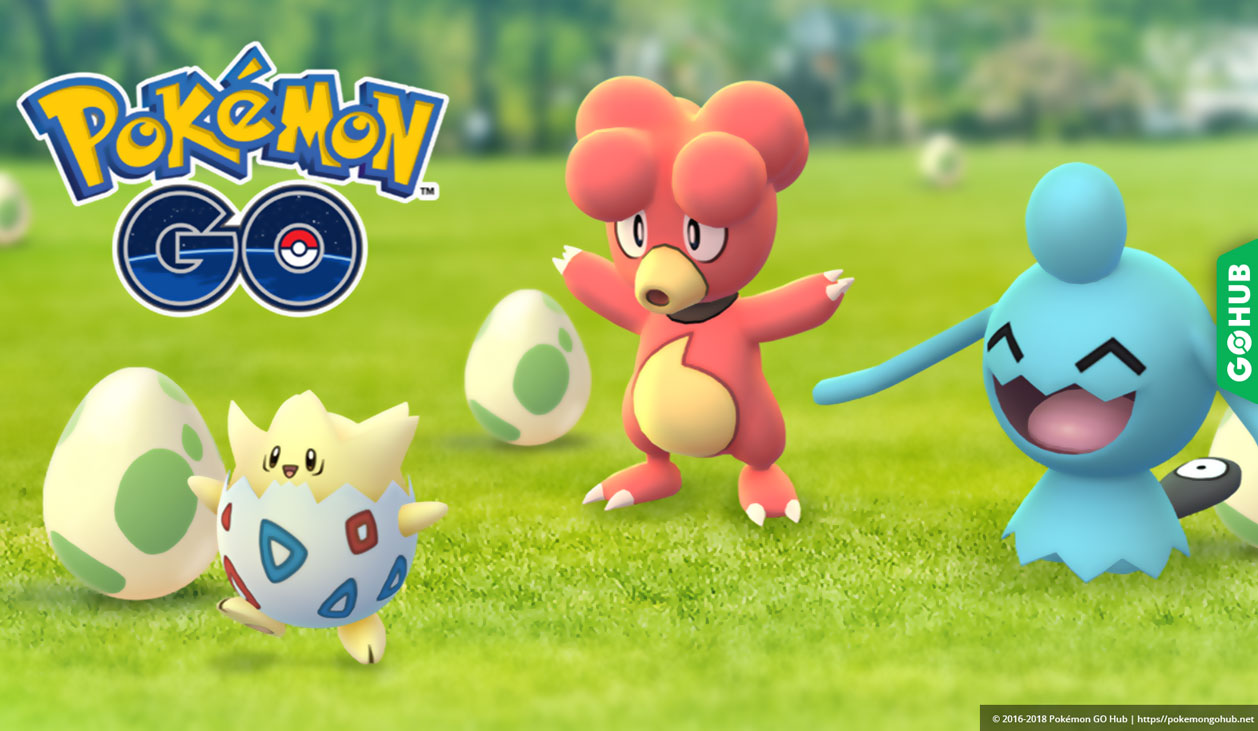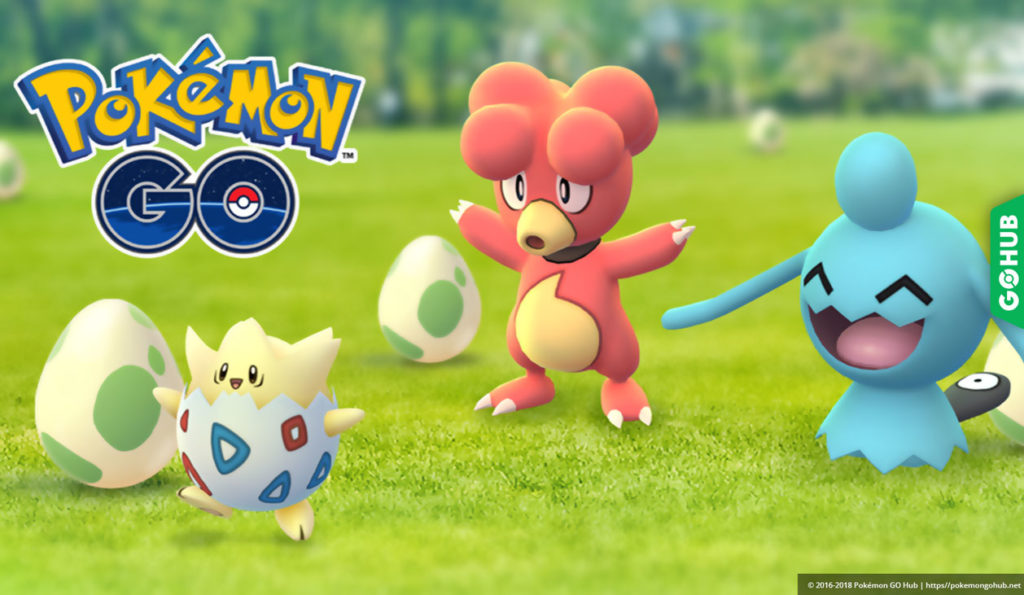 This Eggstravagant Event gave Trainers the shot at hatching a few new shiny baby Pokémon and some extremely rare Pokémon from 2 KM eggs! Of course, PokéStops would only drop 2 KM eggs, and any hatched Pokémon would provide you double hatch candy!
Mini-News Roundup – Unown Event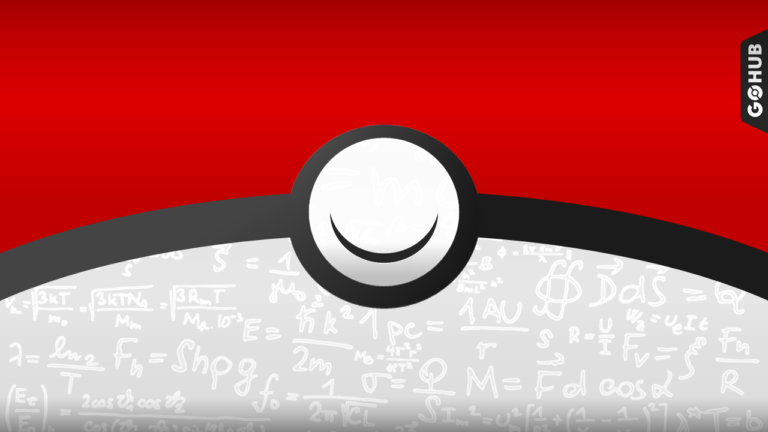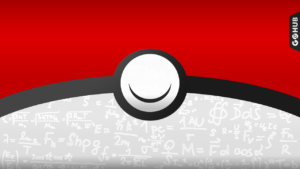 Just as we saw for 2019, Unown appeared at the GDC event in San Francisco! Besides this, confused Trainers started to see the appearance of "closed" PokéStops, and finally, European Trainers were excited to see that Raid times had been extended farther into the evening, a change that would quickly become useless with the time change.
Game Data Changes – Maps and Trackers Down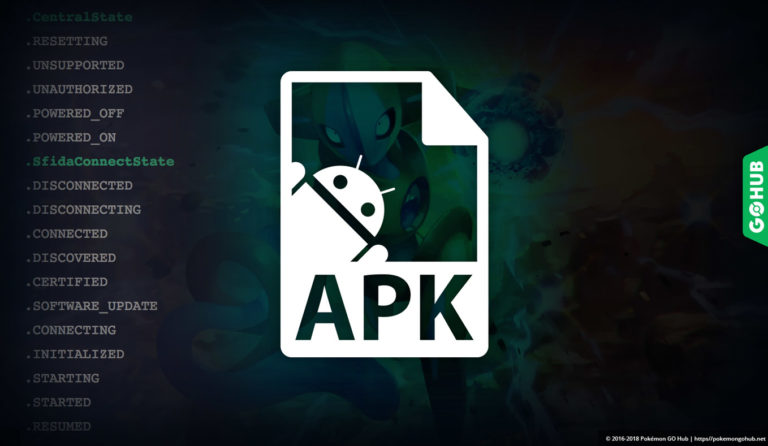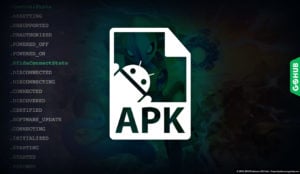 After an API update, Trainers were surprised to see that maps, trackers, scanners, and more had been mostly "shut down." However, we all know this was a temporary fix. Besides this, the Eggstravaganza event was found in the network traffic, and finally, the Shiny Bulbasaur family line was found as well, once again confirming for Trainers that Community Day releases shinies!
---
Week 12 of 2017
This week of 2017 introduced us to a new world of Pokémon, starting very small.
Water Festival
What started as an innocent event quickly turned into one of the most monumental in Pokémon GO's history. The Water Festival gave Trainers the increased chance of catching Water-type Pokémon out in the wild, and for the first time, this meant the introduction of Magikarp's shiny form! The very first shiny in Pokémon GO!
Game Data Changes – Shinies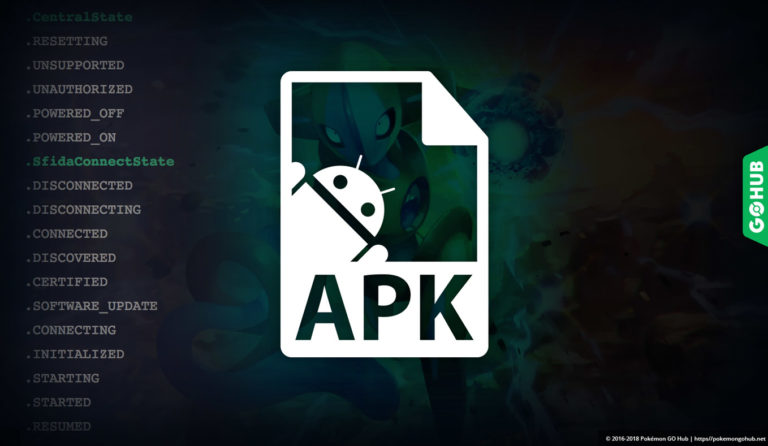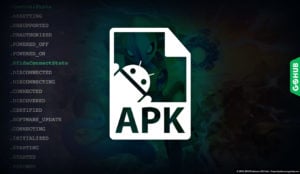 With the Water Festival nearing, Trainers were able to find some cracks in Niantic's PR referencing shiny Magikarp! Making the first shiny Pokémon leak in Pokémon GO. Besides this, new code referencing shiny Pokémon was discovered and even a badge to feature shinies inside of your Pokédex. Finally, we found the introduction of redeemable codes and a new throw mechanic.
---
This Week In Pokémon GO History Final Notes
If there's one word I would use to describe this week, it would be fun! That's it, fun. From seeing the happiness that ignited Trainers with their long overdue shiny search in 2017, to the hunt to hatch rare eggs in 2018, to the scramble of checking every Solrock and Lunatone to find their shinies. In one word, I would describe this week as fun.
Do us a favor, tell us about this week in your own Pokémon GO history, what was your best catch this week? How about your best catch this same week of 2018? How about from 2017? How has your Pokémon journey evolved since then? Be sure to tell us in the comments below.
Have fun, and stay safe, Trainers!