Adventure Week 2019 is here and ready to ROCK! During the week of June 4th, 2019 through June 11th, 2019 expect to see some stone cold spawns appearing more frequently in the wild, hatching out of 2km eggs, appearing in raids, rewarded from tasks, and more!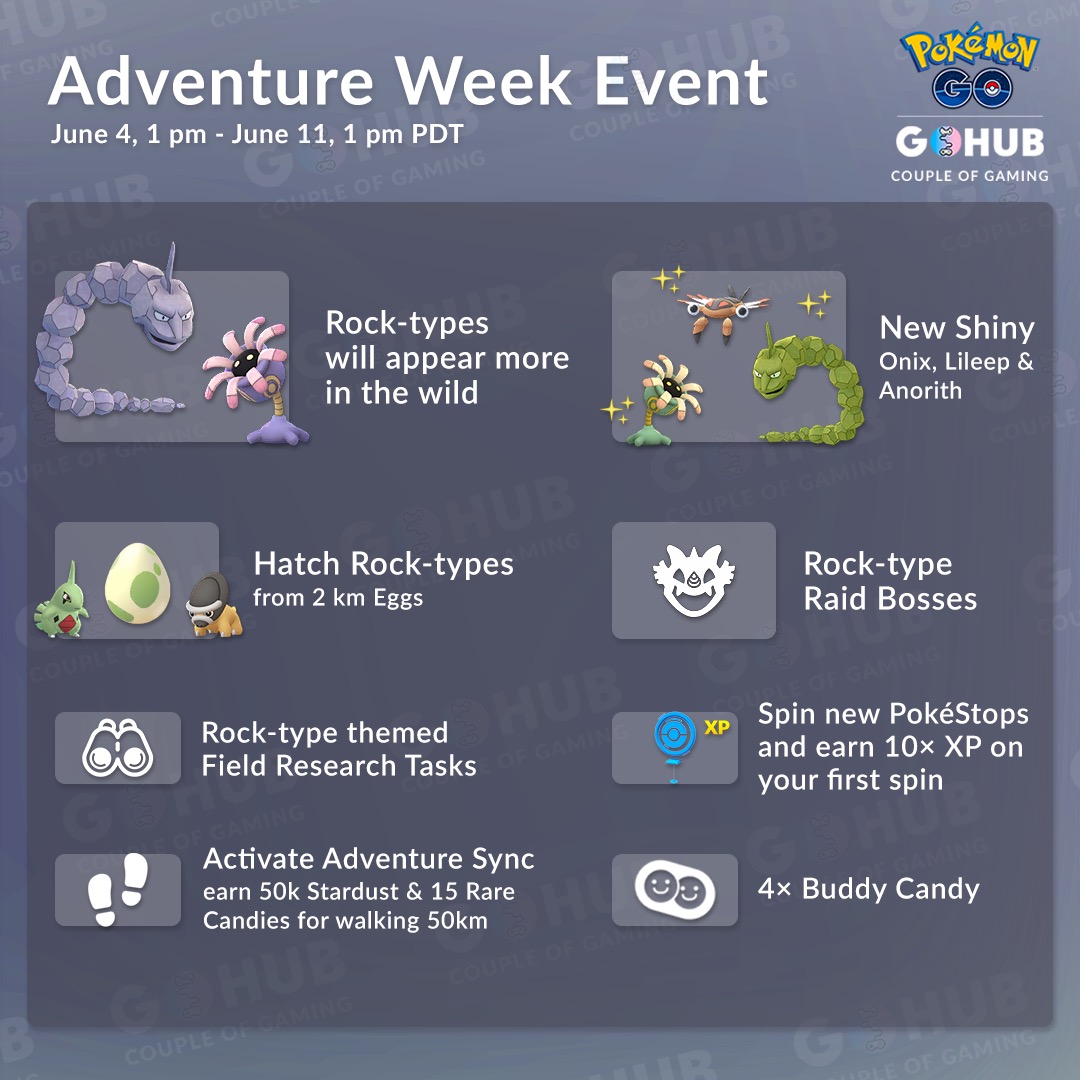 ---
New Shiny Releases
| Normal Version | Shiny Version |
| --- | --- |
| | |
| | |
| | |
| | |
| | |
| | |
---
Increased Spawns
The following list of Pokémon spawns will most likely be increased during this event. Although most have been confirmed, we also included additional Rock-type we hope to see!
There are AMPLE opportunities for shiny during this event so be sure to take advantage of this Adventure!

---
Adventure Sync Rewards Finally in Sync
If there has ever been any more of an incentive to get out and complete 50km in a week, this is it!
Trainers who have Adventure Sync activated and walk 50 km will earn 50,000 Stardust and 15 Rare Candies!
You read that correctly! 50,000 Stardust and 15 Rare Candies! Be sure that Adventure Sync is activated on your mobile device, smart watch, or however you track your steps. For everything you need to know about Adventure Sync in Pokémon Go, including how to set it up for your device, check out our article here.
---
Adventure Week 2019: Field Research Tasks
---
Adventure Week 2019: Raid Boss List
---
TLDR:
Increased Rock-type spawns in the wild
Increased Rock-types in 2km Eggs
4x Buddy Candy
10x XP for spinning NEW PokéStops
Special Raid Battles and Field Research
Shiny Onix, Lileep, and Anorith
Adventure Sync Reward for 50km = 50,000 Stardust/15 Rare Candies
June 4-11